If gardening is a big part of your life in spring, summer, and fall, the arrival of winter gifts you with a lot more free time in your schedule. What's a gardener to do?
Read voraciously!
Or, at least, that's what this gardener does.
Winter is the opportunity for us to step back from our gardens and try on some new perspectives. And the best vegetable gardening books help us do just that. Every garden writer has a different approach to the craft and their books invite you into their world for a bit.
We gardeners are visual people! That's where a gorgeous coffee table book is the perfect choice. One that's packed with plenty of eye candy will inspire you to dream about new designs and ideas for your garden.
And you can balance those out with the practical, educational vegetable gardening books so you can delve more deeply into the new skills you want to develop next season.
As for me, my favorite winter activity is sitting in front of my woodstove with my feet up close to the fire and a book in my hands. There's no better way to spend a dark and frigid evening in Wisconsin in my opinion.
Since winter is the season of reading, I thought I'd share all-time favorite vegetables gardening books. Request them from your neighborhood library, make a trip to your local bookstore, or order them online without leaving your home.
Then curl up in your favorite chair with a cup of tea and a cozy blanket. The woodstove is optional!
This post contains affiliate links.
The Best Vegetable Gardening Books for Garden Lovers
I love books! I have more titles on my "to read" list in Goodreads than I'll probably ever get to since I keep adding more every month. I just checked, it's up to 672 books right now.
That being said, my husband often jokes with me that I actually hate books. That's definitely not accurate, but it is true that I own very few books. I'm a bit of a minimalist and I don't like a lot of clutter. I don't purchase a book unless I really, really love it and think I'm going to refer back to it over and over again.
That means the books on my shelves primarily consist of gardening and cookbooks. The following list of best vegetable gardening books is a serious one. These are the exact books I have on my own shelves!
All-time Amazing Vegetable Gardening Books
Smart Start Garden Planner: Your Step-by-Step Guide to a Successful Season
Over the years I've learned that the most successful gardeners take some time before the garden season begins to devise a simple and smart plan for the year. These gardeners are the ones who grow lots of vegetables very successfully.
Gardening planning doesn't have to be boring or take a lot of time. My second book is a fresh and simple approach that keeps planning practical, down-to-earth, and fun!
You'll work through your plan step-by-step, and at the end, you'll have a personalized blueprint for what a successful season in your garden looks like. Grab your copy here.
The Year-Round Vegetable Gardener
If you've been dreaming about harvesting food from your garden throughout the winter, this book is for you. Niki Jabbour, the author, is one of the people who inspired me to really commit myself to
experimenting with extending the season
in my own garden.
She lives in a cold climate in Canada, so if she can do it, you can, too! And as a bonus, if you follow her on social media you'll be treated to lots of photos of her snowy, winter garden and the produce she's harvesting from it. Read some of the great reviews about her book
here.
By now you probably know that in addition to having a garden that produces a lot of food, I also want my garden to be
a gorgeous part of my landscape
. I was intrigued by this title because I don't often see other garden writers talking about the aesthetics of growing vegetables.
Matthew Benson runs a small, specialty CSA in upstate New York and is also a garden photographer. The book is a visually striking one to hold in your hands. It's the perfect eye candy for a gray winter day.
Read more about it here.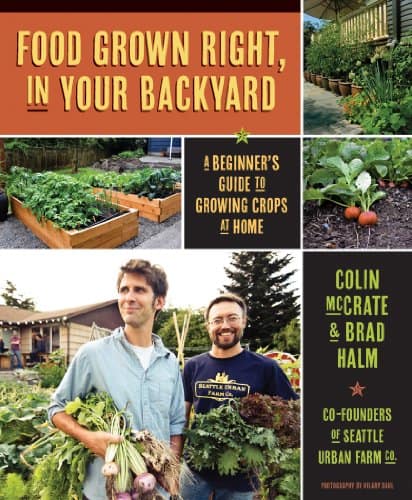 .
Food Grown Right, in Your Backyard
This book was written by the two guys who run the Seattle Urban Farm Company, a business that designs, installs and maintains restaurant and home gardens in that area.
They have an organic farming background and their approach to growing food is very similar to mine. I agree with most of the advice and information that they give throughout the book, and they present several topics in some fresh, new ways.
Find it here.
Vegetables Love Flowers, by Lisa Mason Ziegler
My favorite gardening book from several years ago is a holistic view into why and how mixing flowers in with our vegetables benefits not only us, but our plants and the animals and insects that are a part of our garden ecosystems.
.
Veggie Garden Remix, by Niki Jabbour
A book after my own heart! I love experimenting with fun new vegetables and varieties and this book gave me some great ideas of alternatives to try out next season. Get your copy here.
.
Rosalind Creasy is pretty famous in the gardening world. She's one of the first people who wrote about edible landscaping and she has a passion for growing beautiful vegetables. A woman after my own heart!
If you've been thinking about incorporating more colorful and interesting vegetables into your garden,
check out this book
,
or one of her many others.
.
Permaculture has been a buzz word in the gardening world for over a decade, but it's a big topic and can be confusing to gardeners. This book breaks down different ideas in permaculture and translates them into concrete projects you can create in your own garden.
This is the book that inspired me to build my front yard
herb spiral
.
It's one of the most asked about features of my garden.
Find this book here.
.
Kitchen Garden Revival
This is a beautiful book with very picture-worthy gardens. The author owns a kitchen garden installation business in Houston and shares the steps they take to create attractive and productive vegetable gardens.
This is a great book for inspiration for your own garden design. Get your copy here.
Garden Alchemy: 80 Recipes and Concoctions for Organic Fertilizers, Plant Elixirs, Potting Mixes, Pest Deterrents, and More
I've met Stephanie Rose, the author, at a conference a few years ago and have been a guest on her blog. In this book she shares lots of DIY recipes for everything from soil and mulches to garden teas and pest traps.
It's a fun book for those who like to experiment in the garden. Grab a copy here.
.

A Woman's Garden: Grow Beautiful Plants and Make Useful Things
I've enjoyed following the author of this book, Tanya Anderson, over the years. She's an American living on the Isle of Mann and has an allotment (community garden plot) and a home garden.
In addition to being a vegetable gardener she's also a soap-maker and a popular Youtube vlogger. Order your copy here.
.
Growing Under Cover: Techniques for a More Productive, Weather-Resistant, Pest-Free Vegetable Garden
Two of Niki Jabbour's other books are one this list, and this latest one didn't disappoint either.
She installed a high tunnel in her Canadian garden a few years ago and it's been fun watching her experiment and grow in it. I want one, too! Read more about this book here.
Preserving Food for Vegetable Gardeners
Hopefully, you have an amazingly productive year of gardening and have a kitchen full of produce as a result! I'm not a huge fan of canning, so I tend towards much easier and quicker methods of preserving food. I even wrote a book about them!
Super Easy Food Preserving: Quick Techniques for Fresh, Fridge and Freeze Storage
My first book is focused on showing you that preserving food is simple! It doesn't have to be difficult or take up a lot of time. And if you think canning is the only option I teach you how easy it can be to use your basement, fridge and freezer instead.
Join me in putting away plenty of healthy and delicious produce for off season eating without spending a lot of time doing it. Check out a sample of the book here.
Fermented Vegetables
My first attempt at fermenting vegetables ended up in the compost pile because I didn't follow the directions of a trusted source like this one. Once I got the basics down (taught by this book in a clear manner) I've been having a lot of fun experimenting with their recipes.
This book explains the simple process step by step so that you end up with a high-quality product after several weeks. Definitely my go-to book!
Check it out here.
Fiery Ferments: Hot Sauces, Spicy Chutneys, Kimchis with a Kick and Other Blazing Fermented Condiments
This book is authored by the same couple as the title above. Once you master fermentation it's time to kick it up a notch!
I love growing hot peppers, so I had to by this book! Read more about it here.
Growing Flowers in Your Garden
Growing food was my original passion, but when we bought a house my husband and I started to play around with perennial and flower gardening.
The vegetable garden is largely my domain at our current house, but together we design, plant and maintain our various plantings of trees, shrubs, and perennial flowers. Even though this article is about vegetable gardening book, I couldn't help including some of my favorite flowering gardening books I've learned from along the way!
As a garden educator, I get sent a lot of gardening books by publishers. I read through them all and most of them end up in the Little Library in my neighborhood. Only my absolute favorite books end up on my living room bookshelf.
The Cut Flower Garden is a gorgeous book packed with lots of well-organized, useful information. Reading it will get you super excited to grow cut flowers in your garden this season!
Click here to purchase.
.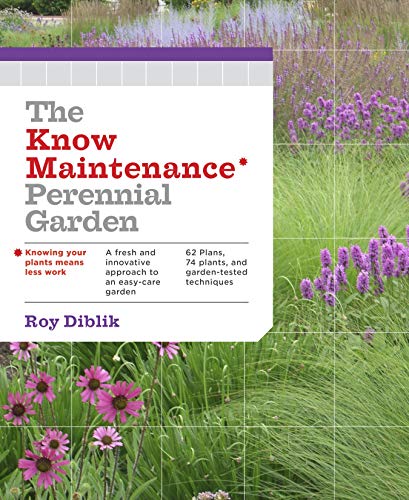 The Know Maintenance Perennial Garden
If you're a Wisconsinite and you haven't been to the author's nursery in the southern part of the state, Northwind Perennial Farm, then you have to put it on your road trip list.
He also designed a striking gravel garden for my local botanical garden and the meadows at Millenium Park in Chicago. This book is a very different approach to standard perennial gardening. Find out more here.
The Perennial Gardener's Design Primer: The Essential Guide to Creating Simply Sensational Gardens
If you have a perennial flower garden that needs some more excitement Nancy Ondra's blog and books are what you want to be reading. She has an extremely talented eye for design and pulls off some amazing plant combinations. This book is packed with sample designs and recommended plants, and she explains the fundamentals of garden design in easy to understand and apply terms.
I pull it out again each season when I'm trying to figure out what to do to jazz up my plantings. Check it out here.

Additional Resources for Vegetable Gardening Book Lovers
AMAZON COLLECTION: I collected all of these titles for easy reference in my Amazon shop.
BOOKSHOP COLLECTION: If you prefer to support local bookstores, you can find the collection of these titles in my Favorite Vegetable Gardening Books list on Bookshop here. I also keep a lists of what books I've read recently, favorite books by authors of color, and new gardening books to watch out for.
BLOG POSTS:
If you love books as much as I do then you're probably always looking for more recommendations to put on your list. Here are some more of mine:
Vibrant Cookbooks Every Gardener Should Own
My Top Recommended Books of the Year (2018)
Don't let the long, dark nights of winter pass you by without taking pleasure in a big pile of these best gardening books. The off season is a great opportunity to let your mind dream, plan, and imagine all the fun things you'll do once spring has sprung and you can return to the pleasure of sinking your hands into the soil again.
I'd love to hear your picks for favorite gardening books. Leave a suggestion in the comments under this post.
SHARE IT ON PINTEREST