This post contains affiliate links.
As gardeners, we're all dreamers, right?
We take a miniscule seed from a colorful packet and gently place it in the soil. And in that seed is the dream of what's to come—a bright yellow carrot, a huge tomato plant, or a sprawling squash vine.
Anything is possible in a life filled with a garden!
There's no other time that feels more ripe with possibility than the beginning of a new year. Often, we find ourselves setting goals and intentions in various areas of our life.
But, often we forget to include our gardens in this planning and dreaming process. So, I'm here to remind you – don't forget to carve out some time to set your garden goals, too!
In this article, I'm going to walk you through three steps for setting some meaningful and personal intentions for the upcoming gardening season.
Step #1 focuses on reflecting on the previous season before moving on to step #2, which is creating your vision for how you want your garden to fit into your life this year, and then we wrap it up with step #3, which is bringing your vision into focus.
Let's get started!
Setting Garden Goals Step #1: Garden Reflection
Before you jump in and start planning for next season, take a few minutes to reflect on the past one. Grab a cup of warm tea and relax in your favorite chair.
Close your eyes and transport yourself into last year's garden.
Travel through the months and recall the many sights, sounds, and smells of each season of your garden.
If you had a year with more failures than successes, or you were too overwhelmed to even start your garden and are disappointed with yourself, release last year's garden (and the gardener you were!) with kindness and love. The beautiful thing about gardening is that it's a cyclical journey. The slate is wiped clean each winter, and we begin anew each spring.
Next, take a moment to read each question on the Garden Reflection worksheet below and jot down some notes. You're starting to lay the strong foundation for the new garden season by deciding what you'd like to repeat and what you'd like to leave behind.
Remember that each season holds successes and failures, even for the most experienced gardener. There's a certain amount of mystery to gardening, which is one of the things that makes it so exciting. But it can also be frustrating and disappointing when things don't work out as planned.
During your reflection remind yourself that there is no such thing as a perfect garden. Every garden is a work in progress. Part of the fun is the journey, so don't forget to embrace and celebrate every part of it.
Click here to download the worksheet.

Setting Garden Goals Step #2: Your Garden and Life Vision for This Year
Now that you've spent some time looking back, let's turn our attention to the upcoming season. But before we talk specifically about your particular garden, I want you to zoom out and think about the bigger picture.
When you immerse yourself in gardening it becomes more than a hobby . . . it becomes a lifestyle. It starts with trying to grow food and eventually ends up adding color to your entire life—the way you think about food, how you cook dinner for your family, the way you look at the world.
So, let's think big!
What kind of lifestyle do you want gardening to create for you this year?
Maybe you want to spend more time just relaxing in your favorite chair in your garden, or learning photography so you can take better pictures of your harvest.
Perhaps you want to get more exercise by taking a walk in your neighborhood each evening after you water your plants, or you want to try one new healthy recipe a week throughout harvest season.
Let gardening be the theme that is woven through everything and allow it to bring more meaning to your life this year. Use the following worksheet to spend a few minutes reflecting on and journaling about this question.
Click here to download the worksheet.

Setting Garden Goals Step #3: Create Your Vision Board
Next, I want you to create a Pinterest board that represents the kind of lifestyle you want gardening to create for you this year.
As gardeners, we tend to be visual people who think in images, colors, and patterns. Using a platform like Pinterest is a way to stimulate your creativity and get your brain excited to start the planning process.
It's like an electronic version of a vision board. It's a way to state your intentions for the season, and it's something tangible you can return to throughout the year to rekindle that vision when you need a reminder.
Take the themes that arose when you answered the questions on the worksheet and search for photos that represent them visually. You can check out my board, My Garden Visions and Goals, as inspiration.
If Pinterest isn't your thing, create your vision board in another medium. You might draw pictures or assemble a collage with cuttings from magazines and seed catalogs.
Or, just write out a list of goals and intentions and keep it with your garden planner, journal, or notebook. Do whatever resonates most with you and choose a form that you're most likely to reference throughout the season.
You need to revisit goals periodically to keep them fresh and top of mind.
This beginning stage of the garden-planning process is the perfect time to think more deeply about the role you want your garden to play in your life; our gardens can be about so much more than just growing food for our tables if we let them.
These three steps were an excerpt from my book, Smart Start Garden Planner. Grab a copy for yourself and together we'll walk through creating your plan for this season.
Keep reading for other ways I can help you make garden planning simple and fun!

Next Steps for Garden Planning
Your garden dreams really can come true . . . you just have to plan for them! If you'd like some guidance in creating a smart and simple plan for a successful season in your garden, here's how I'd love to help.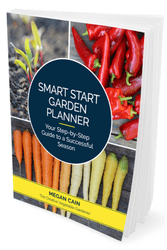 BOOK: Smart Start Garden Planner: Your Step-by-Step Guide to a Successful Season. This workbook keeps planning practical, down-to-earth, and fun! You'll work through your plan step-by-step, and at the end you'll have a personalized blueprint for what a successful season in your garden looks like.
MASTERCLASS: Smart Garden Planning for Spring. Grow more vegetables than ever in your garden this season!
The most successful gardeners take some time before the garden season begins to devise a simple and smart plan for the year. A smart garden plan lays the groundwork for a beautiful garden that yields lots of food for the least amount of time and money invested.
Smart Garden Planning for Spring is a fresh and simple approach to planning your garden. This video series keeps planning practical, down-to-earth, and fun!
BLOG ARTICLES: Read more about what to plant in autumn in these posts.