I saw a great garden quote on Facebook recently,
"Anyone who thinks gardening begins in the spring and ends in the fall is missing the best part of the year, for gardening begins in January with the dream." – Josephine Nuese
I completely agree! One of my greatest pleasures at this time of year is thinking about and planning for the upcoming season.
"Planning?", you ask. "That sounds kind of stodgy and boring. I don't like to plan my garden, I just wing it."
Okay, what if we call it dreaming, or savoring, or anticipating? Does that sound like more fun?
If you're not spending some time this winter thinking about and preparing for the season, trust me, you're missing out on one of the garden's great pleasures!
In fact, studies have shown that the anticipation of something is often just as or more pleasurable than the event itself.
So, what are some things you can do to plan for the upcoming season?
[fancy_box id=3 linked_cu=5975 align="center"]If you haven't gotten your free 10 Step Guide to Smart Spring Planning yet, grab it here.[/fancy_box]
An important part of garden planning is the dreaming phase. It's valuable, and pleasurable, to let yourself imagine all of the possibilities for your garden this year.
You can do this by looking through your seed catalogs and circling anything and everything that catches your eye. It can be so fun to imagine your garden bursting with all kinds of things like tiny white eggplants, shiny and round red peppers, and deep purple carrots. Don't worry, you can narrow it down later!
(What?! You don't get see catalogs in the mail? Then read this blog post right away.)
One of my favorites ways to dream is to request a few favorite garden books from the library. My reading chair is tucked next to the wood stove in our living room. On many a dark weeknight after dinner I'll make myself a cup of tea and spend 30 minutes flipping through the pages of the books.
Check out the list of some of my favorite garden books on my Pinterest board here. Choose a few that interest you and order them from your local library.
Hopefully, gardening is a source of great joy for you during the season. But, if you live somewhere like Wisconsin, the winter months seem to outnumber the gardening ones. Luckily, you can find solace, and even delight, in the garden planning process.
What's your favorite way to plan for the upcoming season? Share with us below.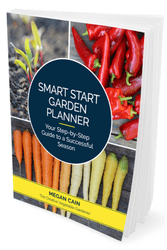 My book, Smart Start Garden Planner, leads you through a fresh and simple approach to planning your garden. You'll work through your plan step by step and at the end you'll have a personalized blueprint for what a successful season looks like in your garden.
Get ready to grow more food than ever this year!
.
Check out these posts for more tips on planning your garden. 
How Much Food Will You Get From Each Vegetable Plant?
Tips for Planning a Small Vegetable Garden
Unique & Colorful Varieties to Grow This Year
SHARE IT ON PINTEREST