When I arrived in San Francisco after college for my first experience living truly on my own I had no idea how to cook anything besides pasta. In fact, I have no memory of what I ate during my four years of college. Could I really have eaten pasta every night of the week?
So imagine my surprise when my new roommate, Kathryn, made hummus from scratch and my other roommate, Jenny, used the Moosewood Cookbook to create an Indonesian dish called Gado Gado. What??!! How did these people know how to do this? Cooking was a complete and utter mystery to me.
Over the next several years, I slowly experimented with recipes scribbled down by friends. I shyly shopped at the farmers market, trying to identify all of the strange vegetables I'd never seen before. I even bought my first cookbook, the original Moosewood with the brown cover, because one of my friends would often make delicious dinners from it. I was gradually unraveling the mystery that was cooking.
That learning curve was immediately put into fast forward when I moved from San Francisco to a farm in rural Missouri for a gardening internship. Upon arrival, I discovered stress-inducing facts such as —
#1: everyone on the farm ate together in a cooperative kitchen
#2: only vegan dishes were acceptable
#3: there was a cooking rotation which I would be quickly included in, even though I had no idea how to cook
#4: to top it all off, everything had to be made from scratch and in the summer we cooked for up to 40 people on an outdoor wood-fired stove
Yikes!
Luckily, if you were a new cook you got paired with a more experienced person who was the head cook for your shift. Because of this rotation, I cooked with someone new every week which offered a crash course in many different styles, dishes, and kitchen techniques. I took a lot of direction that summer, learning how to make biscuits, buns and pizza dough from scratch, concoct simple salad dressings, and I figured out how to identify vegetables I had never seen, let alone eaten before.
By that first winter, I was initiated into the ranks of head cooks. That meant I would cook by myself in the slow winter months and be paired with new cooks once the busy summer season began the following year.
During my second year as a cook at the farm, I started to scour the piles of cookbooks for new recipes and moved into more complicated terrain like making soymilk and tofu from soybeans, creating vegan desserts, and teaching other interns the ropes of cooking for a crowd.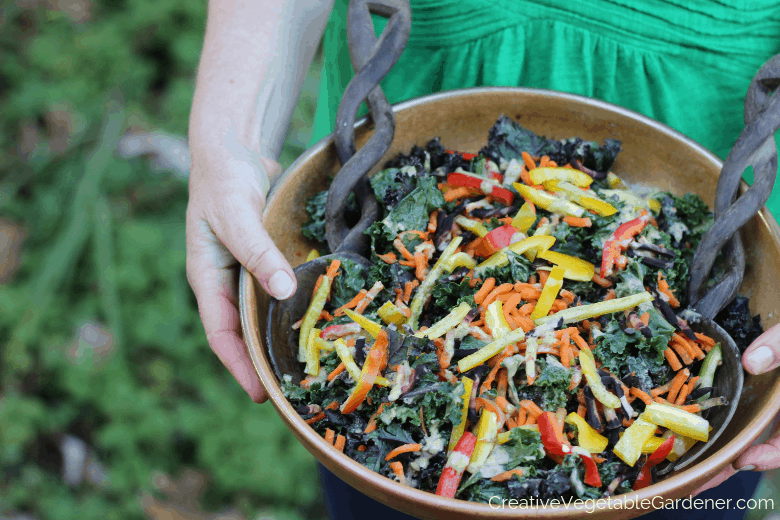 This post contains affiliate links.
I always tell people that living at that farm for a year and a half was like attending a very intense school where you learned things that would affect your life for many years into the future. Learning to cook was definitely one of those things. I can look at the way I cook today and the very important role food plays in my life and see the thin thread that connects all the way back to my days in Missouri.
I fell in love with food while living there. Not only was I learning how to cook for myself and others, but it's also where my love of gardening took root and started to grow into the passion it is today.
Eighteen years later, I can confidently write that I'm a great cook. Cooking and food are now woven into the fabric of my life in such a way that it seems they have always been here. It's so easy to take it all for granted, until I close my eyes and imagine myself back in front of the woodstove in the outdoor kitchen, nervously trying to figure out the best way to chop kohlrabi. I've come so far, and for that, I'm grateful.
Now, let's rewind back to when I arrived in San Francisco, a huge foodie town. I owned no cookbooks and had likely never opened a cookbook in my life.
Now, I own a very small selection of curated cookbooks by my favorite authors and food bloggers. Many of them are stained with food, most of them I page through every few weeks for dinner ideas, and all of them feature some of my favorite recipes in the whole world.
Here are my favorite vegetable cookbooks that I think every gardener should have on her bookshelf.

Colorful & Delicious Vegetable Cookbooks for Gardeners
Click on the book cover photos to go directly to the Amazon listing.
Over the years I've checked a lot of cookbooks out of the library! These are the few I loved so much I purchased them for myself. I hope you use this list to find some new inspiration for your cooking routine, as well as some awesome new recipes that make it into your regular rotation.
You can find all of these books in one place (plus a few bonus titles!) in my Amazon shop here.
If you've got books on the brain as I do, check out my top recommended books of the year and favorite organic gardening books.