For many of us gardeners, late summer and early fall signals the peak of the harvest season.
Although filling up baskets and bowls full of vegetables from your garden can feel exhilarating, it can also be overwhelming and stressful.
If you find yourself giving away or even worse, composting, extra produce, consider trying your hand at some simple food storage methods this season.
Contrary to popular belief, food preserving doesn't have to be difficult, take up a lot of time, or require lots of fancy equipment.
In fact, I'm a big advocate super easy food preserving.
Instead of spending a full day in a sweltering kitchen, easy preserving means using the simplest and quickest food storage methods for putting each vegetable, fruit and herb away for use in delicious meals all season long.
Let's take a look at the options!
5 Easy Food Storage Methods
I call myself a lazy food preserver, if you believe in such a thing. I reluctantly can 1-2 batches of salsa each summer
because it's difficult to imagine doing without it.
The rest of my time is primarily focused on crops I can store quickly and easily. I like to put food away, but I don't want to spend my whole summer food preserving.
The time I invest is worth it because I live in an area with an extremely long and cold winter (Wisconsin) and a short gardening season. Even so, I rarely purchase food from the grocery store and draw from my pantry instead.
It's a wonderful feeling of accomplishment when I eat a meal on a snowy winter day consisting of food I grew myself and stored in my pantry.
Let's get you started on this path as well!
Here are my top 5 favorite easy food storage methods.
#1: Fresh Storage
Whenever possible I like to store my vegetables in their natural state. This requires the least amount of work and preparation.
It doesn't get any easier than this.
Each year I grow 400-500 onions and 220 garlic. After getting cured in my garage they all get packed in boxes and crates and stored in my basement. Both of these vegetables will last 6-12 months in storage depending on where and how you store them.
Since most of the dishes we cook in our house start with garlic and onions sauteing in a pan, it's super convenient to just run downstairs to get what we need to cook dinner.
There aren't a ton of vegetables you can store fresh, but garlic and onions are two great ones to start with.
Read more about how to grow, harvest, and cure your onions and garlic for long-term storage.
How to Harvest and Cure Your Onions – video filmed in my garden!
Eat Your Own Garlic All Year Round: How to Harvest and Cure It – article + video

#2: Fridge Storage
Using your fridge is another way to store vegetables without processing.
Each season I save room in my garden and grow a big crop of fall carrots and beets.
I harvest them straight from my garden into early winter, and just before we get a deep freeze (usually in December) I'll harvest whatever is left.
I remove the tops, keep the soil on the roots, and load them into plastic bags. The bags get stored in the bottom of my fridge and we eat our own carrots and beets all winter long.
Read more about how to store beets when you have a bumper harvest.
#3: Freezer Storage
There are many vegetables that can be easily frozen for long term storage. Some need to be blanched or steamed first, and some can be frozen raw.
If you're going to be doing a lot of freezing I recommend investing in a chest freezer. Because it doesn't have the natural defrost cycle of a kitchen freezer, the food quality remains high for about a year.
Two of my favorite vegetables to freeze raw are kale and red peppers. Both can be chopped fresh from the garden and put directly into freezer bags or containers. When you're ready to use them in a recipe you can just grab a handful and throw it directly into the pan.
Find out the easy steps to freeze both of these vegetables:
How to freeze peppers for delicious winter meals
Here's the greatest way to quickly freeze kale
#4: Fermentation
Fermenting vegetables is a food storage method I've added to my tool kit in the last several years. Once you get the  hang of it and understand the process, it's easily repeatable with lots of different vegetables.
As an added bonus, fermented foods can be stored in your fridge for up to a year and it retains much more of the nutrients than canning (and adds beneficial bacteria that's good for your gut).
I use cabbage, carrots and onions to make curtido (a spicy version of sauerkraut), pickling cucumbers to make sour pickles, and Napa cabbage and daikon radishes for Kimchi.
I'm always surprised how little work and time is required to make a half gallon jar of fermented food. And if you already buy ferments from the grocery store, you know they can be very expensive. You'll save a ton of money by making your own.
In these two articles I share my 5 favorite recipes and tips for beginners:
How to Start Fermenting Vegetables From Your Garden
5 No-Fail Fermented Food Recipes for Beginners
In my Masterclass: Fill Your Pantry from Your Garden, I walk you through the process of making sour pickles to show you how straightforward it is and also share my favorite supplies for fermenting vegetables. Check out the class here.

#5: Dehydrating
Although I prefer the first four food storage methods on this list, I have been known to dehydrate some of my garden harvest in the past.
The easiest things to dry are herbs – you can simply hang them up in a dark place (I use a laundry room with no windows) and transfer them to jars when they're brittle to the touch.
I drink a lot of mint tea during the winter months, so I stockpile it during the summer so I don't have to purchase any from the grocery store outside of the garden season. Plus, my mint tastes way better than any tea bag I could ever buy commercially.
I've also dehydrated cherry tomatoes, apples and pears. While it's possible to build your own solar dehydrator, they take a bit of monitoring if you live in a humid area.
If you think you'll be doing a lot of drying you may want to invest in an electric dehydrator.
Canning is also an option
Because I like to keep things simple, canning is my least favorite way to preserve food. It's time consuming, messy, and you need to follow an exact process to keep it safe.
We eat a lot of salsa in our house, so we do have one canning session each season and make as much salsa as humanly possible.
Some people love canning, but in my opinion there are much easier ways to preserve most vegetables.
Which Food Storage Method Should You Start With?
My advice (as with all things gardening related) is to keep it simple. Take a look at the meals you eat and the groceries you buy on a weekly basis and come up with a list of five things you'd like to have as ingredients for cooking during your garden's off season.
That's where you should start.
I walk you through how to start setting your priorities for filling your pantry for winter in the free mini-course listed below.
Additional Resources for Stocking Your Pantry
FREE MINI-COURSE: Get Started Stocking Your Pantry for Winter. I'll show you how simple it can be to fill your pantry with lots of healthy food that will save you money and many trips to the grocery store this winter!
This free mini-course features 5 videos + worksheets to help you:
Deconstruct your favorite meals to set your food preserving priorities
Explore 4 quick and easy options for preserving food (besides canning!)
Discover delicious ideas for featuring your preserved food in healthy recipes all winter long
MASTERCLASS: This winter, imagine grabbing all the ingredients you need for a meal right from your pantry without having to go to the grocery store! With a few simple techniques you can continue to enjoy food grown in your own garden (or purchased from the farmers market) throughout the long, cold months of winter.
This class will teach you how to make every harvest last longer by quickly and easily preserving vegetables at the height of their season.  You'll love the feeling of sitting down to a meal and knowing a large part of it came from your garden!
BOOK: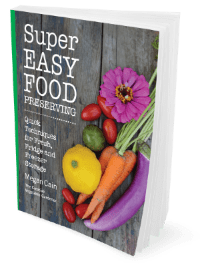 Preserving some of your excess produce is the best way to make your garden harvests last all year. And, preserving doesn't have to be difficult or take up a lot of time.
My book, Super Easy Food Preserving, features the simplest and quickest way to preserve each fruit, vegetable, and herb. Read more about it here.
BLOG ARTICLES: Discover more about how to easily preserve food from your garden and the farmers market this harvest season.
SHARE IT ON PINTEREST