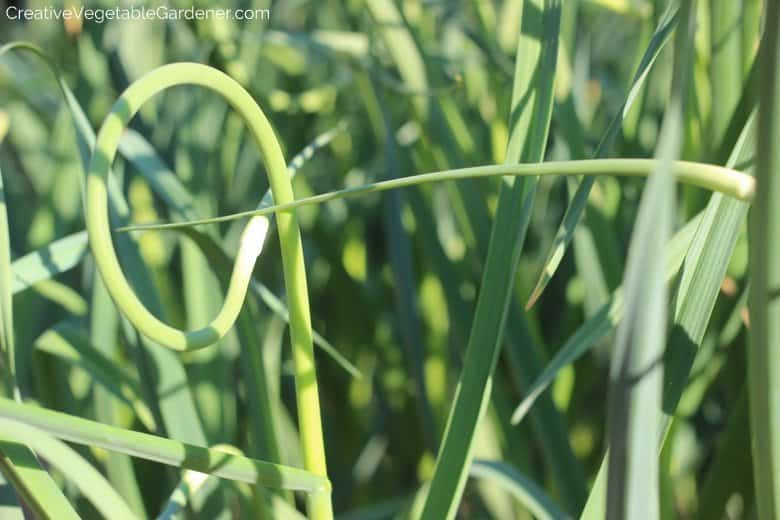 If you're not sure what to do with all of the scapes from your garlic crop, this post will teach you how to make my favorite garlic scape pesto for use in delicious meals during the cold winter months.
One of the fun things that naturally happens once you start preserving food from your garden is you get in the habit of daydreaming about all of the delicious ways you're going to eat the item throughout the year.
This week when I was making my annual batch of garlic scape pesto I flashed to our annual winter ski trip to the Upper Peninsula of Michigan. We rent a cabin that has no electricity or running water, and we have to load all of our supplies onto sleds and ski them into the cabin.
The weekend is one of my favorite of the winter season. We spend a few days cross-country skiing on beautiful trails, taking turns cooking for each other on the woodstove, and eating great food and drinking good beer by candlelight.
Tradition calls for everyone to bring food for lunch to share with each other.
There's usually a big spread on the table for a few hours in the afternoon so skiers can arrive on their own schedules and dig in.
We eat my husband's famous homemade hummus, cured local meats and cheeses, fermented goods, sliced vegetables, fresh greens, salty chips, and various spreads and pestos.
It's a sandwich-making feast for famished skiers!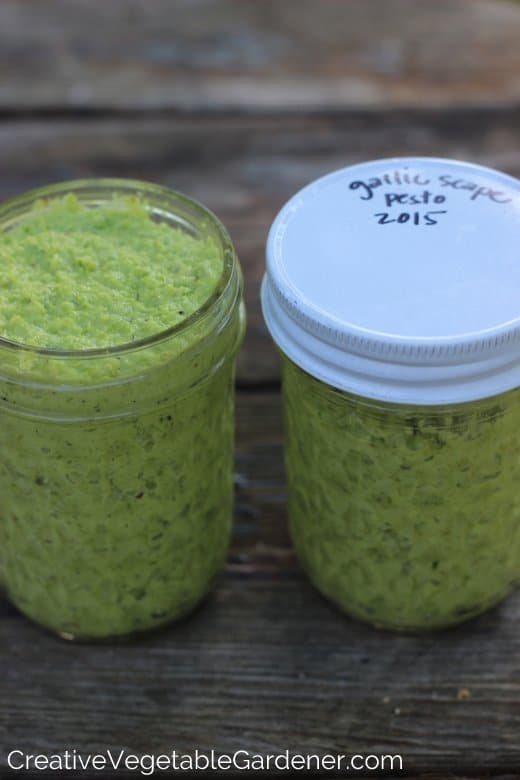 We always bring a jar or two of our garlic scape pesto to sit amongst the other homemade sauces and spreads (it's a food preserving kind of group).
And while I'm tucking into a delicious sandwich in a snowy cabin many miles and months away from my garden's garlic season, I'll gaze out the window and think of the sunny and warm day in June when I made that pesto in my kitchen.
Food preserving is about more than just using up your excess harvest. It's about creating your own yearly traditions of preserving what you grow so you can use those ingredients in delicious meals all winter long.
If you're a garlic grower like me (220 heads every year!), you might be swimming in garlic scapes each season around early summer. Making garlic scape pesto is hands down my favorite way to use up piles of scapes from my garden.
Here's the simple recipe I use every year.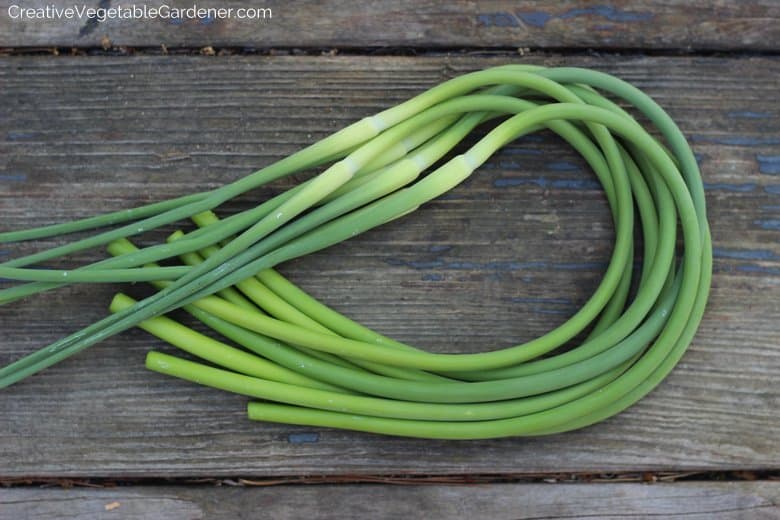 This post contains affiliate links.
How to Make Pesto From Your Garlic Scapes

The scape is the curly, green stalk that emerges from the middle of the garlic plant about 4-6 weeks before harvest. If left on the plant it will eventually flower.
Most people cut them off in order to force the plant to put its energy towards making a bigger bulb instead of making a flower.
I harvest mine when they start to curl themselves into a circle (see photo above). The longer you wait, the spicier and tougher the scapes become. I either snap them off by hand or use a knife to cut them.
Garlic Scape Pesto Recipe
Recipe by Bjorn Bergman (one of the ski trip members!)
Makes 1 ½ cups, or not quite two half-pint jars
2 cups garlic scapes, roughly chopped*
½ – ¾ cup of olive oil or sunflower oil
½ cup grated parmesan cheese (feel free to leave out if you don't eat dairy)
½ cup walnuts or sunflower seeds or pepitas
Pinch of salt
Pinch of pepper
*Note: feel free to mix in other herbs like basil, mint, cilantro, parsley, or even kale, to make the pesto milder. We love garlic, so we don't mind the strong taste, but here's your warning that you will have garlic breath after eating!
.WStepStepp
Step 1: Add garlic scapes, Parmesan, walnuts, salt, and black pepper to your food processor and pulse until well blended. (We invested in this 11-cup food processor many years ago and have used it several times a week since then.)
Step 2: Turn processor on and slowly add ½ cup oil. Once added, stop and scrape the sides to make sure all ingredients are incorporated.
Step 3: Taste and adjust seasoning with salt and pepper. If pesto is too thick, add more oil while the processor is running.
Optional: If you don't like the taste or it's too strong, mix in other herbs and/or kale from your garden to tone it down.
Step 4: Process pesto once more until it is creamy, about 1 minute.
Step 5: Load the pesto into your preferred containers and store in your chest freezer for up to a year. I use these half pint jars.
.
I like to store my pesto in half pint jars in my chest freezer. You can also freeze it into discs or ice cubes and then store in a freezer bag. Don't forget to label the jar with the item and date. Frozen food is best if eaten within a year.
How to Use Garlic Scape Pesto
You can use garlic scape pesto the same way you would any other kind of pesto. Just beware, it packs quite a garlic punch!
These are the three most common ways we use our pesto:
Lunch Wraps
One of our most common lunch foods is homemade hummus. It's inexpensive to make and provides lots of protein. Hummus wraps are also handy for traveling and packable as lunch on long hikes or bike rides. No lunch wrap is complete without a smear of pesto.
Would you believe that we ate hummus wraps for lunch almost every day of our year-long sabbatical in 2019? I do not lie.
Pizza
Friday night is often pizza night at our house featuring whatever garden veggies we have on hand. All of our pizzas are spread with a layer of pesto, then veggies, then cheese on top. Yum!
Breakfast Foods
Egg sandwiches are a staple for weekend breakfasts. When we go camping in the summer, we always throw a jar of pesto into our cooler and layer it in our sandwiches with tomatoes, peppers, greens, and cheese.
We also use garlic scape pesto in other egg dishes like omelets and frittatas.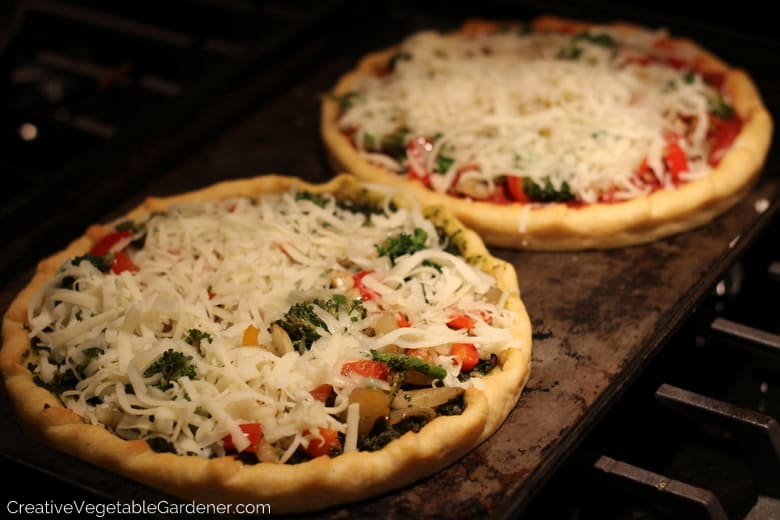 Don't you love how food preservation brings you full circle each year?
The garlic season starts with planting in fall, continues with the harvesting and preserving in summer, and culminates with spreading pesto on a sandwich in winter.
Wow! What a journey full of life and love and beauty.
And that's exactly how I want my food to feel and taste.
So, in honor of lazy summer days and in preparation for the long winter nights to come, harvest your scapes this season and make some garlic scape pesto.
You never know what occasions will present themselves to break out a fresh jar this winter!
Additional Resources for Food Preserving
Check out my free mini-course: Get Started Stocking Your Pantry for Winter. I'll show you how simple it can be to fill your pantry with lots of healthy food that will save you trips to the grocery store this winter! Start watching the videos here.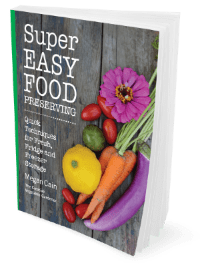 Preserving your excess produce is the best way to make your garden harvests last all year. And, preserving doesn't have to be difficult or take up a lot of time.
In fact, since I'm not a big fan of canning, I'm constantly on the hunt for the quickest way to preserve each vegetable. I compiled my favorite techniques, recipes, and tips into my book, Super Easy Food Preserving.  You can purchase the eBook, print book, or bundle here.
Other articles on food preserving:
.
.
.