It's common to think you have to wait until the peak of the harvest season (August-October) to start preserving food for the winter.
But, if you wait until this late in the year in northern climates you may miss out on several fruits and vegetables that only come around for a few weeks in the early summer. They have a short window and then they're gone until the next year.
At my house, by the time June arrives, we're down to the last dregs of our chest freezer. This is usually around the time when I unplug it and clean it out.
Completing this chore signals the end of the previous year of food preserving and the beginning of the new season!
There's something so satisfying about staring into a newly cleaned and emptied chest freezer knowing that I'll spend the next few months filling it up with fresh produce we'll eat all winter long.
Gardening always has a way of bringing you full circle!
The following three vegetables and fruits are the first things I start putting away for the upcoming winter in Wisconsin.
They're all super easy to preserve and you'll be able to incorporate them into meals throughout the rest of the year.
Catch them now, before they're gone for good!
3 Don't Miss Vegetables for Early Summer Preserving



Strawberries
The first of the strawberries start to arrive in the Madison area farmers markets in early June. That's also when local pick-your-own farms throw open their doors to the public.
In northern climates like mine, strawberry season is a short one (three weeks!) so you have to keep your eye on the calendar and act quickly.
The easiest and quickest way to get strawberries into your pantry is to freeze them whole. This is my preferred method because I mainly use them in my morning smoothies.
Another option is to cook them down into a sauce and then freeze it. This will save you room in your chest freezer by allowing you to store more strawberries in a smaller space. This would be a good option if you want to use the sauce on ice cream or pancakes or even in oatmeal.
You could also make strawberry jam and can it. I don't take this route because we're not big jam eaters and I consider canning to be too much work. There are usually easier options, like the two techniques above.
I don't grow strawberries in my garden because they take up too much space for only three weeks of harvest. I'd rather grow something like kale in that same space, which provides me with months of harvests.
Instead of growing strawberries, I schedule a trip to the u-pick farm in mid-June and pick as many strawberries as I possibly can in the span of a few hours. I try to shoot for about 30 lbs., but I don't always make it!
Strawberries are a great example of something you can buy and preserve instead of growing it yourself.
Garlic Scapes
If you planted garlic last fall you should check your plants in mid-June in northern climates, earlier in warmer climates, to see if they're shooting up a stalk from the center of the plants.
This is the garlic scape!
The scape is the flower stem that garlic produces before the bulbs mature. Removing it encourages the garlic plant to send energy to the bulb, not the flower, resulting in (hopefully!) bigger bulbs.
You can chop the scapes and use them in place of garlic by sauteing them in a pan. You can also pickle or ferment them.
But, my hands-down favorite way to preserve them is to make them into a pesto to freeze for later use.
Check out this post where I share my favorite recipe, how to store it for winter, and the dishes I use it in throughout the year: Make this Bright & Fresh Garlic Scape Pesto Recipe.
Cilantro
Cilantro doesn't like the hotter weather and lengthening days of late spring and summer. This causes it to bolt, or shoot up flower stalks. This turns the leaves bitter and the plant won't continue to produce any more for harvest.
If you have more cilantro in your garden than you can possibly use, you can easily put some into your pantry for the off-season.
My favorite way to preserve cilantro is to turn it into dressings and sauces. I often make a cilantro and lime dressing that is great served with roasted veggies and rice, and I also have an amazing chimichurri recipe that would be extremely expensive to make in the winter because it contains a lot of herbs.
Sauces are so handy to have in the freezer for last minute dinners and when they're made fresh during the summer they pack quite a flavorful punch. And they're much less expensive than buying herbs in the middle of winter.
In my All About Herbs class below, I share all of my favorite recipes for preserving herbs.
Additional Resources for Stocking Your Pantry
Check out my free mini-course: Get Started Stocking Your Pantry for Winter. I'll show you how simple it can be to fill your pantry with lots of healthy food that will save you money and many trips to the grocery store this winter! Start watching the videos here.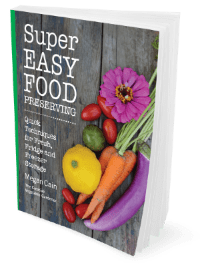 Preserving some of your excess produce is the best way to make your garden harvests last all year. And, preserving doesn't have to be difficult or take up a lot of time.
My book, Super Easy Food Preserving, features the simplest and quickest way to preserve each fruit, vegetable, and herb. Read more about it here.
If you're growing lots of herbs and interested in learning how to preserve them, check out my online course, All About Herbs: Your Guide to Growing, Harvesting, Cooking With, & Preserving a Bounty of Herbs.
This summer, make sure you stay on top of what's in season in your garden and at area farmers' markets so you can jump on the best deals when the time comes and get the surplus preserved quickly and easily.
The short time it takes will be more than worth it when you sit down to pancakes with strawberry sauce or pizza with homemade pesto on a snowy Saturday in January!