Kale is one of those controversial vegetables that elicits many different responses from people.
Some people think its proper place is as a garnish on the buffet table and others walk around with their Eat More Kale t-shirts like religious devotees.
Which camp do you fall into? Or are you somewhere in the middle?
It's no mystery where I fall. I usually grow 15 or more kale plants in my garden every season.
Kale is officially a trendy vegetable, but it's possible you find it puzzling that it's inspired such adoration recently. If you've planted more than a few plants you probably have more kale coming out of your garden then you know what to do with.
That's been my story.
Until I was introduced to the magic of massaged kale salads.
It's truly been a game changer for our relationship – me and kale. I no longer get sick of it or feel guilty that I'm letting it go to waste in my garden.
In fact, for the first time ever, this year I said to my husband, Mark, "I definitely need to plant more than 15 kale plants next year. I felt like we had to ration kale this season." What?!
If you've been wondering how to use all of the kale you've been growing, or just want to include more kale in your diet but don't know how, the miracle of massaged kale salads might be just what you need.
Massaging the kale completely transforms it from that waxy garnish into a savory, smooth and filling salad that deserves to be center stage at the dinner table.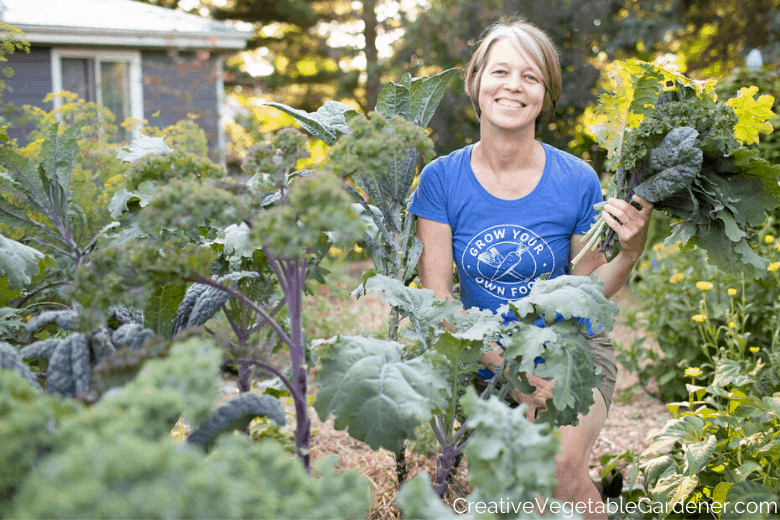 Love this t-shirt and want one of your own? It's custom designed by a woman artist. Find it in my shop here.
How to Make a Massaged Kale Salad
A massaged kale salad can be the base for lots of different variations. Once you understand how easy it is to massage the kale (and doesn't it sound relaxing?), you'll be able to riff off the plain salad and add as many different vegetables and dressings you can dream up.
Here's how to master the simple massaging part, and then we'll talk about the yummy additions that really make the salad sing.
Step 1:
Harvest an armload of kale or buy two bundles from the farmers market or grocery store. It shrinks down a lot! Feel free to mix different kinds of kale into one salad if you're feeling crazy.
Step 2:
Wash the kale if that's part of your vegetable prep. (Full disclosure: I don't always wash the veggies that come out of my own garden. Worms are extra protein!)
Step 3:
Remove the ribs and chop the kale into bite-sized pieces. If you gave it a wash, give it a spin in the salad spinner after chopping to remove the excess moisture so the water doesn't dilute your salad dressing.
Step 4:
Time for the massage. I find that it's easier to massage the kale in smaller batches. Put a couple of large handfuls into a big bowl and sprinkle them with a light dusting of salt.
Use your hands to massage the kale and work the salt into the leaves. This starts to soften and break down the tough leaves.
Do this until the kale starts to soften and wilt, 1-2 minutes. Warning: The first time I tried this I massaged the kale within an inch of its life and it was too limp. We're not going for the consistency of cooked spinach, we want more texture, like a hearty fresh winter spinach salad.
Repeat this process until all of your kale is massaged to your liking. Transfer to your serving bowl.
Nice job! This is the base layer of your super kale salad. See how easy that was?
Now, you have different options for building upon the kale.
The other two elements are the vegetables you'll add on top and the dressing to bring it all together.
Ideas for Massaged Kale Salad Dressings
Decide what dressing you're in the mood to make.
What?! You still use store-bought dressing? It's time to stop that right now.
Homemade salad dressing is extremely easy to make and you avoid all of the additives (like sugar) of commercial dressing. I haven't bought dressing from the store in over 15 years.
These are my favorite dressings to use with massaged kale salads:
Green Tahini Dressing from Cookie and Kate
Lemon Dijon Dressing from Cookie and Kate
Cilantro Lime Dressing from Love and Lemons
Before adding any other ingredients, mix the dressing into your massaged kale with your hands so it coats the kale. I reserve some for adding to individual salads.
Massaged Kale Salad Veggie Additions
Next, decide which vegetables you want to add to really make your salad extra super. The possibilities are endless!
How about one of these options:
apples, fennel, and goat cheese
Mediterranean style with tomatoes, cucumber, peppers and olives
Chickpeas, avocado, cranberries and pepitas
Personally, I tend to use whatever is coming out of my garden that week.
In spring I mix in radishes and turnips.
In the summer I use peppers, tomatoes, carrots, and zucchini.
And in the fall I toss in roasted beets, winter squash or broccoli.
Whatever you decide, the next step is to chop, dice, or shred your chosen vegetables.
And finally, add your vegetables, nuts, cheese, etc. to the salad. If you want it to be a full meal with protein consider adding beans, chicken, tofu, salmon or tuna on top. If it needs more dressing, simply pour a little more over the top.
Serve and devour!
Be surprised at how much kale you just ate in one sitting. You're so healthy.
If you don't eat it all in one sitting, massaged kale salads tend to keep pretty well in the fridge for a day or two. I often eat the leftovers for lunch the next day.
This is also a great dish to bring to a holiday gathering, serve to dinner guests, or make for a picnic or potluck.
Making a quick, healthy dish for dinner doesn't get any easier than this. Promise me you're going to put a massaged kale salad on this week's meal plan right away.
I guarantee you'll surprise and delight even the toughest kale skeptics in your life. As my brother-in-law exclaimed the last time I served him a massaged kale salad, "This is so good. I have a sneaking feeling you're trying to get me to love kale."
Who, me?!
Additional Resources for Recipes
I love trying new recipes and finding new favorite food bloggers and authors. If that's your jam, too, you can find all of my favorite cookbooks right here.
.