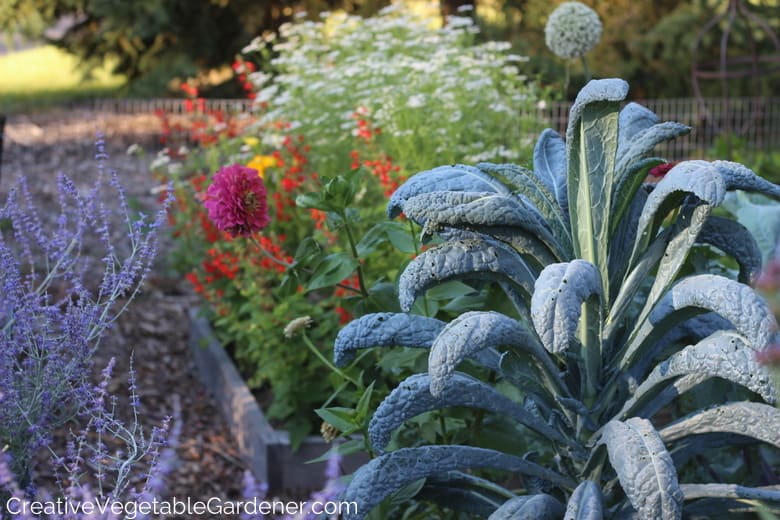 Lacinato kale in my front yard garden just waiting to be preserved for winter eating!
During the height of the summer harvest season, kale can get a little lonely in our gardens. I have to admit, I often brush by my kale plants in summer and rush towards the dramatic reds, purples, and yellows of my favorite summer vegetables like tomatoes, peppers, and eggplant. These sparkling beauties tend to steal our attention and energy away from this hardy stalwart.
That means we can end up with a large amount of kale that's ready for harvest, but no way to possibly eat the large quantity we've harvested.
(Although the magical wonder of a massaged kale salad can go a long way towards helping you ingest a mountain of kale in one or two sittings.)
Kale leaves are at their most tender and yummy when they're new, so there's not a lot of benefit to letting them sit in the garden for weeks on end.
Luckily, it's one of the easiest vegetables to preserve for use in favorite winter recipes. There's virtually no prep involved!

A Quick Way to Freeze Kale
It's true – you can freeze kale raw! I used to steam it first, but then once I started freezing it raw I couldn't really tell the difference between the two methods. Food preserving really doesn't get much easier than this.
Directions for freezing kale:
If you tend to have worms and insects in your kale you might want to wash the leaves before processing.
Cut the leaves from the stems. Discard stems.
Chop the leaves into desired bite-sized pieces.
If you rinsed your kale first, try to dry them off a bit before freezing. This will cut down on the ice crystals that form due to moisture. Use a towel to pat them dry, or give them a few turns through your salad spinner if you have one.
If you don't mind them freezing into one big chunk simply pack the leaves as densely as possible into freezer bags. This is what I do.
If you'd like the leaves to be loose and easily broken apart, spread them on a cookie sheet and pre-freeze them in the freezer for 60 minutes. Then pack into freezer bags.
The best place to store your frozen kale is in the chest freezer. It will last up to one year – unless you eat it all first!
I love to use frozen kale in smoothies, soups, stews, and stir-fries throughout the dark winter months. I simply take out a freezer bag and use the whole chunk, or cut off what I want with a knife.
Next time you venture out to your garden to harvest veggies, don't get distracted by those gorgeous summer vegetables, instead, take a look at your kale plants, and if they're booming, it's time to freeze some kale!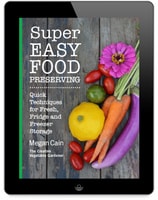 Eat food from your garden all year round!
You can make every harvest last longer by learning how to quickly and easily preserve vegetables at the height of their season. And if you think canning is the only option, my book, Super Easy Food Preserving, teaches you how easy it can be to use your basement, fridge, and freezer instead. Read more about it here.
SHARE IT ON PINTEREST