At the peak of the harvest season, most of us have fridges jam-packed with our abundant harvests. It's exciting because it's what we've been waiting for all year. But, it can also be stressful.
Every time you open up the fridge door there's a lot of produce calling out to be put away for the winter or it will end up in the compost bin.
And, as is often the case where I live in Madison, the height of the food preserving season coincides with some of the hottest days of the summer. The last thing I want to do is stand in front of a boiling vat of water for 12 hours during a canning session.
If you feel the same way, but you have a crate full of tomatoes you want to put away for yummy winter dishes, let me give you some good news. Canning tomatoes isn't the only way to preserve them. Yahoo!!!
Here's how to preserve tomatoes this summer without the blood, sweat, and tears that often accompany a long, hot day of canning.

How to Preserve Tomatoes Without Canning
This post contains affiliate links.
If you have an abundant harvest you're not sure what to do with, here's how to preserve your tomatoes three ways so you can get them into the freezer FAST.

Freezing Raw Whole Tomatoes
This method is quick and simple, but takes up a lot of freezer space. Tomatoes contain a lot of water and if you freeze them raw you're storing that water. If you regularly run out of storage space I'd skip this method.
Step 1: Gently pack whole, raw tomatoes into quart or gallon freezer bags and put in the chest freezer.
Step 2:  When you're ready to use them you can defrost them in a bowl and then throw them in your dish.
How to use them: They're great in soups and stews, or make them into a pasta sauce.
Freezing Chopped Raw Tomatoes
This method takes a little more time than freezing them whole, but the end result won't take up quite as much room in storage. You'll still be freezing a bit of water, so you could try letting them drain in a colander for a while.
Step 1: Chop tomatoes. I like to discard the top, but I don't bother coring them.
Step 2: Optional – Drain off some of the water by placing them in a colander for a bit.
Step 3: Pack the chopped tomatoes raw into containers for later use. (I like old yogurt containers.)
Step 4: Defrost before using.
How to use them: I use these tomatoes in any recipe that calls for chopped, diced, or whole canned tomatoes. You can also make them into a tomato sauce by sauteeing onions and garlic in a pan, then throwing in a container of defrosted tomatoes and cooking it down until it has a pasta sauce consistency.
Freezing Chopped Cooked Tomatoes
This is my favorite method even though it takes a little more prep. It's the best way to fit the most tomatoes in your freezer.
Step 1: Chop tomatoes. I like to discard the top, but I don't bother coring them.
Step 2: Put tomatoes into a stock pot or steam table pan and cook them down to desired consistency. The objective is to cook off some of the water so you're freezing more tomatoes than water. Super-tip: Using a steam table pan allows you to put the pan over two of the burners on your stove. (See the below video.)
Step 3: Let the tomatoes cool and pack them into containers or bags and freeze.
Step 4: Defrost before using.
How to use them: Like the second method, use these tomatoes in recipes that call for any type of canned tomatoes, or make them into a tomato sauce.
You can simply cook them down as plain tomatoes, but if you have extra herbs, green beans, or other vegetables in your fridge consider adding them near the end of the cooking time.
I use this steam table pan to cook down my tomatoes.
I'm excited to share this video I created in my garden and kitchen walking you through the exact steps I use to fill my pantry with enough tomato products to last the whole year!
You'll see that food preserving doesn't have to be hard, take a lot of time, or make you sweat!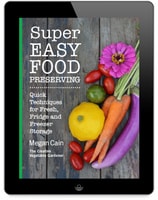 Want more quick and easy ways to preserve food?
Get more ideas for using your basement, fridge, and freezer in my book, Super Easy Food Preserving. With a few strategic investments of time you can be eating food from your garden all year long. Read more about it here.
.
More food preserving ideas:
The #1 Thing to Know Before You Start Preserving Food
.