In the span of one Saturday morning trip to the farmers market I had a sudden realization that completely changed the way I look at food preserving.
I was trudging around loaded down with vegetables (I go there to buy things I don't grow – corn, melons, blueberries) when I started to notice the great bulk deals all around me.
An overflowing bucket of pickling cucumbers for $10. Tomatoes for $1/lb. Huge bags of broccoli for $2.
"Look at all of these great prices!" I thought to myself. "I should buy some of these vegetables for preserving."
I should buy some of these vegetables for preserving…
That thought hit me like a bolt of lightning.
It was quickly followed by a brand new realization – I don't have to grow everything I preserve. Whoa!
IT'S TIME TO APPROACH FOOD PRESERVING DIFFERENTLY
Many of us gardeners focus our food preserving only on what we're harvesting from our own gardens. This can be limiting if you have a small yard and garden, or if your family tends to eat most of what you grow.
Like me, it may never have crossed your mind that if your garden isn't producing enough tomatoes to make and freeze your favorite roasted tomato sauce, you can simply make a trip to the farmers market and take advantage of the rock bottom prices during the peak of tomato season to supplement your own harvest.
I know, I know. This was truly a Doh! moment for me. That's why I couldn't wait to share this life changing food preserving tip with you!
Tomatoes chopped and ready to be cooked down and frozen. Only some of these are from my garden.
This summer and fall, think about what garden fresh foods you'd love to be able to pull from your this winter. If your kids love pesto pasta, but you don't have quite enough basil to make as much as you'd like to freeze, stop by your local farmers market and pick up some bundles of basil to bulk up your own harvest.
Or, better yet, ask your favorite local farmer if you can get a discount on a bigger order and make a large batch all at once.
Once you adopt this new way of thinking about preserving, it may revolutionize how you garden as well. If you're going to purchase some of the food you use for preserving, then it makes sense to focus on growing the most expensive vegetables.
For example, I used to grow 35 tomato plants to provide us with large harvests for canning salsa and freezing tomato sauce. Once I realized I can purchase tomatoes for $1/lb. or less during the peak of the season, I cut my plants in half and use that space for something that's more valuable to me. (I can often get two rounds of vegetables – i.e, spring carrots and fall spinach – planted in a bed that used to only contain tomato plants.)
This is all a part of thinking strategically about your garden, which I talk a lot about during the garden planning season, but which you can start right now with this food preserving tip.
[fancy_box id=3 linked_cu=6947]Discover how easy food preserving can be with this FREE video series filmed in my garden and kitchen.[/fancy_box]
Here's your two part assignment for this food preserving season:
#1: Think about which vegetables and fruits you wish you had more of for food preserving. Take a walk around your local farmers market, or visit a u-pick farm, and purchase a few of those items. Remember, prices hit rock bottom at the peak of the vegetable's season. I wait to buy butternut squash until late September when the whole market is overflowing with winter squash.
#2: Pay closer attention to the prices during peak season. What's worth it for you to grow in your own garden, and what's smarter to buy from somewhere else? Because organic cabbage sells for $2-3 dollars each for many weeks of the year at my market, I've decided it's not worth it for me to plant in my garden.
Red peppers on the other hand, can also be $2 each at my market. It makes a lot of sense for me to grow as many of those as possible, especially since I like to freeze them for winter eating. I've replaced some of that tomato growing area I talked about above with pepper plants!
Make note for next season and focus on the high value vegetables instead of growing things that are extremely cheap at the market, unless you really love having them out your front door.
For me, the name of the game has always been super easy food preserving. I don't like to do anything that takes too much time and work, i.e. canning. But, with this light bulb moment, I also decided to apply the super easy line of thinking to the process of acquiring the vegetables for preserving as well.
My belief is that whatever is the quickest and easiest way to get things into the pantry is the best way. And sometimes that means simply purchasing the vegetables you want to put away instead of growing them yourself.
You can source things from the local farmers market, u-pick farms, and your CSA. If you have the time, produce is often less expensive if you go and pick it yourself. (You can look for local u-pick farms here. If you live in WI you can check out this great resource.)
The next few months in most areas are the height of the season for many fruits and vegetables. When you buy at the peak you get great prices and delicious produce with the added bonus of not having to tend to the plants yourself.
It's time to think about what you can buy in bulk for easy preserving.
[fancy_box id=3 linked_cu=6947]Discover how easy food preserving can be with this FREE video series filmed in my garden and kitchen.[/fancy_box]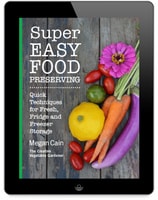 If you want to learn more about how to make the harvest last longer by quickly and easily preserving vegetables, fruits and herbs, check out my book, Super Easy Food Preserving, here.
Let the food preserving season begin!
SHARE IT ON PINTEREST