If you had to guess, what's the most common mistake beginning gardeners make?
If you said, "starting with a garden that's way too big", you're right!
Over the years I've met thousands of gardeners who get excited about the idea of growing their own food and then dig up a huge section of their yard.
Not the best idea!
It's much easier to keep up with a small garden during the busy summer season. You're more likely to be successful, which means you're going to have a lot more fun. And greater success will make you excited about continuing to garden the following season, and hopefully for many more seasons after that!
So, if you're new to gardening, I encourage you to keep it simple and start small this season.
And if you've already hopped on the tiny garden bandwagon, here are my top tips on how to start a small vegetable garden that's bursting with produce this year.

How to Start a Small Vegetable Garden
Choose Your Size
What is a small garden? I had a plot in a community garden for many years and the standard sized plot was 20'x20'. This was often too big for beginning gardeners. Half that size, 10'x10', was a much more manageable size for most folks.
Starting with one to two raised bed is also a good choice. A 4'x8' raised bed will allow you to grow a handful of different vegetables and will be easy to manage. You can always expand your garden in the coming years after you've fallen in love with growing your own food.
We eat a lot of kale in our house, so growing it is a top priority each season.
What Do You Want To Grow?
When starting a small vegetable garden a critical first step is deciding what to grow. The best way to do this is to look at your eating and grocery shopping habits. What do you eat and buy from the grocery store on a regular basis? What are your favorite weekly meals? Deconstruct those meals to see if you can grow any of those ingredients in your garden.
It may sound obvious, but if you grow what you eat you'll get much more satisfaction (and savings) from your garden. Focus on the five vegetables you eat the most and grow those first.
Get help figuring out what to grow this year with a free printable worksheet.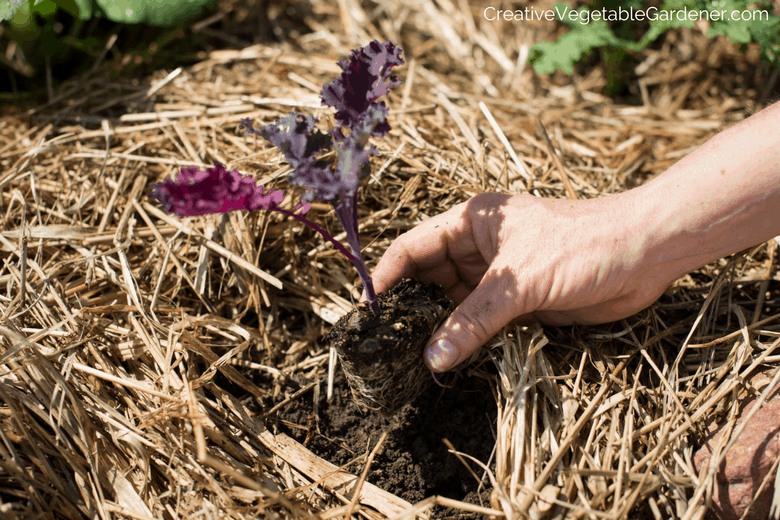 Start with Seedlings
There are different ways to plant vegetables in your garden. Some things are more commonly grown by starting with a seedling (a baby plant), and some vegetables are grown by planting a seed in the ground. Seeds often need more attention initially than plants, since they need to be watered every day or so until they germinate.
When you have a small garden, you can't take the risk that some of your seeds won't germinate and leave you with empty spaces.  You need to take full advantage of the space you have and make sure you're growing food in every nook and cranny.
Buying seedlings is a great way to skip over the tricky germination period and move right on to a healthy and growing plant. Seedlings can also give you a jump start on the season, which is a bonus when you don't have a lot of growing space.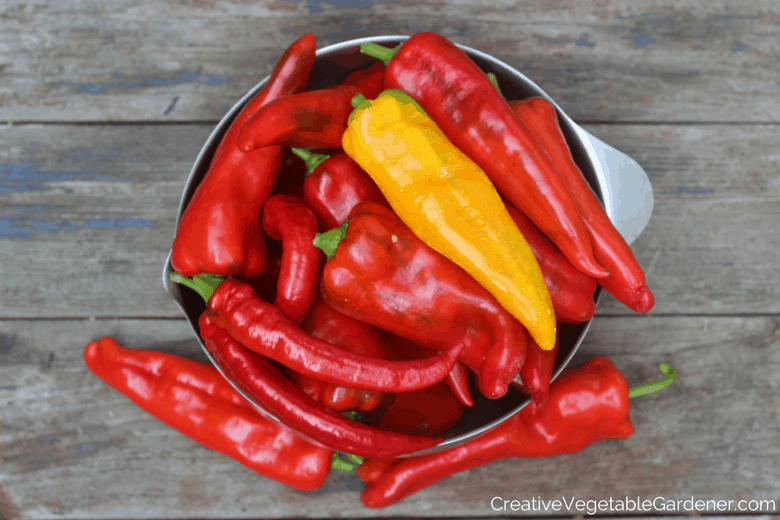 Red peppers are difficult to grow in Wisconsin, so I've asked my local farmers which varieties work well for them.
Buy Local
Each vegetable you grow in your garden comes in so many different varieties, shapes, colors and sizes that it can be confusing when you're shopping for seedlings. Which variety should you pick for your garden? The trick is to buy as locally as possible.
Don't go to your local big box store to shop for vegetable plants. Who knows where they were grown. Instead, visit your local farmers market. At the market, my favorite people to by plants from are CSA farmers. They're selling the exact varieties they're growing in their own fields and are usually pretty picky about selecting high performing and delicious vegetables. Plus, you can ask them about any variety you're wondering about!
Don't mess around with underperforming varieties in your garden. Make the extra effort to make sure the seeds and plants you're selecting for your garden are right for your area. You'll end up with a much more successful harvest this way!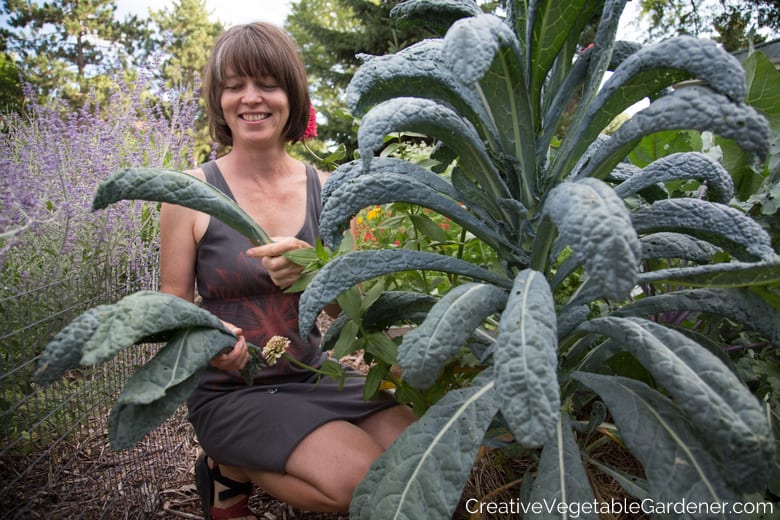 I love being in my garden on a summer evening, harvesting food for the week's cooking!
Immerse Yourself in the Experience
If you let it, gardening can become one of the most fulfilling and joyful parts of your life. There's nothing quite like going out your back door to harvest a bowl of fresh vegetables for dinner! Take time to enjoy the sights, sounds, colors, and details of your garden.
One of the ways I do this is to spend early summer mornings with my camera taking photos of the tiny details that catch my eye. Set up a chair near your garden for resting and relaxing, drink your morning coffee on your back step while gazing at your garden, or set up some birdhouses to attract more wildlife to your yard.
When you immerse yourself in gardening it becomes more than a hobby…it becomes a lifestyle.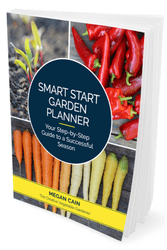 Practical, down-to-earth, and fun garden planning! After reading the Smart Start Garden Planner, you'll have a personalized blueprint for what a successful season in your garden looks like. Plan your best season yet! Get your copy here.
.
Check out these posts for more tips on planning your garden. 
How Much Food Will You Get From Each Vegetable Plant?
Free 10 Step Guide to Planning a Smart Spring Garden
Unique & Colorful Varieties to Grow This Year
SHARE IT ON PINTEREST