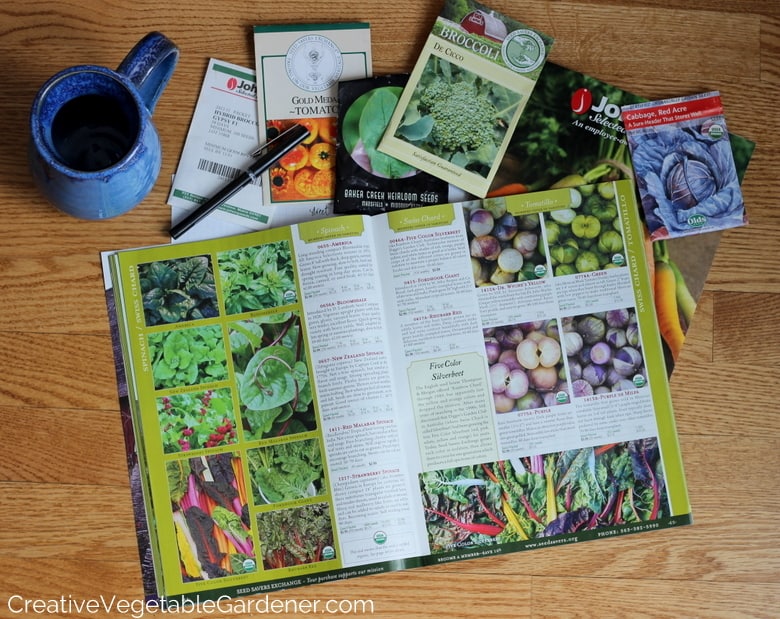 Once the holiday season is over many of us are staring a few more months of winter in the face. This could be depressing, except that now it's time to start planning our gardens! Woo-hoo!
Planning your garden doesn't have to be a lot of work, stressful, or overwhelming. In fact, it should be simple, easy, and fun. And what's the best part? Looking through seed catalogs.
If you don't currently receive seed catalogs at home, then you're really missing out! It's heartwarming to peek inside your mailbox on a cold and dreary winter day and find a colorful seed catalog poking out.
One of my favorite weekend activities at this time of year is to make a cup of tea and curl up next to my wood stove with a stack of catalogs and gardening books and let my imagination wander.
I don't recommend waiting until the first nice day in spring and then running out to your local garden store to stock up on seeds. This will likely lead to buying things you don't need and wasting a lot of money.
Thinking about and planning your garden in advance, in the winter, will help you make smarter decisions for spring. Ordering  your seeds from a catalog is a great first step in the planning process and one you can do right now.
If you don't currently receive seed catalogs in the mail, then take a few minutes today to request some. My favorites are:
When your catalogs arrive, spend time thinking about what you want to grow this season and why. I created a series of questions to help you set some priorities for your garden this season. (You can find them here.) After answering them, narrow down your choices and place your order.
Then, when that warm spring day does show up, you'll be totally prepared to smartly start the gardening season!
What are your favorite seed companies? Post them in the comments below this post.
Want to read more about garden planning?
How Much Food Does Each Vegetable Plant Produce?
Unique & Colorful Varieties to Grow This Year
How Do You Plan Your Small Garden?
SHARE IT ON PINTEREST