Growing food in a community garden plot is a very unique style of gardening with great benefits and some tough challenges that home gardeners don't experience.
The benefits: meeting kind and generous people from all over the world who share a love of gardening and learning from each of them by watching what they grow and how they set up their gardens.
The challenges: the far distance from your house which often limits how frequently you can visit your garden, and the difficulty of managing your garden from afar.
If you're not careful, these challenges can make community garden plots feel more like a burden than a joy.
But, don't worry! A lot of the hardship can be avoided if you pick the right vegetables for growing in a community garden.
I've grown food at several different community gardens here in Madison, WI (zone 5a) over a ten year period, and had a home garden at the same time during many of those years.
I learned a lot about what vegetables work best in a community garden setting, and which ones to leave off the list each season.
Here are some special considerations when deciding which vegetables to grow in your community garden.

What to Plant in a Community Garden
High Maintenance vs. Low Maintenace Vegetables. The number one thing to know is that some vegetable plants require much more constant attention than others. For example, a kale seedling gets planted in early spring and basically hangs out in the garden producing food until winter when it gets killed by heavy frosts if you live in a cold climate.
During those months in between, there's not much you need to do except keep the plants watered and harvest kale leaves whenever you want to take some home for dinner.
That's what I call a low maintenance vegetable!
In contrast, bush green beans are more high maintenance. Once they starting producing beans, you need to pick those babies every other day because they grow quickly.
If you don't, you'll end up with a harvest basket full of beans that are too big and too tough to be delicious. They need constant attention during the weeks they're being harvested.
So, why do these two categories matter?
Most people who tend community gardens aren't able to visit their plots every day. This makes growing vegetables that need daily attention problematic and often leads to frustration.
If this is true for you, then you should choose vegetables that can hang out in the garden on their own as much as possible – the low maintenance vegetables.
Top Vegetables Recommended for Community Gardens
These low maintenance plants are great for growing in your community garden because the ripe fruit (or vegetable!) can chill out in your plot for a bit when it's ready.
BASIL
Once this herb gets going, it will continue to produce until the first frost. And it's super fun to grow because there are so many different and interesting varieties. The trick is you need to keep harvesting it so it doesn't flower and go to seed, which means it will quit growing leaves for you to harvest. Discover all you need to know about basil in the video below.
Recommended Varieties: Italian Large Leaf, Genovese, Purple Ruffles
CABBAGE
While you don't want to let your cabbage languish alone in your garden for weeks, if you're out of town for a few days when it's ready to harvest this patient plant will wait for you to return. My favorite thing to do with my cabbage harvest is to ferment it into sauerkraut and curtido, which is very easy once you understand the process.
Recommended Varieties: Tendersweet, Red Express
Curious about fermentation? I have two posts for beginners here: How to Start Fermenting Vegetables From Your Garden and 5 No-Fail Fermented Food Recipes for Beginners.
EGGPLANT
You have to grow at least one purple vegetable in your garden. It's such a fun color for food!
Recommended Varieties: Orient Express, Dancer
GARLIC
If you like to cook from scratch, it's likely you use a lot of garlic and onions. Me, too! Garlic is one of the easiest vegetables to grow if you're a cold-weather gardener. But, unlike pretty much every other vegetable, you need to make sure you're planting it in the fall and then you'll harvest it the next summer.
My post, Why You Should Plant Garlic This Fall, has been one of the top three most popular on my site year after year!
Recommended Varieties: Music, German Red
KALE
As we learned at the beginning of this post, kale is definitely a low maintenance vegetable! You can plant it early in spring and it will produce plenty of kale leaves for the entire season. It even thrives in the cool weather of fall and can survive the first few touches of frost. Amazing!
Recommended Varieties: Red Russian, Lacinato, Winterbor
LEEKS
Leeks are a long season vegetable, which means they will take about 110 days from planting until harvest. That's a loooong time. But, they don't take up a lot of room and there's not much you need to do to take care of them apart from weeding and watering. Plus, they're ready for harvest in the fall, just in time for potato leek soup.
Recommended Varieties: King Richard
When choosing which vegetables are "worth it" to grow in your garden you need to understand how long it takes to get a harvest. There's a wide range of time involved in the different vegetables – from 25 days to 125 days. Find out more in this article, How Long Do You Have to Wait for Each Vegetable to Grow?
ONIONS
If you're a home cook, see garlic entry above! There's no such thing as too many onions in my book. I grow 300-500 every year! They can be a little tricky to grow sometimes if you don't know a few simple secrets. Luckily, I have a detailed post here.
Recommended Varieties: Redwing, Patterson
PARSLEY
Some of the herbs like thyme and oregano are perennial in many locations, which means they'll come back again year after year. This might not be allowed in a community garden setting, so annual herbs like parsley are a smart choice. My suggestion is to buy a parsley plant from your local garden store in spring instead of trying to start seeds. Then, you can sit back and harvest parsley all season long.
Recommended Varieties: Italian Flat Leaf
PEPPERS, SWEET OR HOT
I always feel rich when I have a basket full of ripe, red peppers. Sweet peppers can be expensive to buy at the grocery store, so they're definitely one of the vegetables that give you the most bang for your buck. You need to make sure you're choosing a variety that will more easily produce ripe peppers, which I've found is often the Italian frying peppers, not the bell type. My number one tip for growing red peppers is here.
Recommended Varieties: Jimmy Nardello, Carmen
POTATOES
In general, growing potatoes is pretty easy in most climates. And, you can grow fun colors you can't find in the grocery store, like purple, blue, and pink. Summer potato salad, here we come!
Recommended Varieties: Adirondack Red, Magic Molly
SWISS CHARD
Chard is similar to kale in that you plant it in spring and it keeps producing leaves all season long. You simply cut some off with a knife when you're ready to cook with it and the plant will get back to the work of growing new leaves to replace them. Rainbow chard adds some pretty pops of color to complement the various shades of green in your garden.
Recommended Varieties: Bright Lights
TOMATOES
Tomatoes might be the most popular vegetable to grow in community garden plots around the country! And there are literally thousands of varieties to choose from. No summer grill out is complete without at least a few tomatoes on the table. The most fabulous part of growing your own tomatoes? You can choose unique varieties and colors that you'll never see at your local grocery store.
Recommended Varieties: Amish Paste, Sun Gold, Green Zebra, or try seven different varieties
My community garden plot. Lots of onions and garlic!
When you're planning out what to grow in your community garden plot this year, think strategically about the vegetables and focus on the ones that can be tended from afar.
That way, if you get busy in summer and can't visit for a while you won't waste food or be disappointed that you missed out on an eagerly anticipated harvest.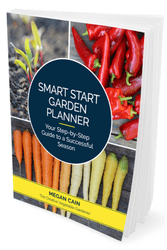 When looking at the above list there are also other characteristics to consider about each vegetable besides whether it's low maintenance or not – like how many days you have to wait for a vegetable to grow to harvest size, how long you can expect to harvest food from the plant once you start, and how big the plant gets so you can decide where and how many to plant. I cover all of this and more in my Smart Start Garden Planner. It's a fresh and simple approach to planning your garden. The workbook keeps planning practical, down-to-earth, and fun! Get your copy here.
SHARE IT ON PINTEREST