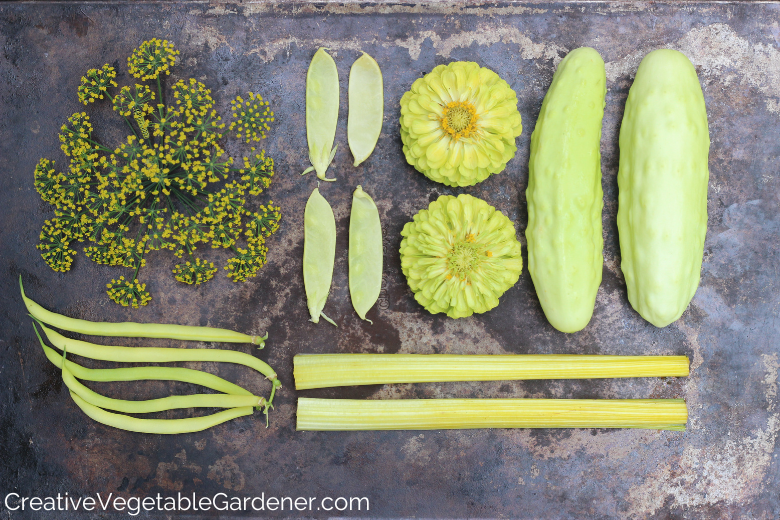 Planning your garden can mirror the act of painting a canvas. Picking varieties of vegetables and flowers with distinct colors, shapes, and patterns traced over them brings beauty to the abundance.
Vegetables can sometimes hide amongst the foliage, or in the ground in some cases, though, with a little extra planning and curating of your seed catalogs, you can bring some extra pop to your beds this season with some uniquely colored vegetables.
When I start to plan out my garden, I look to substitute a few of my go-to veggies with some that provide a burst of color, and there's no better color than yellow vegetables to bring an extra splash of sunshine to my garden.
This year, think of your beds as a palette and try to add more brush strokes of yellow to your canvas. This list includes my favorite yellow varieties of veggies and flowers that spark joy and enliven the beds I paint on.

A Fun List of Yellow Vegetables to Grow in Your Garden This Season
#1: Beans
Beans are a vegetable that keeps me on my toes. I know that the moment I decide to skip harvesting the bean patch I invariably lose a handful of beans to the compost bin when they quickly grow into a long woody pencil.
If you've grown green beans in your garden, you know that they tend to camouflage themselves among the green leaves, so they're easy to miss when harvesting.
Yellow beans, and purple, too, provide the contrast needed to make finding that perfectly ripe bean that much easier than their green cousins.
Two varieties of beans that I like to grow are Trilogy mix and Rocdor. Trilogy is a mix of yellow, purple and green beans. I love the complimentary colors of yellow and purple in this mix, even if I have to dig a little deeper for the green ones. And Rocdor is an early bean, 53 days to harvest, that has a rich and buttery taste. The golden color will make your harvesting job a breeze.

#2: Beets
Beets are an important part of my garden. They're a super star in the storage department and provide a bounty of essential vitamins and minerals to my diet. And I think they taste incredible when roasted!
Touchstone Gold and Boldor are two of my favorite varieties. Though they might not stand out until you pull them out of the ground, they will definitely liven any recipe without dyeing the other ingredients a purple reddish hue like they're red counterparts.
Read more about how to store beets for winter eating.

#3: Carrots
Aside from being the ficklest plant in the garden to germinate, carrots are a staple of my spring, summer and fall harvests. Yellow carrots aren't always my fresh eating carrot of choice because they tend to be less sweet and more earthy than orange carrots. But, when they're served shredded in salads and or roasted with savory herbs they help create beautiful and delicious meals.
Yellowbunch and Yellowstone are two yellow vegetables from Johnny's Selected Seeds that have performed well in my garden over the years.
I share lots of helpful tips on how to grow carrots in this article.

#4: Chard
Chard is one of those plants I'm tempted to grow more as an ornamental than as an ingredient in a dish because the plant itself is so striking. I have taken note of a flower pot or two in my Madison's downtown square planted out with yellow and red chard alongside annual flowers, ornamental cabbage and kale.
Chard is also a great subject for vegetable photography! The dark green leaves make the neon yellow stems truly pop.
But, don't worry, I also eat my chard as well, once I'm done admiring it's beauty. Bright Yellow from Johnny's Selected Seeds is a tasty and colorful boost to your garden beds and will help you eat the rainbow.
All about easily freezing swiss chard with this no-cook method!

#5: Cucumbers
A common complaint about cucumbers is that they are bitter. I would also put them in the same category as beans because they sneakily hide themselves among the green leaves of the plant to avoid harvest. Silver Slicer has a milder flavor along with a light colored flesh that makes them easy to spot when it's harvest time. Making quick pickles out of Silver Slicers can add a bright flavor to salads and sandwiches.

#6: Onions
I grow up to 500 onions in my garden every year, with goal of pulling storage onions from the cellar until the date of my next onion harvest the following season. I like to grow a combination of onions in my garden, usually a mix of sweet, fresh eating onions and storage onions. When it comes to yellow storage onions, I have had consistent results with Patterson.
Everything I know about growing onions is in one of the most popular articles on my website.

#7: Peas
Growing peas in the Midwest feels like a race against time. Every harvest as summer approaches is win because when temperatures spike it likely means an end to more fresh peas, because the plants don't like hot weather.
I do love growing these yellow beauties from Seed Savers, Golden Sweet. They are like little sparkling jewels hanging from the trellis. And like the yellow beans and cucumbers, they have the ease of harvest that yellow vegetables with light skins provide. Golden Sweet Peas are an excellent addition to any fresh salad or stir fry, or delicious eaten fresh off the vine.

#8: Sweet Peppers
I have written extensively about my love of growing peppers. If you've been around here for awhile, you've probably heard me gush about my favorite red pepper – the big, prolific, and delicious Carmen.
Lucky for me, the alchemist plant breeder at Johnny's Selected Seeds decided the world needed a yellow version of my favorite pepper. Escamillo has a lot of the same characteristics as Carmen. The only trait that is not as robust as its sister in the Solanaceae family is the prolific production. But, two out of three is pretty good for me.
Lively Yellow Italian is another frying pepper that I have grown with success in Wisconsin. The flesh has a delicious thick wall and it's great for both fresh eating and cooking.
Read more in my essential guide to growing sweet peppers successfully.
#9: Potatoes
It would sometimes seem that there are as many varieties of potatoes as stars in the sky. Picking Yukon Gold seems like a bit of a cop out, because they can found hanging out in the vegetable aisle of pretty much every grocery store.
Though when it comes to making a delicious mashed potato to top your shepherd pie, or boiling up some buttery spuds for a potato salad, you'll appreciate finding these golden nuggets buried in your garden.
Lots of gardeners ask me about best practices for watering potatoes throughout the season.

#9: Summer Squash
I typically grow two zucchini plants in my garden, one green, one yellow. This usually has me turning into the typical neighbor/friend offering anyone and everyone zucchini. Unfortunately, I'm typically not the only gardener looking to off load some zucchini during its peak production.
Lemon Sun patty pan is a beautiful vegetable (or really, fruit!) to grow to add a splash of bright yellow to your summer garden. The rich gold color offset by the green stem is a gorgeous combination. Like most squash, harvest them early. You can use a teacup as your reference for the ideal size.
Goldy is another variety from Johnny's Selected Seeds that has more of your classic long, zucchini shape. The color of the fruit glows when they start sizing up on the plants. Again, be mindful of how quickly they're growing because nobody wants any more of your balloon animal sized zucchini.
Find out more about growing zucchini and how to pick the best varieties.

#10: Tomatoes
My all-time favorite cherry tomato is Sun Gold, but that's technically an orange tomato, so it doesn't belong in this article about yellow vegetables. Many years I pick another cherry tomato to go head to head with Sun Gold. One year it was Esterina, which is more yellow and a little bigger in size than your average cherry tomato.
My young neighbor who loves eating cherry tomatoes by the handful declared that she liked the taste of this little yellow tomato better than Sun Gold.
So many choices! How to choose the best tomato varieties to grow.
#11: Watermelon
Yellow watermelon can be an exciting surprise to your typical watermelon eater. Until you cut into that green flesh you have no idea that someone replaced your bright red flesh with a sunny yellow center dotted with black seeds.
The flavor Baby Doll, a smaller shape melon, is delicious when ripe and the smaller size makes for easier transporting when you need a desert for that intimate picnic with friends.

Yellow Flowers to Mix into Your Vegetable Garden
Even though this is an article about yellow vegetables, like most gardeners I love flowers and I always tuck them into the ends of my veggie beds. And like any spring starved cold climate dwelling resident, I savor the yellows of spring.
Daffodils are one of the first reminders that everything is going to be ok. Spring is here, the trees will unfurl new leaves, and green will replace the grey of winter. A few years ago, I decided to plant spring bulbs in the corners of some of my vegetable garden beds. Now, I have some early spring color in that part of my yard and when the foliage dies back, I plant an annual flower in the same spot for continued blooms into the summer and fall.
Prairie Sun Rudbeckia is one of my tried and true annual flowers for the vegetable garden. It's bright sunflower-like head is attached to a stout stem and brings impressive size and color to your yard.
Having cut flowers around the house is the benefit of tucking annuals throughout your garden. Yellow Celosia is perfect for bouquets and its prolific enough to keep your flower vases full while still looking great in your garden beds outside.
Find out all about my favorite flowers for raised beds.
Yellow vegetables are the perfect compliment to all of the green hues in the vegetable garden. One of the greatest gifts of growing your own food is that you can choose the most unique and colorful varieties of each vegetable. This season, don't forget to plant a rainbow of vibrant colors, including sparkles of yellow, punches of purple, bursts of blue, splashes of orange, and layers of red to turn your garden into a masterpiece!