One of the most difficult parts of winter for me is the total lack of color outside in my yard. My vegetable and perennial gardens are huge pops of color that bring me a deep joy all season long. When the gray days of winter set in I start to feel visually depressed.
This fall, when I was bringing some of my houseplants back inside I started to think about how I could recreate the feeling of a garden inside my house. In the past, we had all of our houseplants spread throughout our house in various rooms. One day while I was puttering around I had a flash of inspiration – I wanted to create a jungle of houseplants around my dining room table!
Our dining and living rooms are one big area and it's where we spend a lot of time hanging out near the woodstove, reading, entertaining friends, and watching movies. We also sit down at our table every night and eat dinner together.
What better place to create a plant jungle?
I decided to take it on as a fall decor project! I reached out to Gardener's Supply Company and they generously offered to send me a few of their products to assist me in making over my houseplant area. Here's what I did…
HOW TO CREATE AN INDOOR  HOUSEPLANT JUNGLE
Step 1: This is the before shot of my dining room. You can see we already have a few plants in that area, but I wanted to create a bigger impact, re: a jungle!
Step 2: I gathered all of my plants together and evaluated them as a whole. Some needed to be re-potted into bigger pots, and I also wanted to add a few more plants to the collection.
Step 3: I have an area of my garage where I store all of my pots and other plant supplies. I wanted to use what I had, so I sorted through all of the pots and pulled out the ones I could use for this project.
Step 4: I visited a local nursery and purchased several plants and more potting soil. I looked for plants that were different leaf shapes and colors than the plants I already had so I could create more interest in the jungle as a whole.
Step 5: On a sunny Sunday afternoon I dedicated a few hours to this project. I repotted plants that needed it and washed off dusty plants by putting them under the shower head in the bathroom.
Then, I set about designing my jungle. I wanted to get more plants off the floor, so I moved a table that my husband made in front of the window and set up this plant stand from Gardener's Supply.
Step 6: I gathered some colorful rocks from a favorite camping spot in Michigan and spread them around the plants in groupings to add another natural element to my jungle.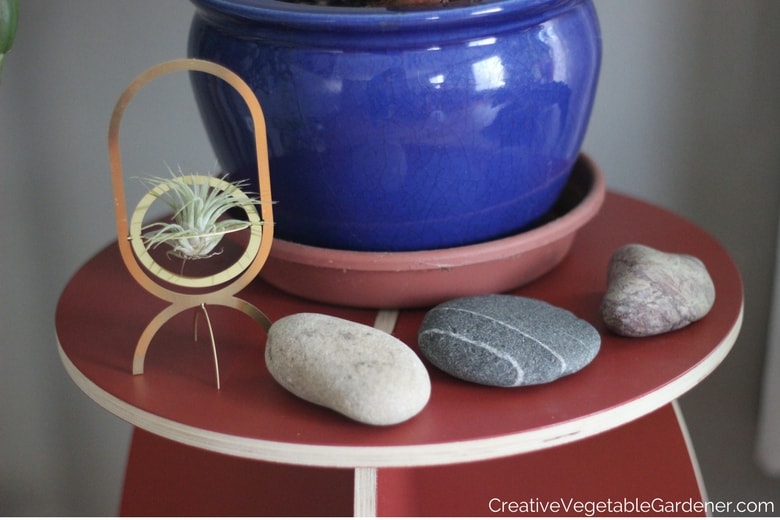 Step 7: I made sure all of the plants were watered in with my new copper watering can from Gardeners Supply and then sat back to admire my new houseplant jungle!
Here's the after photo of my houseplant jungle. I really think it's going to brighten up gray winter days and help me make it through to next spring!
To help us celebrate the indoor gardening season, Gardener's Supply has generously offered to give away one copper watering can (photo above) to a member of our gardening community! To enter, leave a comment below this post sharing what you do to keep the spirit of gardening going in the winter months.
Gardeners Supply Giveaway
Contest details:
The contest is open to residents of the United States only.
The winner receives one copper watering can.
To enter the contest, leave a comment at the bottom of this post sharing what you do to keep the spirit of gardening going in the winter months.
Contest ends at midnight EST on December 4, 2016.
One entry per person.
A big thank you to Gardener's Supply Company for helping me with my houseplant jungle makeover and sponsoring a giveaway! For more information on Gardener's Supply Company, check out their website.
SHARE IT ON PINTEREST