Gorgeous view from a hike in Chile.
When you decide to take a chance and go on a big life adventure, it can be scary to veer off the safe route you've been traveling.  For the last several months since we declared our intention to take a sabbatical year, I've been experiencing the whole range of human emotions – anxiety, excitement, nervousness, anticipation, impatience, elation, doubt, fear, and confidence. It's been a wild ride and we haven't even left yet!
One thing that's helped me navigate this confusing time is to seek out the voices, stories, and experiences of other people who have taken the leap and gone before me on their own adventures. Listening to their interviews, reading their memoirs, and exploring their blogs has helped me feel less alone during this transition time of life and has encouraged me to carve out time to cultivate excitement and anticipation for our upcoming year of travel.
If you're intrigued by the idea of taking your own sabbatical or just love to hear about people who have adventurous spirits, I'm highlighting some of the resources I've been using to help me in preparing for my own journey.
In the second part of this post, I'll share some of my own personal reflections on what it feels like to prepare for our sabbatical year.

Hiking in Chile.
Sabbatical Year Inspiration from Other Adventurers
Leap Like Me Podcast
One night after dinner a few months ago I typed the phrase "taking a year off" into Google and discovered this blog post, Why Taking a Year Off Was the Best Money I Ever Spent. I loved the unexpected plot twist that took place during the author's year of travel and I wanted to know more. I spent some time bouncing around her website and learned she had just started a podcast, called Leap Like Me, where she interviews people who have taken a sabbatical year of their own.
Every week I anticipate the new episode and carve out time from work to take a walk and listen to the story of an inspiring person who's embarked on a big life change. It's been fascinating to hear about the unique adventures of each person and what they learned from this period in their lives.
My favorite episodes were the two where the host, Lisa Hoashi, shares in-depth about the life events that led to her year off and a fun play by play of her travels, including a surprise love interest!
A Year Off: A story about traveling the world – and how to make it happen for you
, Alexandra Brown and David Brown
This book is written by a couple who met only a few months before deciding to travel together for a year. It's a wonderful mix of practical advice for preparing for, being on, and returning from a year of traveling and thoughtful personal reflections on how the trip affected each of the authors.
I actually read it twice! The second time I kept my journal next to me and was inspired to write down snippets from the book and some of my own reflections.
Click on the cover for more information about the book.
The couple in this book quit their jobs, sell their house and all of their possessions, and set out to travel the world for several years. The yellow envelope is a gift their friends gave them before they left with money to share with others along the way.
The book is broken into different sections according to the places they visited, such as Ecuador and India, and highlights some of the recipients of the yellow envelope money.
 Click on the cover for more information about the book.
One way to get excited for your trip is to seek out thoughtful essays about traveling around the world. There is a new edition of this collection published every year, so if you fall in love with it you can continue the fun indefinitely.
When I read shorter stories and reflections I'm always amazed at how much emotion, action, and depth can be contained in what would basically be a chapter of a longer book. I often read a story a day in the morning or evening.
Click on the cover for more information about the book.
.
View of the Tasman Sea from Okarito, one of our favorite stops in New Zealand.
Reflections on Preparing for Our 

Sabbatical Year
A few weeks ago I was taking a walk with a friend and sharing with her all of the different emotions that keep bubbling up to the surface as I prepare to take a sabbatical year in 2019. She said, "I hope you're keeping a journal to record all of this! This pre-journey phase is part of the whole adventure, too."
When I arrived home later that evening I realized she was right. I had already planned to purchase a new journal before my trip and spend time documenting and reflecting upon my year off, but it hadn't really crossed my mind that I could be writing about the time leading up to the year.
As I've been meditating, reading books, and listening to podcasts, I've jotted down notes about my own thoughts and feelings. Every few days I review those notes and pick a few to turn into longer reflections. I've paired each with a photo that I hope represents the theme of the post.
On the Kepler Track in New Zealand
Pre-sabbatical reflections, 58-ish days before departure
Fear. When people learn we're taking a big life leap they'll often say,
"I'd like to do that, but I need to get past the fear first."
This is a huge misconception in life. Somehow we think that the people who are taking chances, going on adventures, and veering off the traditional path of life aren't afraid.
I used to think that, too. And when you believe that you tell yourself, "Well, I can't do what they're doing because I'm not fearless like them."
Guess what? There aren't many people in this world without fear. It's a deep part of our human experience.
I would never call myself "fearless". I feel fear all of the time. In fact, when thinking about our year off fear, worry, and nervousness are the most common feelings I'm experiencing at any given moment. I have to make a concerted effort to intentionally carve out time to seek out and experience more positive feelings like excitement, anticipation, and joy.
The fear is there every day – no special effort required.
A few months ago my husband and I discussed the probability that we'd feel all kinds of different emotions in the weeks leading up to our sabbatical, including many "negative" ones. And of course, we're in the thick of them all right now.
But, we prepared ourselves by remembering other times in life when we took chances. These feelings of anxiety and angst aren't signs that we're headed in the wrong direction, that we're making a mistake. Not at all. They're a natural part of any life change. Our brains are screaming at us, "Don't leave the comfort of your life! Turn back. Danger ahead!"
I assure my brain at times like this. Don't worry, buddy, I've got this. Just relax, everything is going to be fine.
Actually, everything is going to be more than fine. It's going to be AMAZING! All of it, the good, the bad, the sad, the frustrating, the boring, the exhausting, and the exhilarating. It's all a part of this adventure and it's definitely a part of this life. We're going to keep walking towards this cliff, one step at a time, inviting the fear right along with us.
Prayer flags on the Kepler Track in New Zealand
Pre-sabbatical reflections, 47-ish days before departure
We met up with some friends for dinner recently and one of them asked right away,
"So, what's the difference between a sabbatical and a vacation. Aren't they the same thing?"
From an outside perspective, probably yes. From within myself, not really. I'm not taking a year off to escape from my life in a vacation kind of way. I'm taking a year off because I have some deeper longings I'd like to explore.
It's time to hit the pause button. I want to reflect on where I am at 43 and wonder whether it's right where I want to be, or if I want to change some aspects of my life.
Does the way I'm living reflect the person I want to be in this short life? Right now, the answer feels like a no. I think I have more in me. This phrase keeps floating into my consciousness, but I'm not clear on what exactly it means.
This upcoming sabbatical is my carefully chosen path for 2019 that I hope leads me to some answers. How do I want to live? This is the all-important question. How I'm living right now isn't lighting me up anymore. It doesn't feel inspiring, adventurous, or fulfilling. I think there is more out there for me, so I'm setting out on a quest to find it.
Next year will be as much about the internal journey as the external one. I'm seeking out new lands to explore, both in my country and within myself. I'll travel deep down into the canyons, I'll expand into the wide openness, I'll climb high on the mountain and look around.
What will I find? I have no idea. But, I'm guessing the discovery will be an integral part of the adventure.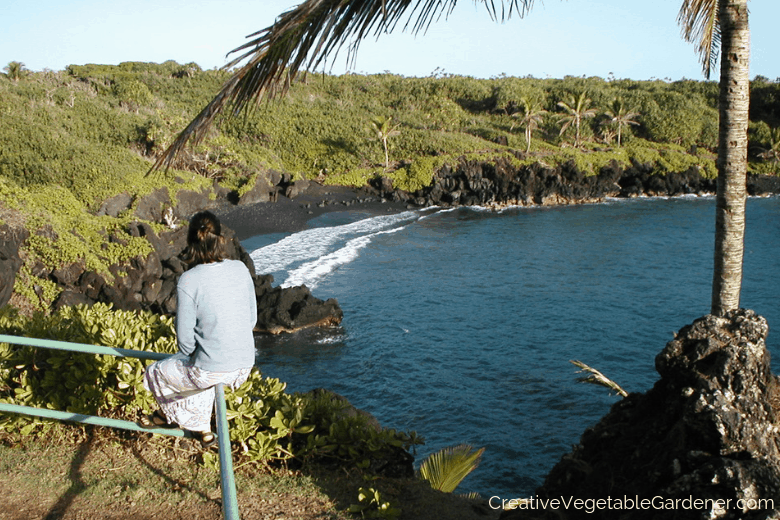 My 26-year-old self in Hawaii during my last big life adventure.
Pre-sabbatical reflections, 39-ish days before departure
I ran into a neighbor at a coffee shop the other day and in reference to our sabbatical he asked,
"When is the last time you made such a big change in your life?"
It's funny that he should ask this question because over the last few months I've been visiting with the 25-year-old me living in San Francisco in 2001.
I was experiencing many of the same feelings as I am now and was inspired to shake my life up by applying for a gardening internship at a farm in Northeast Missouri.
I had no background in gardening or farming, never lived in a rural area or knew anyone who did, and hadn't ever been to Missouri or any state remotely near it.
Nevertheless, I accepted the offer to move there, gave away most of my belonging to friends in San Francisco, and jumped on a train to the Midwest. I chose to listen to a quiet voice inside that was steering me towards this particular place and experience.
The two years that followed were some of the most transformative of my life. This one decision to take a chance and try something completely new and outside the box shot my life in a completely unexpected direction. I met (and eventually fell in love with) my husband, Mark, within a few days of arriving in Missouri. And I discovered a passion for gardening that's heavily influenced my life and career for the last 17 years.
Here I am at 43, older, wiser, more in tune with myself, more experienced. And yet, there is still a part of me that feels like that 25-year-old again. Full of trepidation, proud of myself for taking a leap and embracing the unknown, and not sure where this path will lead.
I joked to my neighbor at the coffee shop, "I have to see if I've still got it! Am I still nimble, adventurous, and open like I was 17 years ago?"
I think so. I've tried to keep change and adventure a part of my life these past 15 years. But, it's like a muscle you have to keep exercising, especially as you grow older. So, I'm jumping in and really committing big time to bulk up this muscle by taking on a marathon of change in 2019. It's shaping up to be quite a workout, but I suspect I'll come out the other end emotionally stronger and more mentally fit.
More travel posts to feed your wanderlust:
World Travels: Fascination Eating Adventures in Thailand
Travel explorations of nature and beauty in Chile