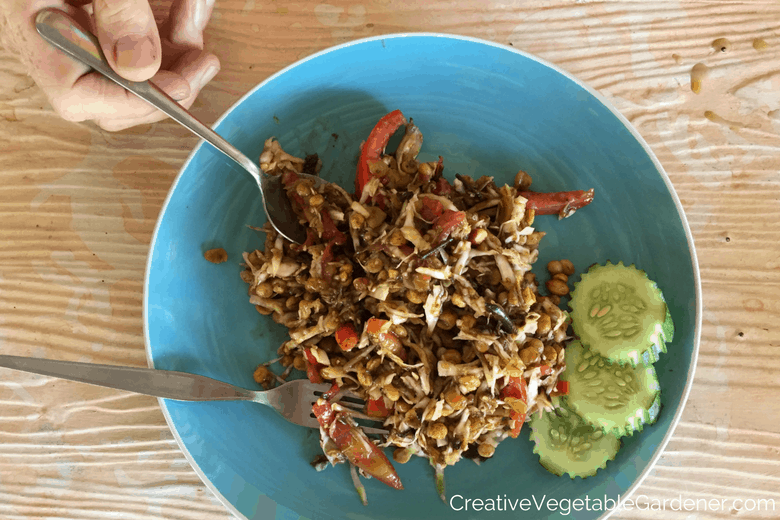 Burmese tea leaf salad in southern Thailand.
"What are you looking forward to most on your trip to Thailand?"
This was a common question from friends and family in the weeks leading up to our five-week trip.
Every single time I enthusiastically replied, "Eating Thai food!"
Friends who've traveled to Thailand were smitten with the delicious dishes they ate while visiting the country. Everything I had read before our vacation agreed – Thais are passionate about food, eating is a huge part of the culture, and the breadth and depth of the different kinds of dishes and ingredients is amazing.
After we arrived in Chiang Mai (a large city in the northern part of Thailand) on our first morning and checked into our Airbnb we made a beeline to one of the restaurants on my list – a well-known vegetarian place in the center of the city.
Our first meal did not disappoint! We devoured the local specialty of Khao Soi (noodles in a coconut curry soup base), a fried rice noodle dish, fresh fruit smoothie, and Thai iced tea.
Mark with our first meal in Thailand.
Thus began five weeks of exploring street food vendors, back alley food stalls, hole in the wall restaurants, day and night markets, and more.
We basically ate our way through Thailand, and let me tell you, the food is amazing! For five weeks straight we ate Thai (and Lao) food for lunch, dinner, and snacks (except for one night when we ate pizza at our Italian-owned Airbnb) and never, ever got tired of it.
At the end of the trip, we declared that we could continue eating Thai food every day for the foreseeable future.
Every single thing I read about Thai people being passionate about food seemed to be true as we waded through the somewhat confusing, but always fascinating, food culture of this delicious country.
I had found my people.
Our Adventures in Eating Thai Food
It's impossible to do justice to the incredible complexity of food in Thailand in one blog post. In fact, in five weeks I feel as if we only scratch the surface. There are so many ingredients we didn't try, dishes we probably still aren't aware of, and intricacies that aren't apparent to someone just visiting the country.
Instead, I'll share with you some of the highlights of our attempts at discovering (and eating!) as much of the food as possible!
The vegetable garden at Thai Secret Cooking School
This post contains affiliate links.
Learning How to Become a Thai Chef
One of the most popular things to do when visiting Chiang Mai is to take a cooking class. We thought this would be a great way to learn more about the food, so we signed up for a class located in a local Thai woman's house – Thai Secret Cooking School.
She met us at a neighborhood market and gave us a tour of the different ingredients we'd be using during the class. We then traveled to her house to harvest a few herbs and vegetables from her home garden. From a list of about 20 options were able to choose five different dishes – one each of an appetizer, stir-fry, soup, curry, and dessert.
Chef May teaching me how to cook Tom Yum soup.
As promised, we learned the secrets to dishes like Papaya Salad, Pad Thai, Tom Kha soup, green curry, and sticky rice and mango. She also taught us how to make coconut milk from a fresh coconut and curry paste with a mortar and pestle.
We sat down several times during the day with the other students to eat the dishes we made, and at the end of the class, we were given a cookbook with all of the recipes from the day.
This was definitely one of the highlights of our trip and a good introduction to some of the most common Thai dishes we would see over and over again on menus throughout our five weeks.
Panaeng curry with tofu and sticky rice with mango for dessert.
On the Hunt – Food Vendors, Markets, and Restaurants
With the arrival of the internet, travel has changed a lot since my first backpacking trip in Europe in 1999. During those five weeks we were armed with a huge copy of our guidebook, Let's Go Europe, which was our singular source of information about the countries we were visiting.
Fast forward to 2018 – when we're deep in the information age – and travel is a very different experience. We did end up buying the digital Lonely Planet Thailand and loading it on our iPad, but we hardly used it. Now, with the popularity of travel and food blogs, I gathered much of my travel and eating tips from people who live in Thailand and write about it for a living.
Hiking by a field of cabbage with a group we found through a blog post about Chiang Mai.
I scoured food and travel blogs for suggestions of unique places to eat and interesting dishes to try. I was forever leading my husband down alleyways and into tucked away restaurants searching for a particular dish I had read about.
He was good humored about the whole thing, even though I sometimes became a bit obsessive about avoiding tourist restaurants at all costs. I was always most happy when we were eating someplace where the majority of people were Thai, not Westerners like us. I didn't travel all the way across the world to be surrounded by other tourists every time I went out to eat.
What better food to eat for Christmas dinner than green and red curry?!
If all else failed, we would often just walk around and look for restaurants that were busy with a lot of Thais eating their dinner. Most of the time this worked out great, and many restaurants had a beat up English menu we could reference for ordering. If not, we'd do a lot of pointing and smiling.
I'm grateful to my blogging colleagues around the world who spend as much time thinking and writing about Thailand as I do about vegetable gardening! They introduced us to many wonderful experiences, food stalls, markets, and sites we may not have found otherwise.
One of my favorite dishes in Laos, grilled fish in a banana leaf with a tomato salsa and sticky rice.
My favorites – for food and travel in Thailand: Tieland to Thailand and Two Wandering Soles, Travelfish for general Asia travel information, and BKK Fatty and Migrationology for all things food-related.
Next time you're headed to a new vacation destination, consider searching out travel and food bloggers to help you plan your visit. I found most of these by Googling different terms like Thailand food blog, Thailand travel blog, etc.
And skip the chain hotels! Staying at Airbnb's offers a much more unique and personal experience. (Get $40 in travel credit with this link). Some of our hosts made our vacation extra special by inviting us to their New Year's Eve party, emailing a long list of the best coffee places in town, dropping off an evening beer and snacks, and giving us rides to pick up and drop off rental scooters.
Our tuk tuk, a three-wheeled open air taxi, for the night of our food tour.
Wrapping It Up with a Night Food Tour
When we landed in Bangkok for the last five days of our trip, I still felt like we had only just scratched the surface of Thai cuisine. Because we can't read Thai, much of the food scene still seemed somewhat mysterious to me. I wanted to learn more about the intricacies of the food culture and try some new dishes.
So, we decided to sign up for a food tour to celebrate our last night in Thailand. That evening, we met our guide and a group of other travelers from the US and Scotland at a metro stop and jumped into a tuk tuk, one of the unique ways to get around Bangkok.
Our first stop – a neighborhood market.
We visited and ate at a local neighborhood market, a 60-year-old food stall in the flower market, a restaurant owned by a previous chef of the royal family, a back alley food vendor, and dessert stands in Chinatown.
Overall, it was a fun experience and many of the dishes we had never seen before. But, it was way too much food. I couldn't fall asleep that night because I was so full! And the tour felt rushed. I wish the guide had spent more time explaining the food we were eating, the ingredients, and how the dishes were made.
Here are some of the highlights.
One of the highlights of the night – miang kham. Make a little packet of food in the cabbage leaf, drizzle with sauce, and pop it in your mouth!
These ladies were serving up the below friend noodle dish with eggs in a back alley. Delicious!
A stop at the commerical flower market in between meals.
We topped off the night (and our trip!) with a few scoops of coconut ice cream for dessert.
If you're a food lover (and if you're reading this blog, I bet you are!) and you've been thinking about traveling to Southeast Asia, I highly recommend Thailand as your next vacation destination. It was one of the best trips we've ever taken – my husband rated it a 9.5 out of 10.
As you can see, the food was a big part of our experience there. But, there are also beautiful Buddhist temples, bustling cities, quiet countrysides, dazzling beaches, gentle people, green mountains, and a rich and welcoming culture.
We're already scheming on how we'll get back there again soon!
(If you're a member of the Flavorful Life Garden Club, you can watch three special videos I made about my food and garden-related experiences in Thailand. Just log into to virtual classroom and look for the Travel heading. Wish you were a member? Get on the list to find out when the registration opens next.)
More travel posts:
Photos of 12 Years of Winter Travel Adventures
Travel Explorations of Nature and Beauty in Chile
Chicago Area Garden Destinations