The rolling hills of NE Missouri look a lot like Wisconsin in this photo.
I was raised a city girl. My family, and everyone else we knew, lived in a row home in an urban area of Philadelphia. My life was similar to most city kids—I walked to school through 12th grade, played kick the can in the driveway, and hung around outside the local candy store.
And although I haven't lived in a big city in over 12 years, I can still stand on a corner in Chicago or San Francisco or Mexico City and close my eyes and tap into that familiar rhythm and energy which seems to run through my veins.
I am giddy when crossing an intersection in the middle of a herd of people, I love navigating the tunnels and mazes of the subway, and I can slip back into my frenetic city walking pace on a moment's notice.
I had always lived the big city life and thought I always would…until the spring I turned 26.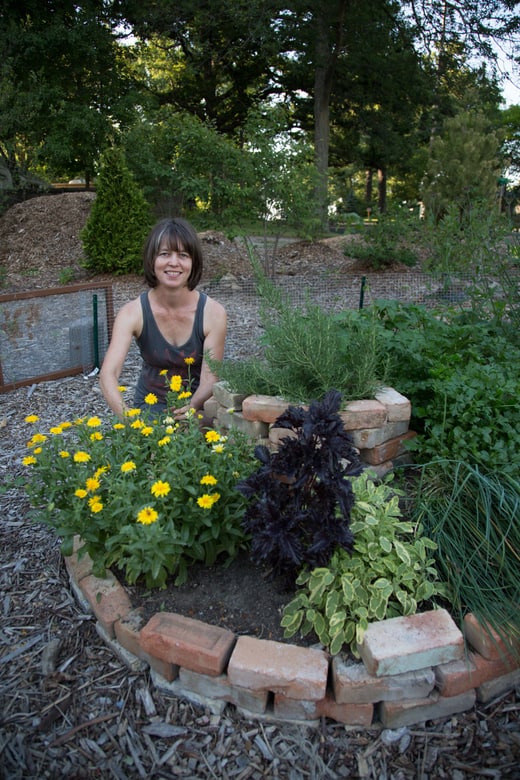 Me, 15 years later, in my current front yard vegetable garden.
Up to that point, I had been living out my post-college years in one of the greatest cities in the world: San Francisco. I had expected to be riding the wave of mid-20s freedom, but instead I was struggling to find work, an apartment and friends. For the first time ever, instead of being energized by city-living, I felt lost and lonely.
One thing after another kept falling through, doors upon doors where slammed in my face, and so much wasn't working out it was almost comical. I slowly began to see my mid-adventures as a sign that life in San Francisco wasn't meant for me.
So I wearily turned my thoughts to other possibilities instead. In the quiet, reflective times I began to hear a whisper that was calling me toward something that seemed completely foreign to me. I was perplexed as I began to have visions of learning how to grow my own food.
I had no idea where this yearning was coming from, but I decided to follow it to rural Missouri where I signed on to become an intern on an organic vegetable farm.
This farm in Rutledge, a town of 100 people in the middle-of-nowhere Missouri, was my introduction to rural life. I so wish I could travel back to that summer to be a cabbage moth fluttering around the brassicas, watching myself slowly turning from west coast hipster to down home gardener.
I remember lots of sore muscles, several weeks of nervousness and a few tears shed alone in my tent. That first summer was filled with strange and foreign tasks such as chopping firewood, learning to cook dinner for 40 people on a woodstove in an outdoor kitchen, building homes with clay and straw, and most important, being immersed in the wonder of growing food.
It was the first time I had ever spent my days in a garden working with plants, and my learning curve was steep. But somehow amid the seven-foot-tall weeds, incredibly sore muscles, hordes of mosquitoes and dripping hot, humid days, I fell in love with gardening and set myself on a radically different path than the one I was on before I arrived in that farm field.
You can watch my 10 minute TED-like talk about how I became a gardener here. (It's quick and funny!)