Two things happened last week that gave me the idea for this blog post:
#1: As part of the pre-order for my Smart Start Garden Planner I offered a special bonus that included a list of all of the varieties I'm growing this year. On the list are 29 vegetables and 79 total varieties.
One of the gardeners who received this list posted on my Facebook page, "I just looked over your list of seed varieties for this year…Wow!!! I'm curious, how big is your garden space?"
#2: I was asked to look over a new gardener's plan for the upcoming year. She mapped out her new garden space with everything she was going to plant. It was beautiful and organized and I think she's going to be a very successful gardener.
And, I did find one potential problem with her plan. Her plan included planting eight tomatoes, nine trellises of pole beans, and fourteen cucumbers, all of the same one or two varieties. I advised her why planting more variety would be a much better idea.
Both of these this things led to the realization that there's a big question hanging out there in a lot of your minds – how many varieties should you plant?
And this is exactly why I love this community of gardeners. You inspire me to look at gardening in new and fresh ways. And you help me become aware of the ways I think about gardening as an experienced gardener, ways that might not be natural for newer gardeners.
So, let's chat more about this topic!
HOW MANY DIFFERENT VARIETIES SHOULD YOU PLANT?
My garden is 1,600 square feet, so pretty big by urban garden standards, but nowhere near the mini-farms I know many of you have at your homes. I'll be growing at least 80 different varieties this year. Now, that's probably more than most people with a garden my size.
Keep in mind that I'm a garden educator with a big audience. I'm constantly trialing new varieties so that I can report back to you with new favorites.
I also take a lot of photos of my garden since most of the photography on my website and in my books is done by me. So, I get drawn in by unique varieties that seem like fun to photograph and compose photos with.
All of this points to the fact that I may be growing more varieties than "normal". But, I'm going to venture a guess that many of you are growing less varieties than I would recommend.
For example, if you're planting six tomatoes in your garden this year, you should not be planting six plants of the same variety. Here's why:
Putting all your eggs (tomatoes?!) in one basket. Because I grow different varieties of tomatoes side by side each year I've noticed that sometimes one particular variety does way better than the one next to it. My Green Zebras didn't perform well last summer, but my Yellow Perfections kept pumping out the tomatoes right up until frost. If I had planted only Green Zebras I would have had a lackluster tomato year.
What's the definition of insanity? That's right, doing the same thing over and over and expecting different results.  If you've been struggling with growing a particular vegetable, and you plant the same variety each season, it's time to stop the insanity. All varieties are not created equal. 
Every year since I've been growing tomatoes I've had some blossom end rot. (This is when you get a black rotten spot on the bottom of the tomato.) This is a bummer because it often leaves the tomatoes inedible. Most years I plant between 12-15 tomato plants, and about seven different varieties.
Over the years I noticed that it was the same variety, Speckled Roman, that always developed blossom end rot. I decided it was a variety that was more prone to it, no matter what I did, so I crossed it off my list.
If I was growing only Speckled Roman I would have thought it was something I was doing wrong. But, because I was able to compare it to other varieties I knew it was more likely the tomato, not me. Whew!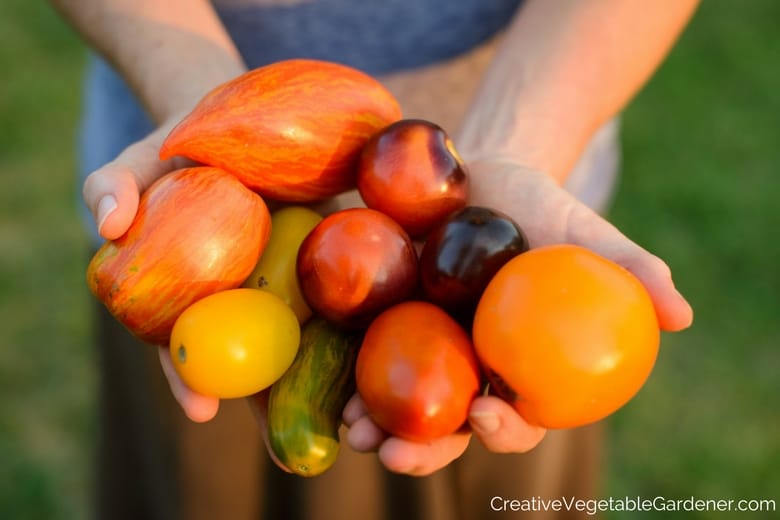 It keeps things interesting. In a previous post I explained how the different varieties I grow fall into several categories and one of them is the Just for Fun category. If you grow the same exact varieties every season, Brandywine tomato, Yukon Gold potato, and California Wonder pepper, you're missing out on one of the most enjoyable parts of gardening – trying new varieties.
I've been growing tomatoes since the first year I started gardening. In that time I've tried a lot of different varieties. And I now have my list of favorites that I plant every year. But, I haven't stopped there.
I still work in one or two new tomatoes each year in the hopes that I'll discover a new favorite. I really liked the Yellow Perfection I grew last year, so I'll plant it again this year and see how it continues to compare to my favorite tomatoes.
Growing lots and lots of different varieties can get expensive. So, I'm not suggesting you go crazy with seed ordering and spend hundreds of dollars. But, I am suggesting that you may have room to add a few new varieties to your seed ordering this season. And who knows, after a few more years, you may become a variety addict like me!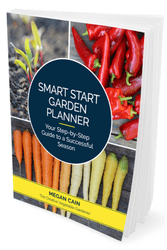 Not sure where to start in choosing some new varieties? At the back of my Smart Start Garden Planner I've created a Veggie Essentials Cheat Sheet. It lists every common vegetable you might be growing in your garden and shares my recommended varieties. Get your copy here.
.
Want to read more about choosing varieties for your garden?
What Vegetable Variety You Grow Does Matter
Unique and Colorful Varieties to Grow
One Tips for Growing Red Peppers
SHARE IT ON PINTEREST