Like most gardeners, you probably like looking at photos of other peoples' gardens. Oftentimes, those photos are on the Internet or in a glossy gardening magazine. They're fun to look at, but they don't always seem attainable for your own garden. I'm in the same boat. I've been on several garden tours during the last three weekends and saw some staggeringly beautiful gardens. I often pick up great ideas for my own yard, but sometimes I leave thinking, "My garden will never look that good."
I love sharing photos of my garden on this website, (and I've even been featured in magazines), but those photos don't tell the whole story. I tend to post photos of the prettiest parts of my garden. I don't usually spend a lot of time taking photos of the wild and woolly parts of my yard, because frankly, they're not very interesting or photo worthy. And just looking at them stresses me out!
But, after being on those garden tours I thought it might be useful for me to share what goes on behind the scenes in in my garden. To show you the parts of my yard that don't see the camera lens very often. I don't want you to think that my garden, or yard, is perfect. It's far from it. (I wouldn't let a magazine photographer anywhere near my backyard!)
One evening this week I walked around my yard and took photos of all of the nooks and crannies, or what I like to call "the ugly stuff". Here it is in all its glory…
We bought our house two years ago from the family of the original owner. She was lucky enough to grow old in the house, but likely didn't have the resources to keep things up. The yard was very overgrown when we bought it. You couldn't even see the house from the street. We spent a lot of time chopping things down and clearing them out. The vegetable garden was the top priority and what went in first. The rest of it we're working on little by little each year.
The biggest bummer about our yard is that we have an invasive weed you may know as snow on the mountain (or goutweed or bishop's weed). Never plant this in your yard unless you want it for the rest of your life! It has taken over every shady area around our house and in the backyard. When you start to read about it you learn that it's almost impossible to get rid of. We're starting to experiment with several different techniques and the first one is just to cover it up with carboard and woodchips.
We ran out of woodchips on our last workday, so we have some cardboard hanging out waiting for the next pile to show up in our driveway.
Goutweed is also why we don't have any landscaping at the front of our house. We're trying to decide whether to dig it out or smother it.
Same thing with the side of our house. There was no landscaping but plenty of goutweed. We've been slowly putting in trees and shrubs and waiting to see how bad the goutweed attacks them. Also, note the cable internet line that I loosened last summer while painting the house. I still haven't put it back up underneath the siding.
Our back steps from our kitchen are pretty rickety and the paint is peeling. We already tore down the low deck that was attached to it because our roofer and my dad both put a foot through it. Guess what we found underneath? You guessed it, more goutweed.
This is the area of our yard we call the "back 40". It's a spot where the corners of four properties meet, and I think it's everybody's back 40, so there are lots of weeds running wild. This is where we dump most of our yard waste for now until we come up with a better plan.
We have a woodstove and my husband is an aborist, so we have access to a lot of wood for the winter. Up until now we've had several tarp covered woodpiles, including this one that collapsed within a week of us stacking it. And the one below, which is stacked against the back of the garage, preventing me from painting the last spot on my house painting to-do list from last summer.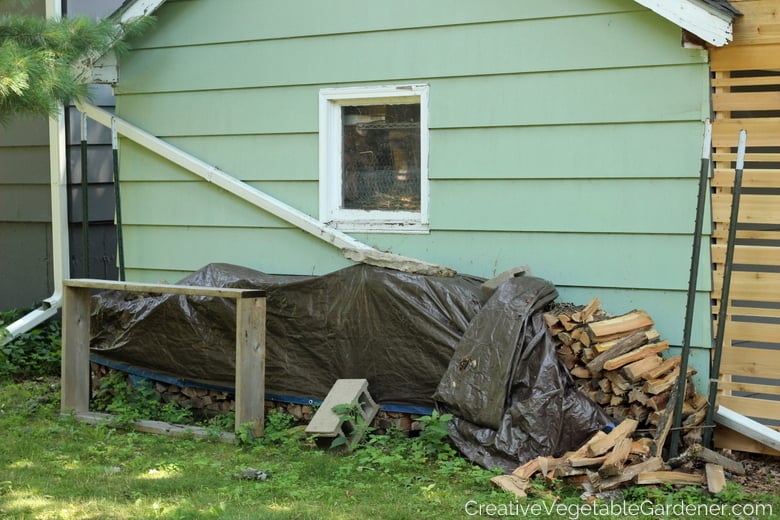 In an effort to neaten up the yard and get our wood piles under control, we hired a friend to build a small add-on to the side of our garage so we can stack the wood all in one place.
He just finished, so we still have some of his leftover lumber laying around and non-wood stuff under the addition.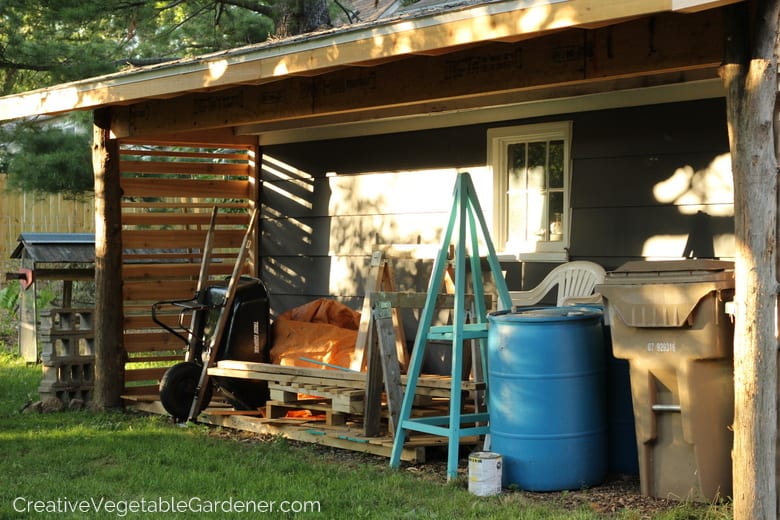 Here's another wood pile that will hopefully be gone once we stack as much as can fit under the new roof and then give the rest away to neighbors. I hate this woodpile the most because you can see it from the street. It feels like an eyesore to me. We even built a berm with tree, shrub and flower plantings to try to present a better face to the street last year.
And finally, another view of our yard with a weedy combination of goutweed, ferns, hostas and other perennials. We'll probably cover it up with woodchips for now and plant some trees and shrubs in the coming years.
We've made a lot of progress in our yard in just two short years. When we get stressed out about the messy areas we just remind ourselves that gardening is a process and ours is a multi-year plan. Some of the gardeners on the recent tours I've been on lived in their houses from 20 to 48 years. Imagine what we can accomplish if we stay here for 20+ years!
What about you? What's hidden in the dark corners of your yard? What would you be embarrassed for people to see or what would you love to change?
SHARE IT ON PINTEREST