My vegetable garden looking tidily mulched in summer!
Weeds! They're every gardener's nemesis. And they are, by far, the most common frustration I hear from fellow gardeners. If we're not careful, weeds can take over our gardens (and our lives!) within a few short weeks of the gardening season.
So, gardener to gardener, I'm here to tell it to you straight. Weeding is a complete waste of time.
And if you're spending more than a few minutes a week weeding your garden during the season, it's time to change your strategy.
There's one simple, inexpensive, and effective tool you can use all season long, year after year, to make your garden weed-less — mulch.
Here's why vegetable garden mulch is so amazing and how you should use it in your garden.
Vegetable Garden Mulch – The Ultimate Garden Tool
Less time spent weeding. The #1 way to cut down on weeding at all times of the year is to keep the soil covered. Bare soil is susceptible to erosion and compaction from wind and water. It is also an invitation for weed seeds, whose job is to be the first line of protection for the soil.
When you cover the soil of your garden beds with mulch, you are preventing a weed seed party from happening in your garden.
Less time spent watering. Vegetable garden mulch keeps the soil insulated and traps in moisture, which results in much less watering than if you leave the soil exposed. (Here's how you should be watering your garden.)
A few years ago here in the Madison area, we had one of the worst droughts I've experienced as a gardener. Gardens everywhere were suffering and people were spending a lot of their mornings and evenings watering their gardens. Because my garden was heavily mulched I didn't water much more than I usually do, and my plants didn't suffer nearly as bad as many of my neighbors.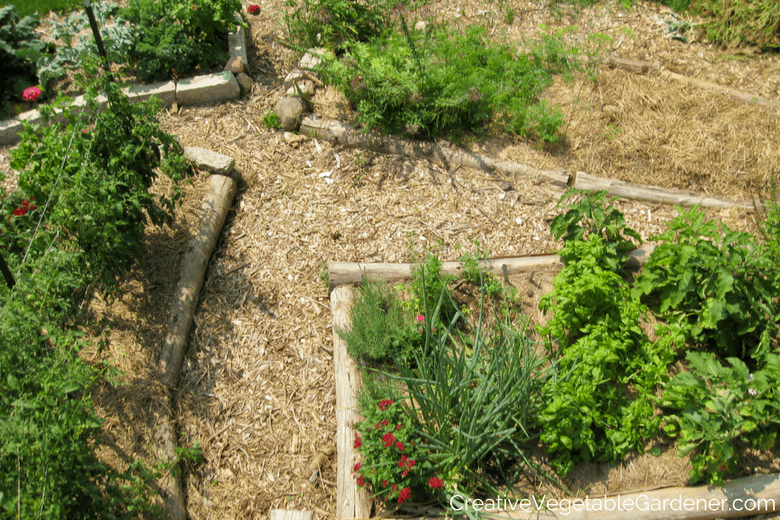 Builds healthier soil. Most gardeners know that soil health is one of the main building blocks of a successful garden.  And the presence of organic matter in your soil helps improve soil structure, retains moisture, and increases the number of micro-organisms in your garden.
The vegetable garden mulch you add breaks down over time and increases the organic matter in your soil.  Each year I use about eight bales of hay in my garden and I'm always amazed how much they decompose and disappear into the soil.
Prevents diseases from spreading. During summer I receive a lot of emails and social media comments from gardeners feeling frustrated by the tomato diseases attacking their favorite varieties.
Luckily, mulching can help keep down the spread of disease in your garden. If you mulch nothing else, at least mulch your tomatoes. There are a lot of soil-borne tomato diseases that splash up onto the plant when it rains if your soil is bare. (Read more about preventing tomato diseases.)
What should you use for mulch? Marsh hay is my first choice for mulch in my garden, but you can also use straw, leaves, grass clippings or anything else that's local to your region.
One word of caution: mind your source of mulch.  Hay can bring weed seeds into your garden if you're not careful. Ask questions about where the mulch came from before you purchase it.
What should you not use for mulch? Woodchips are not a good choice for mulching of vegetable garden beds because they contain too much carbon. When carbon heavy materials break down in the soil they tie up a lot of nitrogen that would otherwise be going to the vegetable plants.
I do use woodchips in my aisles because they last the full season without needing to be reapplied. I also like the aesthetic effect of having two different colors and textures in my garden beds and paths.
How thick should you mulch? As a huge proponent of mulching, I always joke that in my book there's no such thing as too much mulch. You definitely don't want to see any soil through the mulch because that's precisely where the weeds will set up shop.
Where can you buy mulch? I used to order my hay mulch through the community garden where I had a plot. If you have a community garden in your area, ask about their mulch source.
Now that I only garden at home, I buy it from a local nursery in my city (Jung's if you're a fellow Madisonian!). Talk to other gardeners in your area, look on Craigslist for listings, or ask organic farmers at your local market where they purchase their weed-free mulch.
Mulching is the ultimate tool for creating a low maintenance garden with healthy soil, less disease, lower water needs, and a tidy and beautiful aesthetic. I hardly ever say this about gardening, but if you're not mulching your garden, you're doing it wrong. There's no reason not to start right now.