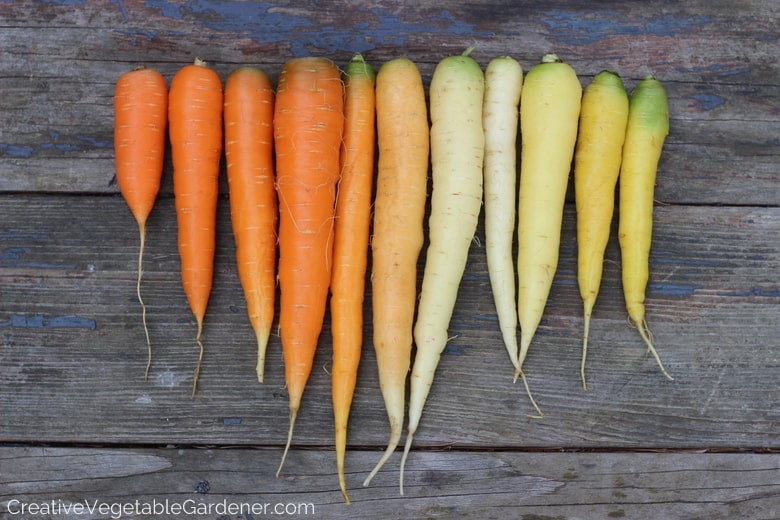 Red tomatoes, green beans, and orange carrots are great, but there's so much more out there! This season, take a chance and grow some unique and interesting varieties in your garden.
Growing beautiful and colorful food dramatically increases the fun you'll have in your garden.
Pulling an amazing rainbow of carrots out of the ground in summer, looking out your window and seeing jewel-toned flowers bopping their heads in the wind, and adding vegetables that aren't only tasty, but also gorgeous, to your evening meals are all joys that should be a part of every gardener's lifestyle.
If you're ready to create a garden that feeds your body and your soul, order some of these unusual vegetables to grow in your garden this year.
Unusual Vegetables to Grow in Your Garden
Carrots
Look how happy I am harvesting a handful of multi-colored carrots from my garden! I like to order three different varieties, purple, orange and yellow and mix them together before planting. That way, you never know what you're going to get and each harvest is a delightful surprise! This year I'll be mixing Bolero, Purple 68 and Yellowbunch.
[fancy_box id=3 linked_cu=6113 align="center"]Get a FREE printable list with the varieties and where to get them here.[/fancy_box]
Turnips
Do you turn up your nose at turnips? Well, you obviously haven't tried the ultimate turnip variety, Hakurei. There's not a lot of white color in the vegetable garden and these smooth and tender roots are the perfect addition to early spring salads.
.
Celery
The first time I saw celery at my local farmers market in Wisconsin I did a double take. "We can grow that here?", I asked myself. I now grow a few plants of Tango each year in my garden (and they're definitely conversation starters!). I chop and freeze the stalks for winter soups and stews, but you also can eat them fresh.
.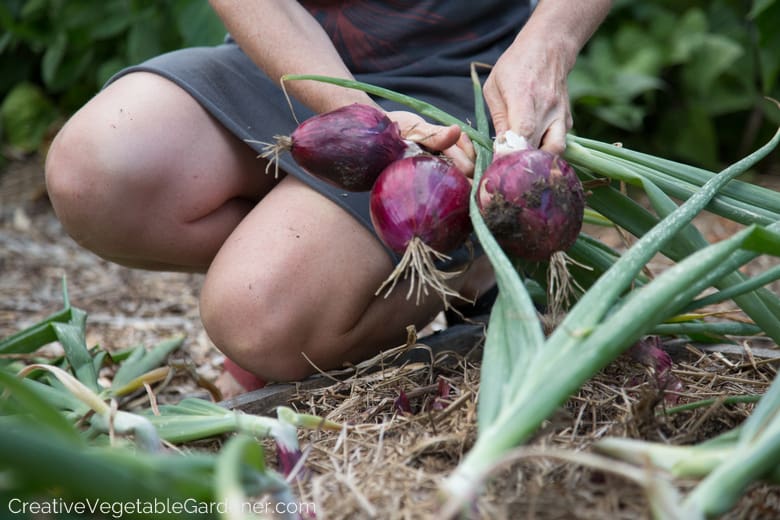 Onions
It's true, I'm onion crazy! Most years I grow 300-500 onions in my garden. I have a little challenge with myself to use only my own onions all year round. If you've been wanting to store onions for off-season eating the best way to do that is to start your own plants and grow storage varieties. My favorites are Redwing, Patterson and Pontiac.
.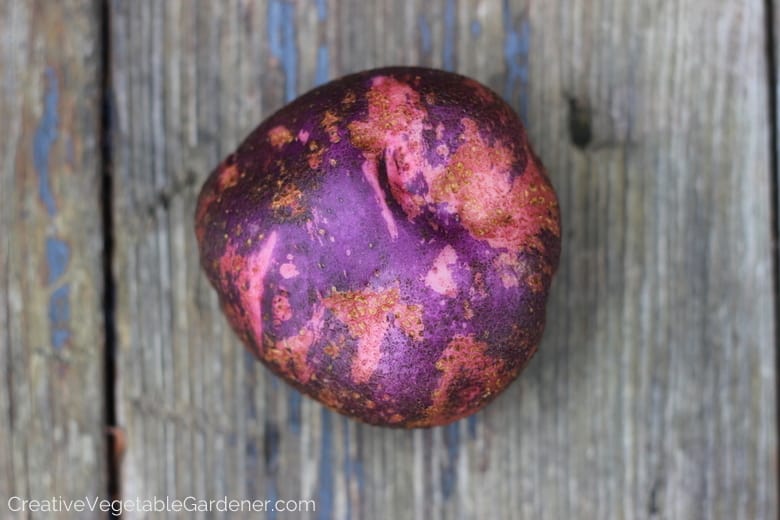 Potatoes
While flipping through the High Mowing Seeds catalog last winter I saw a photo of this beauty, Purple Viking Potato. Even though I hadn't grown potatoes for a few years I had to have it! I'm happy to report they look as amazing at harvest time as they did in the catalog, and they taste great too!
.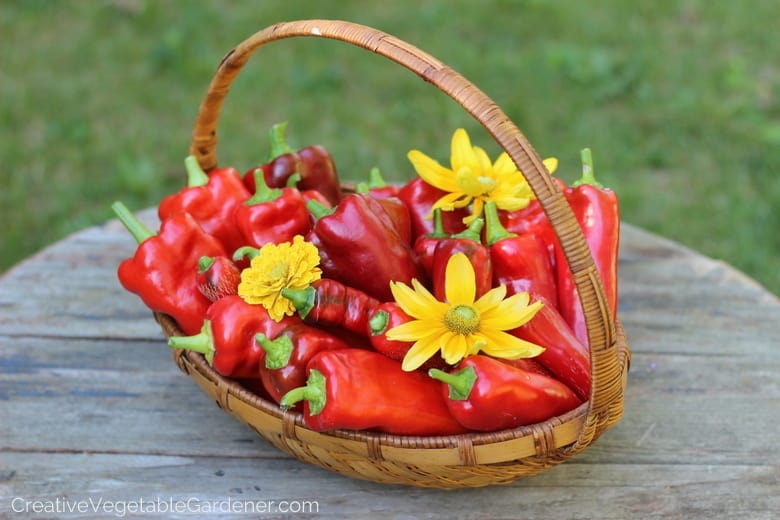 Red Peppers
I know a lot of you struggle with successfully growing sweet red peppers. You may have even given up! If that's true I urge you to give it one more try this season. Carmen and Jimmy Nardello's have never failed to produce lots of ripe, red peppers every single year. (Read more about successfully growing peppers here.)
.
Edamame
These cute and fuzzy Envy edamame, or soybeans, are often served boiled and salted as an appetizer in Japanese restaurants. We eat our harvest that way for a few weeks in late summer and then freeze the rest for winter dishes. I especially like to use them in these Veggie Sushi Bowls.
.
Eggplant
What do you think these round, glossy, orange orbs could be? If you guessed eggplant, you're right! These Turkish Orange eggplants never cease to elicit gasps of surprise from visitors to my garden.
.
Spinach
It's no secret that spinach is my favorite vegetable to grow in my garden. And this Giant Winter Spinach? It ain't no joke. (Learn how you can have over seven months of spinach harvest each year here.)
.
Flowers
If you don't mix flowers in with your vegetables you're missing out on the best way to elevate your garden to a work of art that stops passersby on the street. Here I am with one of my favorites, Lady in Red Salvia. It mixes great with the white flowers of the cilantro I let go to seed. And another close up below.
.
My hands down favorite annual flower for my entire property, vegetable and perennial gardens, is verbena bonariensis. Sprinkle it throughout your landscape and stand back to let it steal the show.
Don't hold back this year, add some bold new color and vegetables to your garden! The result will be a garden that not only produces lots of delicious food, but is also a striking part of your landscape.
[fancy_box id=3 linked_cu=6113 align="center"]Get a FREE printable list with the varieties and where to get them here.[/fancy_box]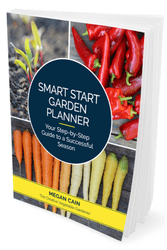 Not sure where to start in choosing some new varieties? At the back of my Smart Start Garden Planner, I've created a Veggie Essentials Cheat Sheet. It lists every common vegetable you might be growing in your garden and shares my recommended varieties. Get your copy here.
.
More garden planning reading:
How Many Different Varieties Should You Plant?
How I Choose Which Vegetables to Grow in My Garden
How to Grow a Colorful Vegetable Garden
.
SHARE IT ON PINTEREST