Are you a vegetable gardener, a perennial gardener, or both? Did pursuing one lead to an interest in the other?
I often teach and travel with the Creative Vegetable Gardener, and it's interesting to meet gardeners from all over the country and discover whether they grow just flowers, just vegetables, or flowers and vegetables. Each type of gardening has its own tricks and techniques, and what you learn in one doesn't necessarily translate into the other.
But, if you grow perennials and vegetables, like I do, it can be fun to try to bring those two gardens together as much as possible in your landscape. One way I've done this is to create a perennial garden located between my front yard vegetable garden and the street.
This has multiple benefits: my vegetable garden can borrow some of the color from the perennial border during times of the year when it's not terribly interesting (early spring), the perennial flowers draw scores of beneficial insects and pollinators into the front yard, which benefits my vegetables, and the perennial border puts a pretty face on the front of my property and serves as a buffer between my food and the street.
Over the last 10 years of learning how to grow perennials I've tried a lot of different plants and varieties. I've made many mistakes, pulled plants out and chucked them to the curb, and wasted a bit of money on impulse buys.
Throughout the years I've discovered several summer blooming perennials that require little to no maintenance, provide gorgeous color, and would fall into the category of plants I'd dig up and take with me if I moved.
Here are five of my favorite summer blooming perennials!
FAVORITE SUMMER BLOOMING PERENNIALS
Ornamental Onion, 'Summer Beauty' (Allium lusitanicum)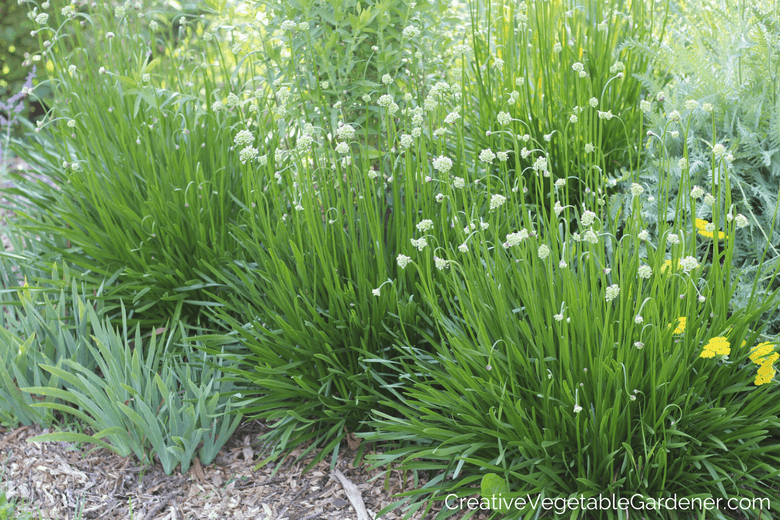 Even without the flowers a drift of Summer Beauty packs a punch visually.
Talk about drawing pollinators into your yard! Honeybees love this plant and I find them hovering around the flowers on most summer mornings.
The leaves of this allium are dark green, shiny, and oblong, and they provide interest outside of their bloom time when they're planted in a drift. (Never just plant one, here's why!)
Rudbeckia 'Little Henry' (Rudbeckia subtomentosa)
I've tried many annual and perennial rudbeckias throughout the years because they're one of my favorite flowers. Many of them don't come back for a second year, even if they're labeled as perennial, and a few of them are bullies and take over.
This rudbeckia is neither of those things! It's well behaved and cheerily blooms for many weeks, delighting me every time I pass them by.
Butterfly Weed (Asclepias tuberosa)
This is the second year for this Butterfly weed, it'll get a lot bigger and fuller in the coming years.
A native to my area in Wisconsin, Butterfly weed can be found in summer dotting the prairies in and around Madison. There's nothing quite like this electric orange color and the flowers are a favorite of monarch butterflies.
It's a little temperamental when transplanted because it doesn't like its roots disturbed, but once it gets established it puts on quite a show!
Hydrangea 'Little Quick Fire' (Hydrangea paniculata 'SMHPLQF')
Our cute little border of three Little Quick Fires just starting to bloom.
The flowers start out white and turn pinkish as the summer progresses.
I feel sheepish when I say that this is the first hydrangea I've ever grown. I've never been a big fan of the over-the-top big bloomed varieties, so when I saw this dainty little number I thought it might be the perfect fit for in front of our garden fence.
Technically a shrub, Little Quick Fire grows 3-4 feet tall, so it won't tower over the veggie garden. Instead it'll offer just the dash of color and interest I'm looking for.
Geranium 'Rozanne'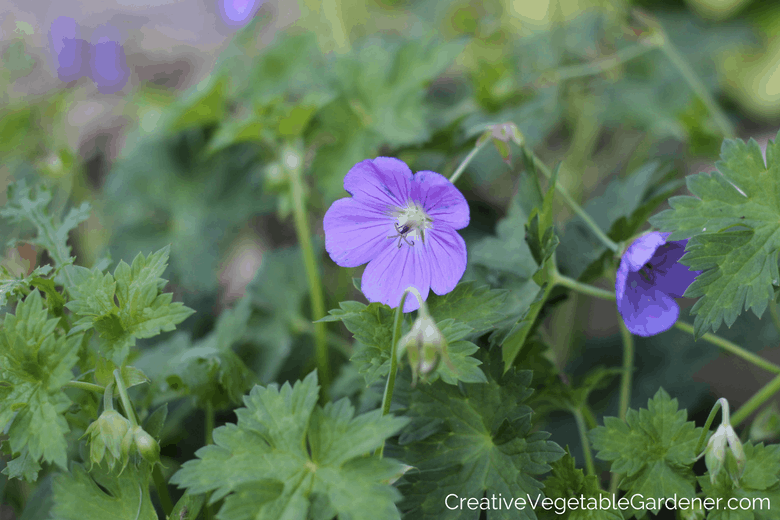 This geranium would also fall into the category of favorite spring blooming perennials. The flowers start in spring and continue through summer and into fall. It's amazing! The leaf shape is unique and the purplish blue flowers offer a little coolness to tone down the hot summer colors.
I admit, playing with perennial flowers has been almost as much fun as experimenting in my vegetable garden! I started out as a dedicated vegetable grower, but as the years progress I've really been enjoying dabbling in the world of perennial flowers, trees, and shrubs.
And hunting down the best summer blooming perennials has been a multi-year adventure, and it's not over yet!
What are your favorite summer blooming perennials? Share in the comments below!
More summer garden reading:
The #1 Perennial Garden Mistake
Design a Decorative Garden with a Rainbow of Colorful Plants
How to Grow a Colorful Vegetable Garden
SHARE IT ON PINTEREST