We did it! We finished our garden installation work right before the cold weather and snow hit Wisconsin. Whew!
In two previous blog posts (here and here) I talk about our front yard garden design that we installed in phases this summer and fall. Before winter hit we also wanted to tackle the side of our house; it's south facing and devoid of any landscaping.
When we first moved in Mark cut down two small trees since we knew we'd be installing a garden there at some point, and I planted a cherry tree at the edge of the yard. I wanted to create the garden this fall so I'd have a better idea of how much space I'd have for planting next year.
Mark has been saving cedar logs over the years in the hopes of using them in our garden some day. We used logs to construct the garden at our last house and in our community garden plot. When we started laying out the garden Mark said, "I guess this is our signature style."
It's definitely one of them! If you can get your hands on logs they are one of the easiest ways to create beds with sides. It's also visually helpful when designing the garden to be able to arrange all of the beds just where you want them before you start filling them with soil.
We spent a Saturday afternoon moving and cutting logs and laying out the design. After our first draft of the garden we thought something was missing. We needed something to soften the hardness of the logs. Rocks! We have beautiful rocks in our community garden plot, so we decided to make a trip with the truck and gather some of our favorites.
After constructing the beds we covered all of the grass in the aisles and inside the beds with cardboard by tucking it under all of the logs. If grass sneaks its way into the logs and rocks it's difficult to remove. So, I try to make sure I kill as much grass as possible.
After spreading the cardboard and filling the beds with the pile of soil in our driveway Mark dumped a load of woodchips for the aisles. I spent an afternoon covering all of the cardboard with the woodchips to create a neat and tidy garden.
I planted a few fall bulbs in the beds for some spring color and then mulched the soil with hay bales to protect it over the winter. As I was writing this post I realized that I never took a last photo when it was completed.
That's because I was mulching in the waning afternoon light one day when the forecast was predicting our first snowstorm. When I say we completed our garden just in time, I really mean it!
When it was all said and done we installed five garden beds. Each one is four feet wide and between eight and fifteen feet long. That's quite a bit of additional bed space I'm excited to plan for next season.
Here's the before photo:
And the not quite after photo: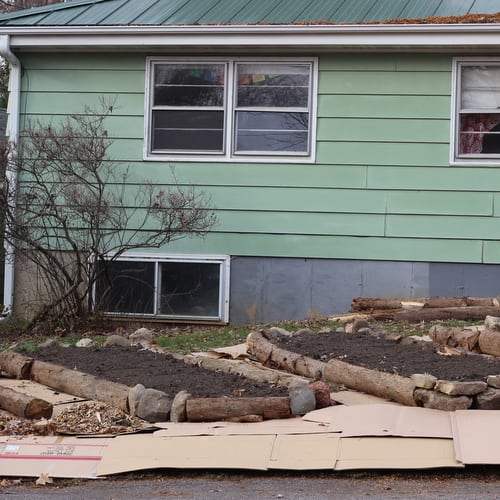 Everything is covered in snow now, so we'll spend some time this winter figuring out the plan for this new vegetable garden area, as well as the perennial beds we'll install next to the house that will feature some of our favorite small trees, shrubs and flowers.
Update! Here's a photo of the side yard garden during the height of the season the next year.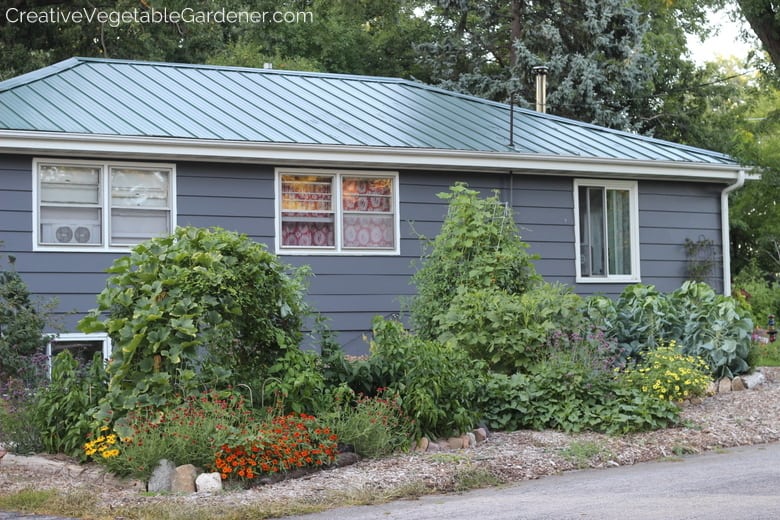 Did you miss the other garden expansion posts in this series? You can find them here and here.