Pruning indeterminate tomatoes should be at the top of your garden task list this season. Why, you ask? Take a moment and read through these questions…
Do your tomato plants grow huge and out of control each year?
Do they flop over, get taken down by diseases, or overwhelm parts of your garden?
Do you want bigger and more tomatoes earlier in the season?
Do you like to learn new tricks for your gardening toolbox?
If you answered yes to any of these questions then pruning is for you!
Let's take a look at some of these issues and how they can be solved with pruning.
Tomato Diseases
Plants being attacked by tomato diseases is one of the biggest struggles I hear from fellow gardeners during the summer.
There are a lot of different diseases that are difficult to tell apart, but one thing is true – most of them thrive in moist conditions.
Pruning your tomato plants thins out the foliage to introduce more air flow and sunlight, which can help with disease issues. I've compared my tomatoes that are well trellised and pruned with other tomatoes in my garden that are crowded and sprawling on the ground and the plants in the first category always have less disease.
In my garden I've found that pruning doesn't cure the diseases, but it does help slow down the spread.
Overgrown Plants
As the season progresses, tomato plants often turn into an impenetrable jungle which can swallow up small children, family pets, and trusty garden tools.
I haven't seen my sister in three weeks, ever since I sent her out to pick some tomatoes for a dinner salad…
It's much more pleasant to harvest tomatoes from a plant that's neat and tidy, not one that's sprawling and climbing all over the garden. Pruning out the suckers will keep the plant more manageable and will make harvesting much easier (and your sister safe).
Slow Ripening Fruit
This overgrown mess of tomato plants can contain lots of fruit hidden within its tangle, but many of them will never see the sunlight and therefore won't ripen in a timely manner.
If you've had trouble with tomatoes that take forever to ripen to a juicy red, they might not be getting enough sunlight. Pruning will help with that.
Not Enough Tomatoes!
Is there such a thing as too many tomatoes?! Okay, yes. When I used to grow 40 plants that was a little too much. But, really, the more tomatoes I can harvest from one plant the better.
When you think about the incredible amount of growth indeterminate tomatoes put on in just one season it's easy to see that they're putting a lot of energy into growing more and more leaves and suckers.
They just don't stop!
As the tomato harvesters, we're happy for them to put on that green growth to a certain extent, but it does seem a bit excessive at some point.
We'd rather them turn their attention to actual tomato production instead of showing off how big and bushy they can get.
There is some thought that pruning your tomato plants will encourage them to produce more tomatoes overall by harnessing the energy they've been putting into growing more leaves and direct it into fruit production instead.
Saves Space
The number one reason I prune my tomato plants is that it keeps the plants more compact, which allows me to plant them 18 inches apart (in double rows).
Some gardening articles suggest up to 3 feet of spacing between each plant. I don't have enough garden space to be that generous.
Instead, I can fit a lot of plants in one garden bed because I keep the plants contained by pruning. This saves me space for planting vegetables I love even more than tomatoes (hard to believe, I know!).
If you've never had the pleasure of pruning indeterminate tomatoes, you should definitely try it this year.
And if you've thought about it, but the whole concept confuses you, I'm here to walk you through it step by step in the post below and with a bonus video I filmed in my garden.
.

This post contains affiliate links.
How to Prune Indeterminate Tomatoes
Before we start, I want to be extra clear that we're talking about pruning only indeterminate varieties of tomatoes. These are the ones that keep growing taller and taller and putting on more fruit until your first frost.
Determinate tomatoes only grow to a certain height, which is much shorter than indeterminates, and then ripen their fruit in a short window of time. You should not be pruning these types of tomatoes.
If you're not sure which kind you're growing you need to look the variety up on the internet to figure out if it's determinate or indeterminate.
Identifying the Parts of the Tomato Plant
Your first step is to understand and identify the different parts of the tomato plant so you don't inadvertently cut the wrong thing off. I've done it!
Step 1:
Stand in front of your plant and identify the main stem coming out of the ground and follow it all the way up to the top of the plant.
This top end is the main growing point of the plant where it continually gets taller. You do not want to cut this off during this pruning process.
Step 2:
Next, look for the fruit clusters (tomatoes already forming) and flower clusters (groups of yellow flowers).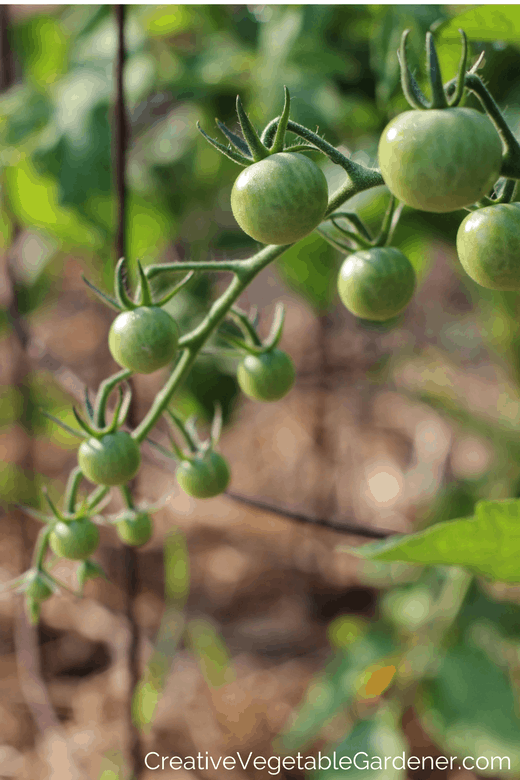 The fruit clusters are immature tomatoes that are still forming.
A flower cluster.
Step 3:
Identify the leaves – they're connected to the main stem throughout the plant. Find where a leaf is coming out of the main stem.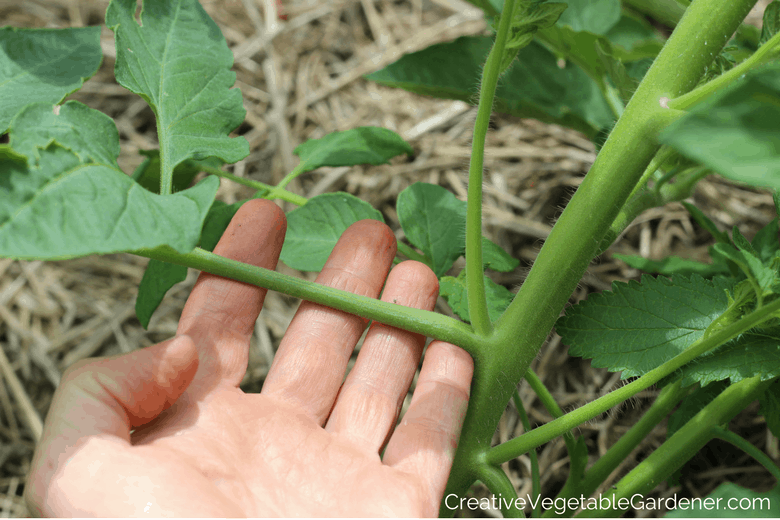 A leaf comes from the stem of the plant.
Step 4:
Between the main stem and the leaf is another part that usually shoots fairly straight up if it's larger, or looks like a little leaf if it's small. This is called the sucker.
The sucker is found between the stem and the leaf.
The sucker will grow to have its own leaves, flowers, fruits, and suckers. It's basically like a whole new tomato plant growing out of the original plant. We're going to be pruning most of them off, suckers!
Here's a review of the parts of the tomato plant.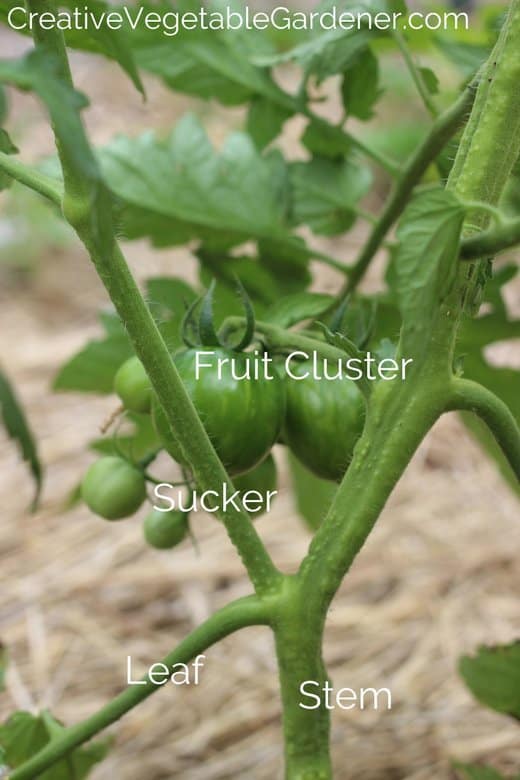 Now that you know the parts of the plant, you're ready to start pruning your tomato plants! And don't forget, you can always watch the accompanying video to watch me pruning my tomato plants in my garden.
Step-by-Step Guide to

Pruning Indeterminate Tomatoes
Step 1:
Identify the lowest flower or fruit cluster on the plant. This is the one closest to the ground.
Step 2:
Keep one hand on that cluster. This is to remind yourself not to cut it off. Now look for the sucker immediately under that cluster.
This is usually the biggest sucker because so much energy is being sent to that part of the plant to grow the fruit that's directly above it. This is the sucker we're going to keep!
One time someone I know (not me, I swear!) cut the sucker they were meant to keep. Insert expletive here.
As a safeguard, my tip is to keep one of your hands holding that sucker to remind yourself not to cut it off until you get more comfortable with the process.
Step 3:
Now, remove every other sucker on the plant besides that lowest one. Yep, you read that right! Take off every single one above it and below it.
In order to make a clean cut, it's best to use a small knife (I love this one!) or pruners (the Felco brand is high quality) to remove the suckers.
Depending on the size of your plant some of them will be big, and some of them will be tiny leaves. Take them all!
Don't be afraid! You're not hurting the plant. Just make sure you're only cutting suckers.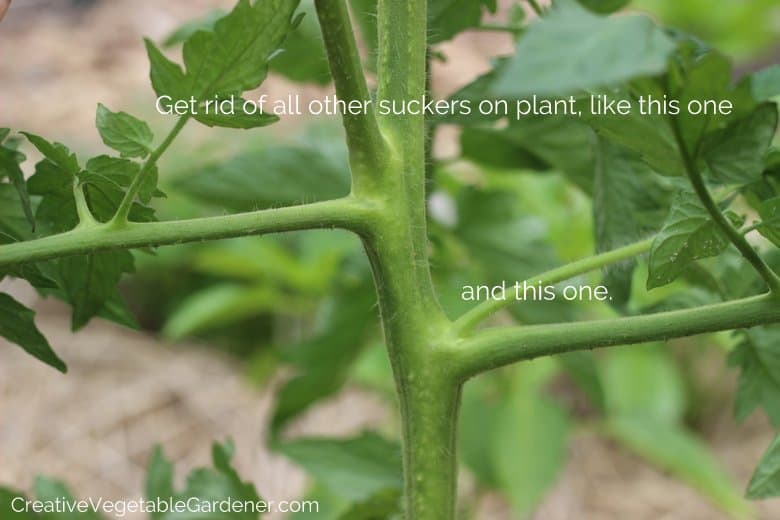 Step 4:
Optional. When I'm done pruning the suckers, I'll often remove some of the lower leaves on the plant that are touching the ground.
Many tomato diseases live in the garden soil and spread up the plant from those bottom leaves. I like to make sure no leaves are touching the ground in an attempt to slow down the progress of the diseases.
.
Step 5:
If you haven't installed cages or set up your trellis yet, now is the time to do so. Your plants should be caged at all times to prevent them from lying on the ground. Here's more on why and how to use tomato cages.
Plants and fruit that touch the ground are more likely to spread disease and get eaten by pests.
Use the tallest trellis or cage you can possibly find and use clips or twine to secure the plant to the trellis. Most store bought tomato cages are TERRIBLE!
They're way, way too short. Indeterminate tomatoes will grow higher than your tallest friend.
Learn how to make my favorite DIY tomato cage in this popular article.
Cherry tomatoes grew even taller than other types of tomatoes, so I always plant mine at the foot of my on my cattle panel trellis made from livestock panels.
Step 6:
Throughout the next few weeks you can return to your plants when you think of it and prune off the new suckers.
There is a fine line between pruning indeterminate tomatoes well and cutting off too much of the plant, especially if you live in a hot climate. The tomato fruit do need some shade or they can get sunscald, or sunburn.
After one or two pruning visits you may decide to leave some of the top suckers to create some shade for the fruit.
Once I start harvesting tomatoes I no longer prune the plants unless they start to get on my nerves, at which point I just hack off large pieces willy nilly.
And when September hits here in zone 5 I start to top my tomato plants since none of the new fruit they're producing will have time to ripen before the first frost..
Congratulations – you did it! Here are a few additional tips to help you through the process of pruning your tomatoes.
A Few More Things to Know About Pruning Indeterminate Tomatoes
You need to wait until your plants have been in the ground for a few weeks and have put on new growth before you start pruning. I generally prune my tomatoes about four weeks after planting.
You should only be pruning indeterminate tomato plants. Determinate plants don't need pruning. You'll need to look up your varieties online if you don't know which type they are.
Never work with your tomato plants when they're wet. If a disease is present you'll spread it around.
Tomato fruits can get sun scald, or sun damage (especially in hot climates). Don't over prune your plants. It's okay to leave some greenery to shade the fruit.
Tomato plants are pretty tough and you can't do much damage. Just try not to cut off the main stem, or growing point (and even if you do, things will be okay).
If you're not sure pruning is for you or you like the idea of garden experiments, prune just a few of your tomato plants and compare them to the rest throughout the season.
Mulch your tomato plants! You should do this right after planting. As we learned earlier, lots of tomato diseases live in the soil. When it rains the bare soil splashes up onto the leaves and transmits the disease.
A thick layer of mulch will also keep down most of the weeds, retain moisture for the plants, and break down into organic matter. Vegetable garden mulch is my number one tool for a low maintenance garden.
Supplies you need:
Garden Knife: My favorite
Pruners: Felco Pruners or Micro-Tip Pruners
Tomato Cage: Make your own or these are a good substitute, I just wish they were taller. This model is 6′ tall.
Something to secure the plants to the cage or trellis: tomato clips or jute twine
You can find more of my favorite garden supplies in my Amazon storefront right here.
Additional Resources for Tomato Lovers
Watch the video on this page to follow along as I prune my own tomato plants in real time!
If you need more convincing, let me give it another try with this post – 5 Reasons Why It's Important to Prune Your Tomatoes.
Feeling overwhelmed by all of the thousands of tomato varieties out there? Here's how to decide which are the best tomato varieties for you.
Once you have a bumper tomato crop you can save time preserving tomatoes with a quick hack that's not canning.
Alright, it's time to go out there and give pruning indeterminate tomatoes a try! Part of the fun of gardening is trying new things and adding skills to your repertoire.
This is one technique I use every year and find invaluable in growing healthy and productive tomato plants. Plants with less disease, more fruit, and less chance of swallowing up my sister.
SHARE IT ON PINTEREST
More tomato posts: