Do your tomato plants grow huge and out of control each year?
Do they flop over, get taken over by disease, or overwhelm parts of your garden?
Do you want bigger tomatoes earlier in the season?
If you answered yes to any of these questions then pruning your tomatoes should be on your garden task list this season.
The number one reason I prune my tomatoes is that it keeps the plants more compact, which allows me to plant them 18 inches apart (in double rows). I fit a lot of plants in one garden bed. I also don't like when they get huge and bushy and virtually impenetrable.
Pruning thins out the plant to introduce more air flow, which can help with disease issues. There is some thought that pruning encourages plants to produce more fruit (and earlier) because the plants aren't putting as much energy into growing leaves and suckers.
What's not to like about both of those reasons?
So, assuming I've convinced you to try it, the first step to pruning is knowing the parts of the plant.
.
STEP-BY-STEP GUIDE TO PRUNING YOUR TOMATO PLANTS
I filmed a quick video in my front yard garden showing you exactly how to prune your tomato plants. Get it for free now!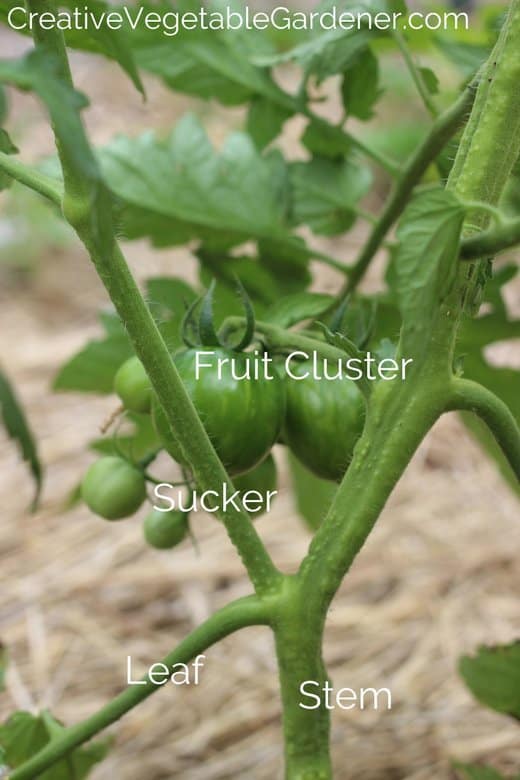 Step 1: Go out to one of your plants and identify the main stem coming out of the ground and follow it all the way up to the top of the plant. This is the main growing point of the plant where it continually gets taller.
Step 2: Next, look for the fruit clusters (tomatoes already forming) and flower clusters (groups of yellow flowers).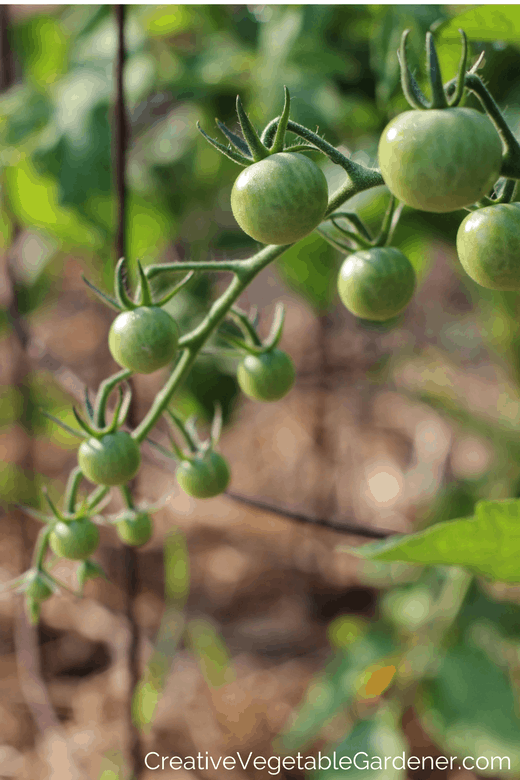 The fruit clusters are immature tomatoes that are still forming.
A flower cluster.
Step 3: Identify the leaves – they're connected to the main stem throughout the plant. Find where a leaf is coming out of the main stem.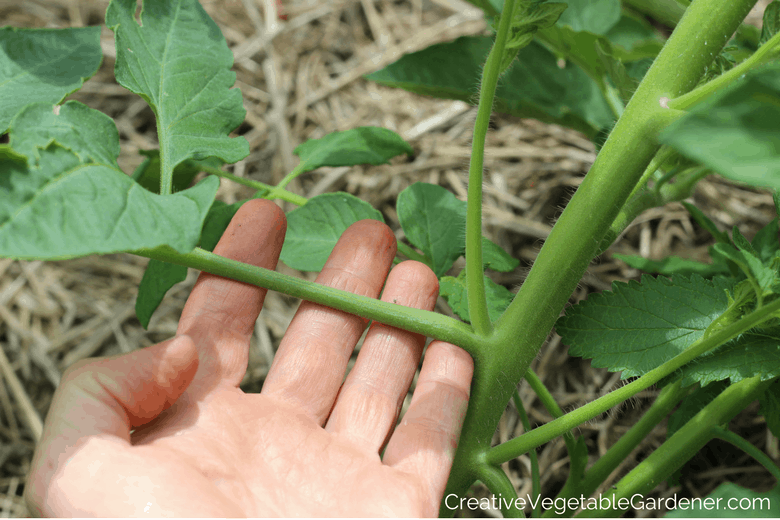 A leaf comes from the stem of the plant.
Step 4: Between the main stem and the leaf is another part that usually shoots fairly straight up if it's larger, or looks like a little leaf if it's small. This is called the sucker.
The sucker is found between the stem and the leaf.
The sucker will grow to have its own leaves, flowers, fruits and suckers. It's almost like a whole new tomato plant growing out of the original plant. We're going to be pruning most of them off.
.Okay, now that you know the parts of the plant, you're ready to start pruning!
STEPS FOR PRUNING YOUR TOMATOES
Step 1: Identify the lowest flower or fruit cluster on the plant. This is the one closest to the ground.
Step 2: Keep your hand on that cluster. Now look for the sucker immediately under that cluster. This is the strongest sucker on the plant because so much energy is being sent to that part of the plant to grow the fruit. This is the sucker we're going to keep!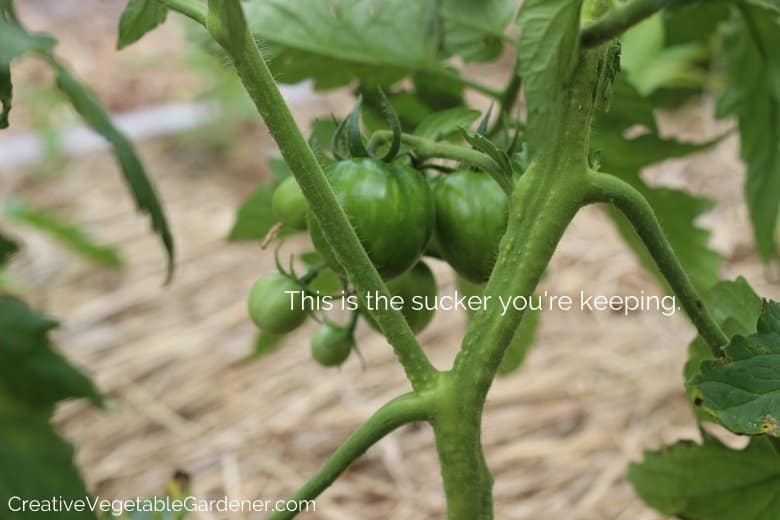 This post contains affiliate links. Any purchase you make supports the educational efforts of this blog. Thank you for that!
I have invariably cut the sucker I want to keep at times, so my tip is to keep one of your hands holding that sucker to remind yourself not to cut it off until you get more comfortable with the process.
Step 3: Now, remove every sucker on the plant besides that one, everything above and below it. I use a small knife (I love this one!)
, clippers, razor blade, or just my fingers to remove the suckers. Some of them will be big, some of them will be tiny. Take them all!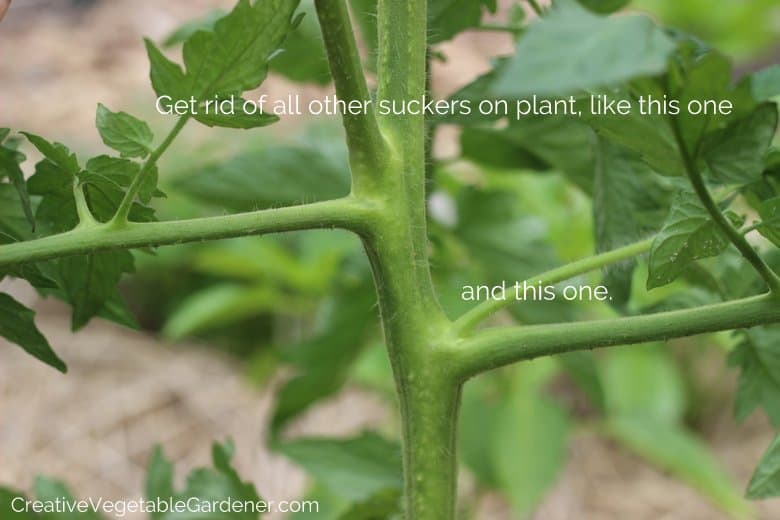 Step 4: Optional. When I'm done with the suckers, I'll often remove some of the lower leaves on the plant that are touching the ground. This is where soil borne diseases like to start climbing up the plant.
.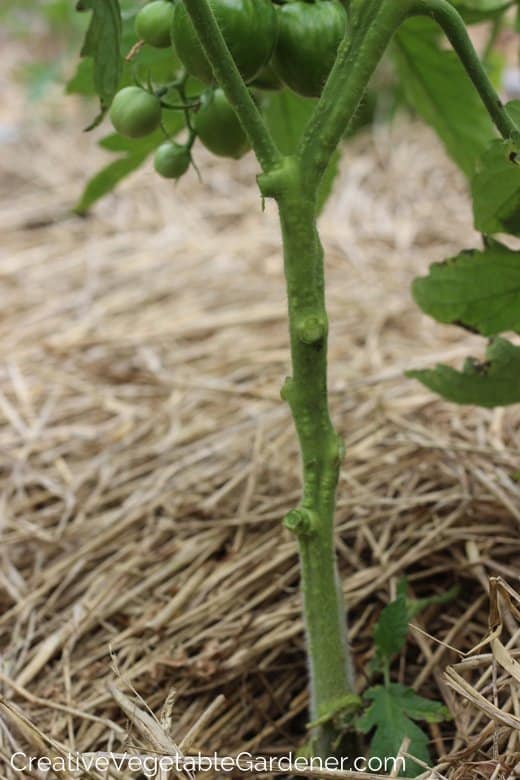 I remove all of the lower leaves that touch the ground.
Step 5: If you haven't installed cages or set up your trellis yet, now is the time to do so. Your plants should be trellised at all times to prevent them from lying on the ground.
Plants and fruit that touch the ground are more likely to form diseases and get eaten by pests. My two favorite trellises are here and here.
Step 6:  Throughout the next few weeks you can return to your plants when you think of it and prune off the new suckers. Once I start harvesting tomatoes I no longer prune the plants.
.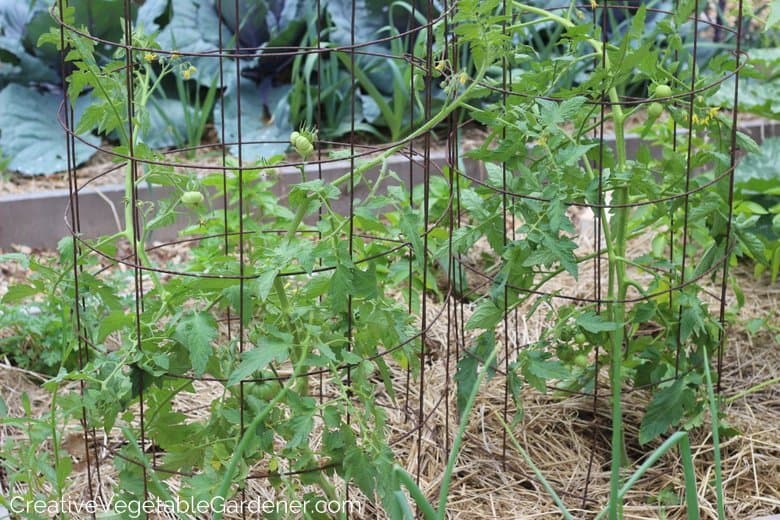 I film a quick video in my front yard garden showing you exactly how to prune your tomato plants. Get it for free now!
Important notes:
You should only be pruning indeterminate tomato plants. Determinate plants don't need pruning. You'll need to look up your varieties online if you don't know which type they are.
Never work with your tomato plants when they're wet. If disease is present you'll spread it around.
Tomato fruits can get sun scald, or sun damage (especially in hot climates). Don't over prune your plants. It's okay to leave some greenery to shade the fruit.
Tomato plants are pretty tough and you can't do much damage. Just try not to cut off the main stem, or growing point (and even if you do, things will be okay).
If you're not sure pruning is for your or just want to experiment, prune just a few of your tomato plants and compare them to the rest throughout the season.
Want to see how to make the best tomato trellis ever? I show you how in this popular post.
Want to read more summer gardening posts?
What Happens When a Plant Bolts?