Mid to late spring in the vegetable garden is one of the most exciting times! The day we've all been waiting for finally arrives – we dig out our gardening tools and sink our hands into the soil. Ahhhh!
What a joy to be experiencing the re-birth of the gardening season for another year.
Although spring is a wonderfully fun time, it's also a very busy time for gardeners. We have a lot of tasks on our to-do lists and everything feels like it needs to be done right now.
At the top of that list is prepping spring garden beds for planting. Spring is when the majority of planting happens in our vegetable gardens and our garden soil needs to be ready for the many seeds and plants waiting to be tucked into the garden.
In my experience, most gardeners think prepping spring garden beds for planting requires many hours of time-consuming and often physically exhausting labor.
Luckily, I'm here with the good news – you can keep it simple.
In this post I'll show you how to set up your garden for easy spring garden prep so when the sunny and warm weather arrives, you'll be able to walk out to your garden and start planting your seeds and plants, no backbreaking work required.

Steps for Prepping Spring Garden Beds
Before we get into exactly how to prepare your soil and expertly plant seeds and plants, let's talk about how to set your garden up for easy spring prep. There are a few main things you can do to ensure you're garden is ready to go in spring.
#1: Set up a permanent garden design
When you have a garden that gets tilled every year it means you're starting from scratch each season. Instead, I recommend you install a no-till garden.
I don't recommend tilling because it can create more weeds by bringing seeds to the surface. The soil structure in your garden is also a complex web of bacteria and fungi that serves your plants better if it stays intact. And, wrestling with a tiller can be a lot of work.
I'm all for simple and easy in my garden. That's why I always install permanent beds and paths in my gardens.
You don't need to dig, flip, till or do any heavy soil lifting. I definitely don't! In fact, many people are shocked when they find out that I've never tilled my garden in the 21 years I've been a gardener.
You can read more about tilling and why I'm against it in this article: Stop Tilling Your Vegetable Garden!
Establishing permanent beds often means building wooden raised beds, but there are plenty of other options. What matters most is that you're garden beds and paths are staying in the same place for many years in a row so you're not changing the layout over and over every season.
The benefits of permanent garden beds and paths are:
Less work in spring.
With an established garden bed there's not much prep you need to do to start planting in spring. If you cleared out and mulched your garden in fall, all you have to do is wait for the soil to warm up, and then walk out and start planting. (You'll see how I put this into practice in the video below.)
There's no wrestling with machinery, digging or flipping over the soil, or really any backbreaking work at all!
Better for your soil health.
Having a permanent garden design means it's very clear where your beds and paths are located. That encourages you to stay on the paths when walking and working, and you'll be less likely to step into the garden beds.
Walking and stepping on the soil you're growing food in will compact it over the long term. Keeping yourself in permanent aisles will help maintain loose soil within the garden beds, which will make it easier to plant seeds and plants, remove weeds, and provide space and air for your plants' roots to grow.
Less maintenance over the long term.
One of the great things about having permanent beds and paths is you can easily keep them mulched all year round, which will go a long way towards reducing the number of weeds that grow.
And that means many fewer hours you need to spend weeding in your garden.
Creates a more attractive garden.
Permanent raised garden beds create organization and structure in your garden. These are not bad things to have in a vegetable garden because they lend to the overall attractiveness of your garden.
I like to think of the raised garden beds as the canvas. Once they're constructed, you can take that blank canvas and use the vegetable plants and flowers to "paint" on it to create beautiful and interesting combinations of colors, textures, and heights.
Check out this blog post where I share three different options for creating easy raised garden beds, discuss the pros and cons of each style, and share the supplies you'll need: How to Make Easy Raised Garden Beds for Your Vegetables.
#2: Keep your garden mulched
Bare soil in the garden = weeds. There's no way around it. Nature doesn't like when soil is exposed so she sends in the weeds as the first line of defense. Their job is to quickly grow and hold the soil in place so it doesn't blow away in strong winds, wash away in a heavy rainstorm, or get compacted by the elements.
One of the best ways to cut down on the time it takes to prepare your spring garden for planting is to keep it weed-free. And the best way to keep those weeds at bay to make sure your garden beds and paths are mulched all year round.
This post explores the benefits of mulch, explains what mulches to use and what to stay away from, and show how I use it in my garden: Why Mulch is the Ultimate Garden Tool.
These first two steps are long term actions you can start implementing in your garden this season to set yourself up for a much easier time in spring when it's time to start prepping spring garden beds for planting.
Once you have a permanent garden design established and you're cutting down on the weeds you'll have to deal with in spring by keeping your garden mulched, most of the work to actually plant is super quick and simple.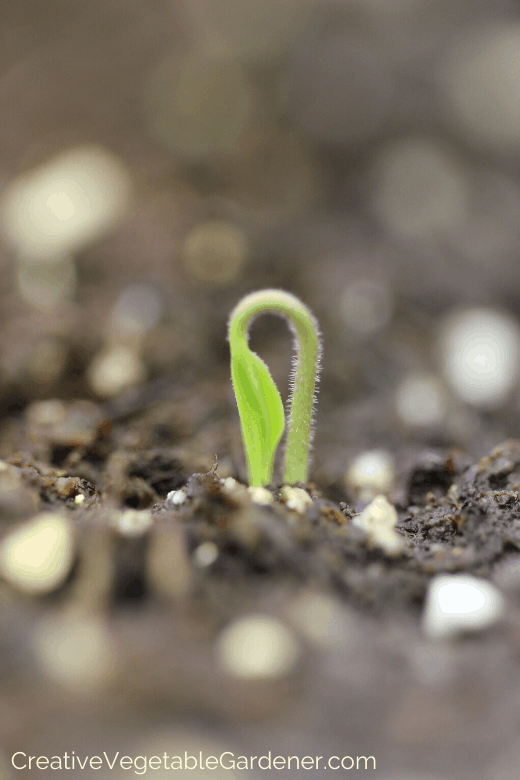 How to Plant Spring Seedlings & Seeds
If you have some experience gardening then you know that some vegetables are best planted as plants (or seedlings) and some grow better when they're sown as seeds.
If you're not sure whether you need a seed or a plant for the vegetables you're growing, this article breaks it all down for you: How to Know When to Sow a Seed or Plant in Your Garden.
How I prep a garden bed depends on what I'm planting in it and what the weather has been in my garden. Let's start with how to plant a seedling, otherwise known as a baby plant.
How to Plant a Seedling in Your Garden

I have two ways for you to learn how to plant a seedling:
You can read this article which takes you through the eight steps I use for planting every time: 8 Steps to Expertly Planting a Seedling.
Or watch the accompanying video that I filmed in my garden demonstrating planting a seedling in real-time. The video talks a bit more about how I don't dig or flip any of my soil before planting. I simply pull the mulch aside and plant. So easy!
How to Sow Seeds in Your Garden

In the article I wrote about above regarding planting seedlings, I show how I usually leave the mulch in place when I'm planting a seedling instead of taking it off the garden bed.
When you're planting seeds you'll want to approach it a little differently by removing the mulch that's covering the garden bed before you get started planting.
This is a case where it's okay to have some bare soil in your garden for a short period of time while you're waiting for seeds to germinate.
I think the best way to learn how to plant seeds is to watch me actually do it in my garden in the accompanying video. I explain how to prep the soil, figure out the spacing, and more.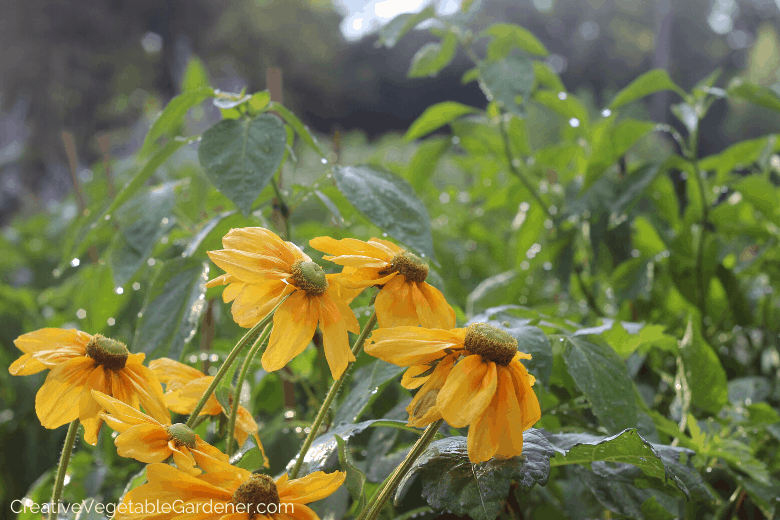 Watering Newly Planted Seeds & Plants
Once you have your baby plants and seeds tucked into your garden don't ignore them! When they're young they can be vulnerable, so you'll want to offer them some extra loving care, especially with watering.
Newly planted seedlings don't have an established root structure yet, so it's going to be more difficult for them to forage for water in the garden soil.
You should be paying attention to the weather after planting seedlings. If you're getting regular spring rains like my garden does Wisconsin, you might not have to water much.
But, if it's unseasonably hot after you plant them, or there's an extremely windy day, go out and give them some extra water while they're working hard to settle into your garden.
Newly planted seeds need even more attention than seedlings. In order for them to germinate, you must keep them evenly moist for anywhere between 5-21 days depending on the vegetable you planted. Some seeds germinate much more quickly than others.
I suggest watering newly planted seeds every 1-2 days depending on the weather. On a day where your garden receives rain, you won't have to water. If it's hot and sunny water you should water more frequently.
Because seeds are so small you only need to keep the top few inches of soil moist for them to germinate.
Once they're established, most vegetable plants only need about 1 inch of water per week, but this definitely depends on what kind of soil you have and where you live. Read more: Secrets to Watering Your Vegetable Garden the Right Way.
When I used to have a plot in a community garden, every spring I noticed my fellow gardeners spending lots of unnecessary time prepping their spring garden beds for planting.
This does not have to be your gardening reality!
If you create a garden with permanent beds and paths and keep it weeded and mulched throughout the year, you'll be able to waltz into your garden in spring and just start planting. No hours of weeding, bed layout or soil prep needed.
Additional Resources For Getting Better Results
Find my favorite gardening supplies, varieties, books, tools and more in my Amazon storefront.
MASTERCLASS
In each season of my Masterclass – Success In Every Season: Get Better Results From Your Garden All Year Long – we focus on exactly what you need to know to be successful. The seasons build upon one another (just like in your garden!) to create a complete toolkit of skills that will set you up for a more joyful gardening experience
When you make smarter decisions in your garden, you end up having more success, which means gardening is a lot more fun. Read more about it here.
GARDEN COACHING
Get personalized advice on your struggles, goals, and garden aspirations with a garden coaching session, either in person or virtual. Read more about them here.
BOOKS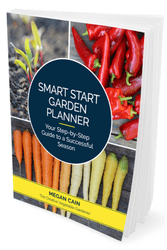 Set yourself up for a successful season with the Smart Start Garden Planner. It keeps garden planning practical, down-to-earth, and fun!
Get a sample of the book so you can peek inside here.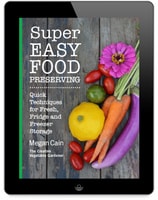 If you want to learn more about how to make the harvest last longer by quickly and easily preserving vegetables, fruits and herbs, check out my book, Super Easy Food Preserving, here.
Get started stocking your pantry for winter!
.