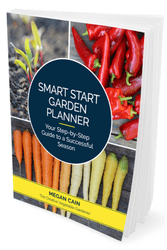 Thanks so much for helping me share the word about my new book, Smart Start Garden Planner. You're amazing!
Below you'll find several different ways you can help get the word out.
Shoot me an email if there's anything else you need.
Description of Book
Smart Start Garden Planner: Your Step-by-Step Guide to a Successful Season is a fresh and simple approach to planning your vegetable garden. This workbook guides you through strategically determining what you want to grow by understanding the important details of each vegetable, knowing when to plant a seed or a plant, how to choose the best varieties for your garden, and creating a planting schedule so you know when to start planting in spring. Check it out at https://www.creativevegetablegardener.com/smart-planning/
Sales Page
The book can be purchased as an eBook or print book on my website here.
Facebook Posts to Share
Quick video with a sneak peek into my book and a garden tip.
The most successful gardeners are organized gardeners
Grow more vegetables than ever in your garden this season.
A photo of one of my favorite page spreads.
Pinterest Pins to Share
At the top of this board there are lots of pins about the garden planner you can pin to your own account.
Instagram Posts to Share
You can find my account here with some photos about the book to re-post. You need to use the Repost App to do this. Find it for iPhone and Android here.
Podcasts
In conjunction with the book launch I've been doing some podcast interviews where I've shared lots of tips and stories around garden planning.
.
Other Ideas for Sharing
Post a photo of yourself with the book. Share one of your favorite pages or a new garden tip you learned.
Create a Facebook live video with your phone and share what you like about the book with your friends.
Bring the book to a gardener gathering (seed swap, community garden meeting) and share it with other gardeners. I can send you some postcards to hand out if you'd like.
.
.
.
.