My front yard vegetable garden is a riot of color in the summer.
In the darkest months of the year when we can't be out in our own vegetable gardens, the next best thing is looking at pictures of other peoples' vegetable gardens.
One of the gifts of the offseason is the space and time to dream, imagine, and make plans for all the ways we'd like to create more beautiful and colorful gardens next season.
Checking out inspiring books from our local library, taking an afternoon to browse the gardening section of a bookstore, or just spending time on the internet reading gardening blogs and looking at gorgeous photos are all great ways to get the creative juices flowing.
Planning, seed ordering and starting, and late winter and early spring garden prep are all practical and important ways to prepare for the upcoming season. But, daydreaming and visioning are also critical "tasks" we should make sure to carve out time for during wintertime.
I spent an evening by the fire recently with my laptop searching for stunning photos of vegetable gardens. I'd love to share some of my favorites with you and what ideas and plans they sparked for me.
Creative and Colorful Pictures of Vegetable Gardens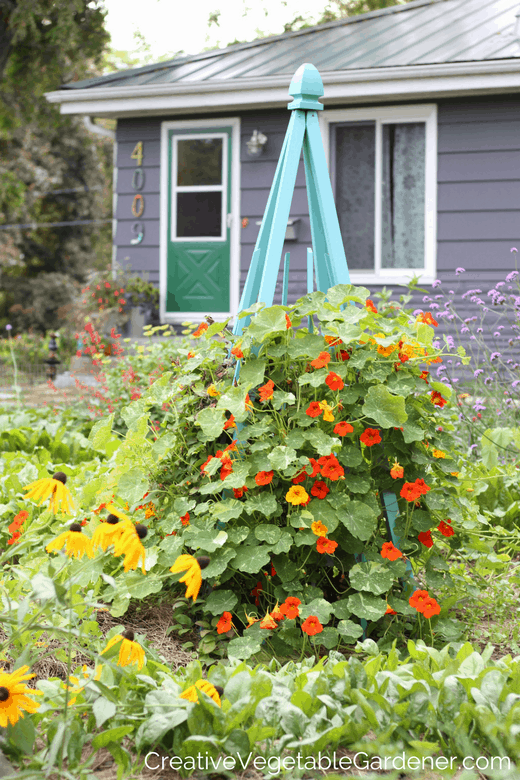 My front yard vegetable garden.
This post may contain affiliate links which support the educational mission of this blog.
Besides books, my favorite source for inspiring photos is Pinterest. I like that their search function allows me to hone in on something specific I'm thinking about, like "garden trellises" or "creative vegetable garden designs". If you have a Pinterest account (it's free!), you can pin, or save, the photos for later reference.
When I'm in the mood to dream and plan for the season, I'll often spend a little time browsing through the many eye-catching photos to be found.
My favorites I collect in my own account here so I can revisit them later. (Don't forget to follow me by clicking on the red Follow button here.)
Here are some that have caught my eye recently. You can click on the photos to be taken to the original source to find out more.
Paths
Although my current garden paths are covered in woodchips, my dream garden has brick paths like this one.
I've also thought that having a main path created out of stone would be a good alternative to covering the whole garden with it. That way I could leave the other paths in woodchips. I love this circular design!
A mixed media path would be so artsy!
I've seen similar circular paver paths around my town and it would be pretty easy to replicate. They would look so cool as mosaics.
And speaking of mosaics, as a mosaic artist I'm always thinking of ways to add more of them into my garden and landscape. I love this subtle mosaic border.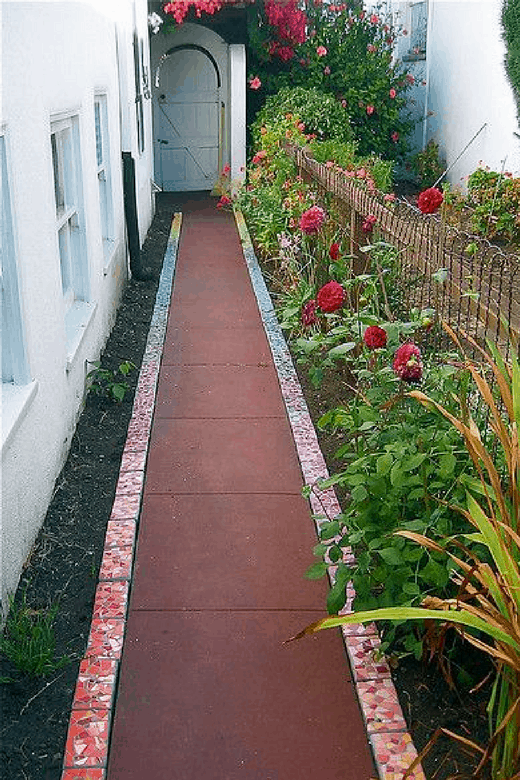 Trellises
One of the secrets to a more attractive vegetable garden is using height to add interest. Trellises, obelisks, tuteurs, and arbors all are great ways to grow more vertically in your garden. To be honest, when I looked on Pinterest for trellis ideas, most of what I found was expensive to buy or difficult to build.
I've experimented with various simple and beautiful trellises over the years in my own garden, so I'm sharing mostly photos of my trellises in this section.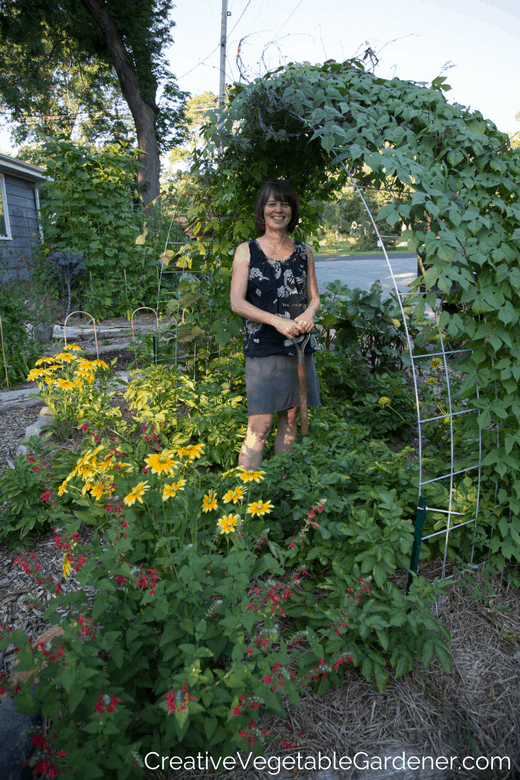 I have three different types of cattle panel trellises in my garden and I've grown many different vegetables and flowers on them over the years. Each panel costs around $30 at a local store within a mile of my house and only requires minimal supplies to get it erected in minutes. Check out my post on how to build one here.
When the idea for this trellis popped into my mind, it was convenient that my husband, Mark, is an arborist. I put in my special request for long birch branches and within a few weeks, they were sitting by my garden. That's service for you! We trimmed them up and used twine to tie them together at the top.
This charming, rustic trellis is from garden writer Ellen Ecker Ogden's home kitchen garden. I recommend checking out her book, The Complete Kitchen Garden: An Inspired Collection of Garden Designs and 100 Seasonal Recipes
.
In my VIP learning community, the Flavorful Life Garden Club, we selected this tuteur as our community building project. Of course I had to paint mine my favorite color – turquoise. I have a clematis planted beneath it for spring color, and this year I complemented that with a later blooming climbing nasturtium. Find a similar design here.
And in my dream trellis category would be a series of Gracie Modern arbors lining the interior of my garden like in this photo from the Sunset Magazine test gardens in Sonoma, CA.
Garden Design
I tend to gravitate towards a less formal French kitchen garden style. I like the organized look of a garden that is laid out neatly, but the artist in me also wants to inject some wild and unruly elements into the structure.
These two garden are tidy, but they also incorporate some unexpected shapes and additions like the circular pond and scarecrow.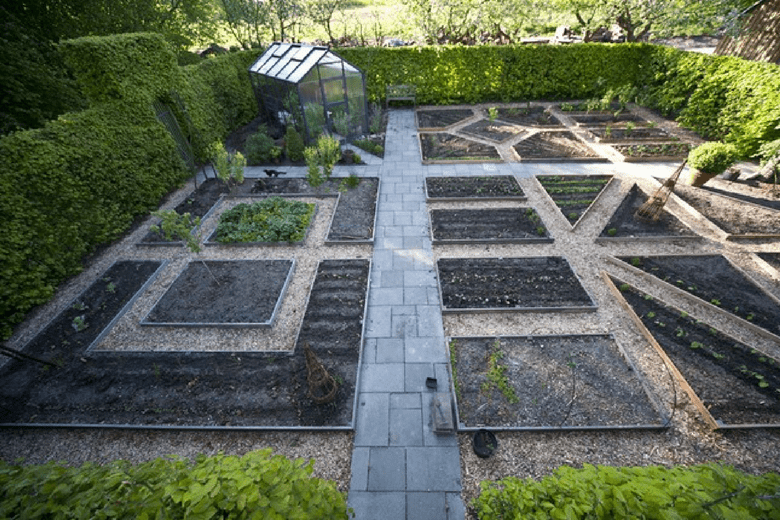 A white picket fence is a very traditional style, and I like how the designer softened the hard lines of the fence by creating a planting bed outside the perimeter.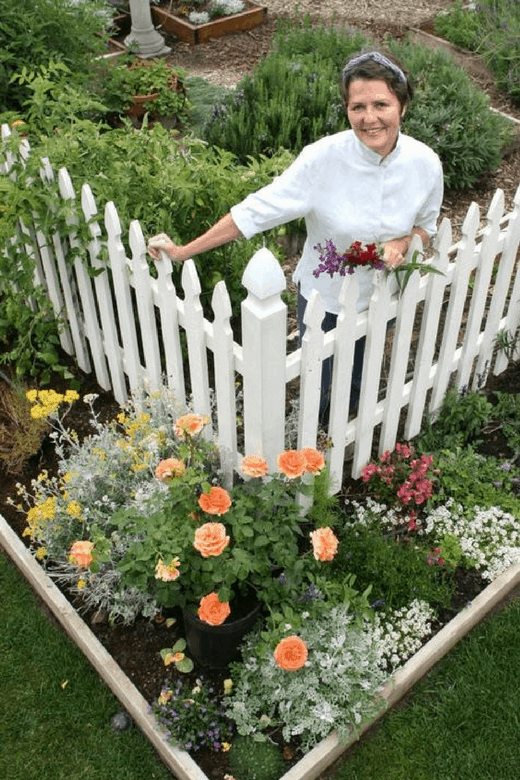 I'd love to design a more circular, mandala style garden at some point. An herb spiral as a centerpoint is a great idea, and I already have one constructed in my garden!
I first noticed black-stained raised beds on Instagram when I started following a gardener/photographer from Finland. I immediately thought to myself, "I want black raised beds!" I love the visual weight and contrast they provide to the green colors of the vegetable plants. Definitely on my must-have list for a future garden redesign.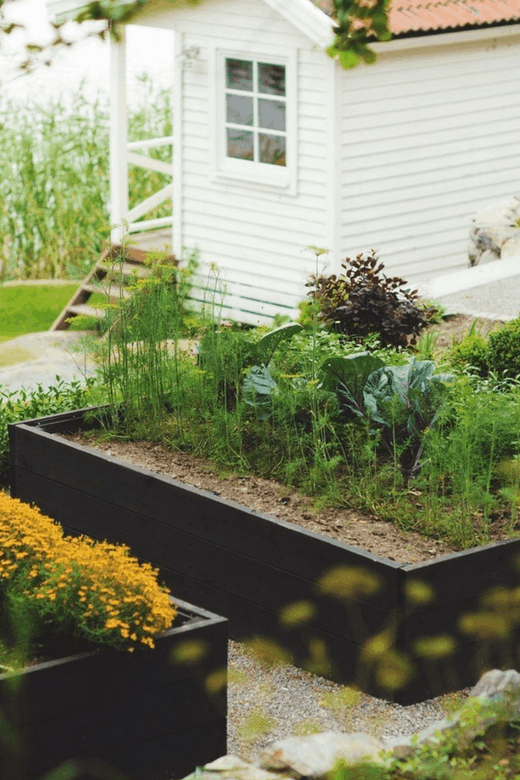 The key to maximizing your time looking at pictures of vegetable gardens is to pay attention to which elements spark your imagination and get you excited for the upcoming season. Can you add any of them to your garden project list for this year?
It's also important to focus on simple projects that are realistic for your time, skills, and personal garden. A few little touches here and there can elevate a ho-hum garden into something that's a colorful and beautiful centerpiece of your landscape.