When the seed catalogs start arriving in the mailbox it's tempting to jump into garden planning head first and start ordering your seeds for the season. This is definitely one of the most fun parts of winter for us gardeners!
But, what if I told you there was a critical first step that should come before you start cracking open those seed catalogs?
A step that goes deeper and wider into the importance of gardening in our life than simply placing a seed order.
This year, before you start thinking specifically about your particular garden and what you want to grow, I want you to zoom out and think about the bigger picture.
When you immerse yourself in gardening it becomes more than a hobby . . . it becomes a lifestyle. It starts with trying to grow food and eventually ends up adding color to your entire life—the way you think about food, how you cook dinner for your family, the way you look at the world.
Gardening is our connection to the natural world, to beauty and creativity, and to ourselves. Our vegetable gardens have the potential to feed us on a soul-deep level. They can serve as the anchoring center point of a life full of rich, satisfying joys – often grown with our own two hands.
So, let's think big about the importance of gardening in our lives!

The Importance of Gardening in Our Lives
If we approached our vegetable gardens with the idea that they're our retreat, our oasis from our hectic, tech-focused everyday lives, how would that change what we do in our gardens on a daily basis?
Modern life can sometimes feel empty and manufactured, with lifeless days that leave us feeling like something is missing. Our boredom with the daily grind keeps us out of touch with our inner creator and artisan.
When we tap into the idea that our vegetable garden can feed not just our body, but our soul, we start to see how to enjoy our garden all along the way, not just at harvest time. It encourages us to ask for more out of our gardens, seeking variety and adventure every day. We embrace innovation and experimentation in the garden and seek more color, more energy, more flavor, and more beauty.
If you've been feeling out of touch with the deep joy your gardening experience can bring to your life, or you just want to make sure you infuse more of it into your practice this season, take some time to meditate and journal on this question:
What kind of lifestyle do you want gardening to create for you this year?
Maybe you want to spend more time just relaxing in your favorite chair in your garden, or learning photography so you can take better pictures of your harvest.
Perhaps you want to get more exercise by taking a walk in your neighborhood each evening after you water your plants, or you want to try one new healthy recipe a week throughout the harvest season.
Gardening is a very personal experience, so only you can determine the important role your garden plays in your own life.
[fancy_box id=3 linked_cu=7483]You can download and print out this worksheet from the Smart Start Garden Planner to assist you in reflecting on and journaling about this question.[/fancy_box]
This season, let the importance of gardening in your life be the theme that is woven through everything and allow it to bring more meaning to your every day. When you do, you'll find that your garden will awaken you and you'll start to garden – and live – in full color again.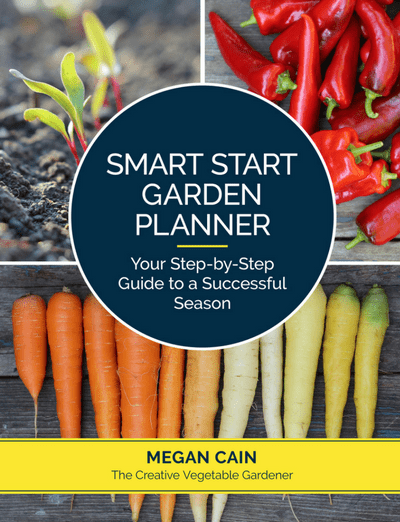 Want more guidance in planning your garden?
This workbook keeps gardening planning practical, down-to-earth, and fun! You'll work through your plan step-by-step, and at the end you'll have a personalized blueprint for what a successful season in your garden looks like!