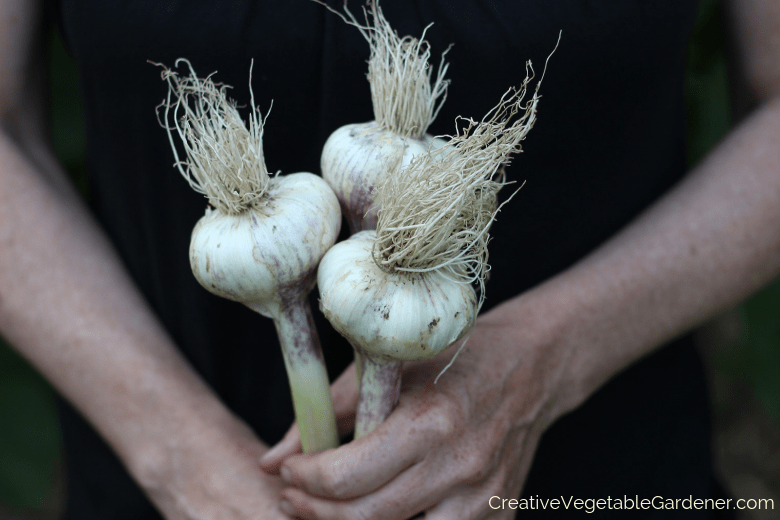 Fall garlic planting is a symbolic act in my opinion. You're declaring to Mother Nature that you're coming back next year and are already planning for the harvest. The cyclical nature of the gardening season is beautifully represented in your garlic crop's progression throughout the year – planting in fall, hibernating in winter, sprouting in spring, and the harvest in summer.
In my northern garden in Wisconsin there aren't too many things that can survive the harsh winters here, so garlic is a super vegetable in my book!
Planting garlic is one task that should definitely be on every cold climate gardener's to-do list in fall. I've already covered the reasons why you should be planting garlic, so I'm going to assume my persuasive powers have succeeded and you're ready to start planting.
I now plant my garlic 3-4 weeks later than I used to due to the warming climate in my region. I don't like my garlic to sprout in the fall, so I generally plant it during the first two weeks in November in zone 5a. Clearing out your garden beds as part of your fall clean up should be first on your list. Then, you can celebrate all of that hard work by planting your last crop of the season.
In this post and accompanying video, I'll show you step-by-step how to plant garlic in your garden this season.

How to Plant Garlic Quickly & Successfully
In our garden, we've settled on 220 cloves as the perfect amount of garlic to plant each season. We eat a lot of it, share with friends and neighbors, and save some for replanting. It may seem like a lot, but we cook at home most nights of the week and many of our dishes start with garlic and onions in a pan with olive oil. My husband and I also have a joke about garlic — if a recipe says one clove of garlic it really means one bulb. Vampires, beware!
Alright, let's get started!
Step 1: Prep your garlic bed for planting. You should always rotate your vegetable families each year, so ideally you're planting your garlic in a bed that did not host any other allium (garlic, onions, leeks, scallions) this season. I have very clay-like soil, so I break up the soil by using my favorite garden tool, the digging fork. (I have several, including this one
.) I follow that up with a garden rake to smooth out the soil surface so it's nice and flat for planting.
If you're not sure which varieties to plant or where to get seed from I break it all down in this post.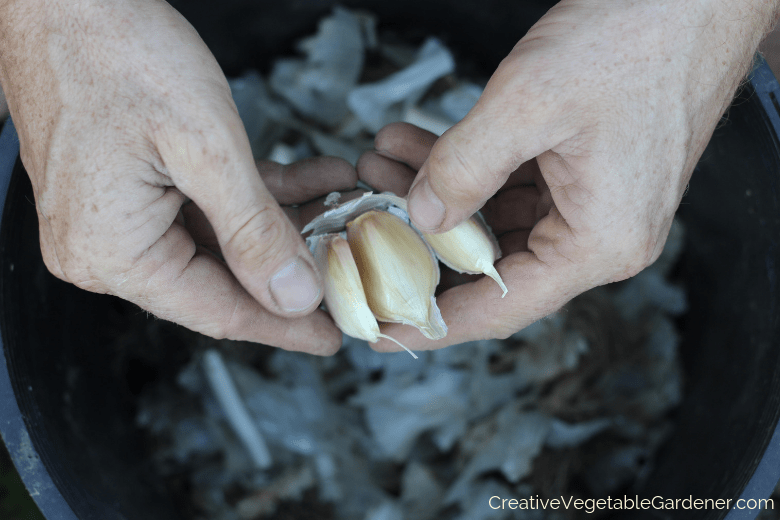 Step 2: Pop the garlic. This is a fancy way of saying breaking the bulbs into the individual cloves. I usually do this over a bucket. Keep the paper on each clove, you don't need to peel them.  I work with one variety at a time because I like to keep track of them.
This is why garlic offers a pretty good return on investment! You plant one cloves and it turns into a bulb with many cloves. Not a bad deal.
Step 3: How to plant garlic. Garlic spacing is six inches between each clove on all sides. That means you can fit a lot of garlic in a small space. It should also be planted about four to six inches deep.  A quick way to easily measure the distance between the cloves is to mark every six inches on your rake handle and then use a tool like a dandelion digger
or trowel to open up a deeper hole for the clove.
Make sure you're planting it pointy side up and root side down. Watch the video below to check out the nifty handmade tool I use for planting garlic and onions.
Step 4: Mark the varieties. If you're keeping track of your varieties make sure you write them down on a garden map so you can differentiate between them next year. I also write each variety name on a stake and pound it into the ground in front of the first row. On your map, you can also write the amount of each variety you planted so you can evaluate if it's enough (or too much) next year.
Step 5: Tuck in the garlic for winter. Use the garden rake to smooth the soil out on your garden bed to cover the cloves. Then, completely mulch the bed with hay, straw, leaves or grass clippings. A thick layer of mulch will protect the soil and the garlic over the winter. In spring, the garlic will easily come up through the mulch. You don't need to water the garlic after planting because it's going to be dormant until spring.
Step 6: Sit back and wait for spring. There's not much to do after mulching except wait for the first sprouts when the weather warms up in the springtime. It's so fun to see them peeking through the mulch as a signal that the new season is beginning!
If you've never planted garlic before I hope this post showed you how easy and quick it can be. Don't forget to check out the video in the beginning of this post where I walk you through the process in more detail as I plant garlic in my own garden, including a few extra tips!
I have a whole handful of helpful posts about growing, harvesting and using garlic. Check them out below.
Why You Should Plant Garlic This Fall
What Kind of Garlic Should You Plant?
The Best Recipe For Using Your Garlic Scapes
Eat Your Own Garlic All Year Round: How to Harvest & Cure It