There are a lot of benefits to growing onions in your garden. They don't take up much room, so you can grow a large amount in a small area. They're a short season vegetable, so you can often plant another crop in the same bed after your harvest the onions. And if you grow the right kind, you can store them in your house and eat them all winter long.
I love growing onions so much that I plant between 300-500 each year. They're one of my favorite vegetables to grow in my garden.  And I store them in my basement and use them in cooking all throughout the winter and next spring.
They're not difficult to grow, but there are a few keys things you need to know in order to have a successful crop.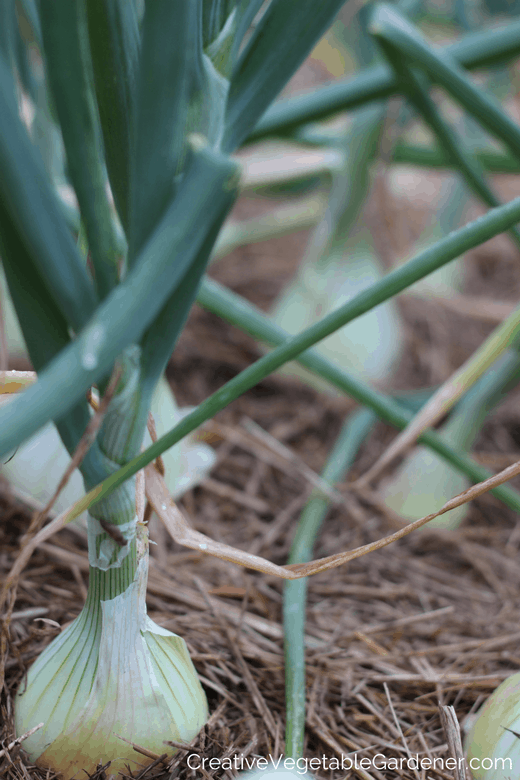 HOW TO GROW AWESOME ONIONS
Plant Early
Onions are sensitive to the amount of light in the day. The size of the bulb you'll harvest later in the summer is related to how big the plant is when it starts bulbing. In the north the plants start bulbing up when the day length is around 14 hours. So, if you plant too late, the onions won't have time to grow enough green leaves to encourage large bulbs. In Madison I plant my onions during the last two weeks in April.
Use Transplants or Sets, Not Onion Seeds
Don't plant onion seeds directly into the ground in spring. They won't have time to turn into bulbs. If you didn't start onion seeds at home you'll need to buy onion transplants or sets.  Transplants are seeds that were started a few months ago inside a greenhouse. Sets are immature bulbs that were grown last year.
Choose transplants if you have the option. The sets are more likely to bolt, or put up a flower, since they were started the previous year. I've gotten the best results by growing my own onions plants, so consider putting them on your seed starting list for this year if there's time.
My husband prepping the onion bed in our community garden plot.
Choosing Varieties
There are three colors of onions – red, white and yellow – and two common types – storage and sweet onions. Sweet onions don't last as long as storage onions. The drawback of buying sets is that it's difficult to find storage varieties.
If you want to grow some onions for storage, try to find transplants at your local farmers market. I usually grow one variety of sweet onions to use for making salsa and fresh eating. The majority of what I grow are storage onions to keep in my basement and eat all winter. My favorites are Ailsa Craig, Pontiac, Redwing and Ruby Ring.
Prepping Your Garden Beds
In general I don't spend a lot of time prepping my garden beds before planting spring vegetables. But, onions are the exception. Loosening the top few inches of soil before planting onions makes the task much easier. We use a digging fork and rake for the job.
Tight Spacing
Use six inch spacing and you'll fit a lot of onions into your garden bed! We use a handmade dibbler that has prongs spaced six inches apart. It creates our holes for us so all we have to do is place the transplant into the hole and cover it with soil.
Using our dibbler for planting onions.
Weeding & Watering is Critical
The two practices most important to successfully growing onions are weeding and watering. Onions don't compete well with weeds. It's best to get them mulched as soon after planting as possible. It's difficult to mulch small transplants with hay, so I wait a couple weeks until they get bigger.
Onions love water, so you must make sure they get one inch of water per week. I keep track of the weekly rainfall with my rain gauge. If we don't receive one inch of rain during a particular week I water my onions very deeply.
Mulch your onions with hay to keep down the weeds and trap in moisture.
If you've had less success than you'd like growing onions, follow these tips and I bet you'll have a completely different experience this  year.
If you want to delve more deeply into growing onions successfully, check out my eBook on the topic here.
.
.
.
Want to read more about growing tricky vegetables?
#1 Tip for Growing Red Peppers
What Kind of Garlic Should You Plant?
Unique & Colorful Varieties to Grow in Your Garden
SHARE IT ON PINTEREST