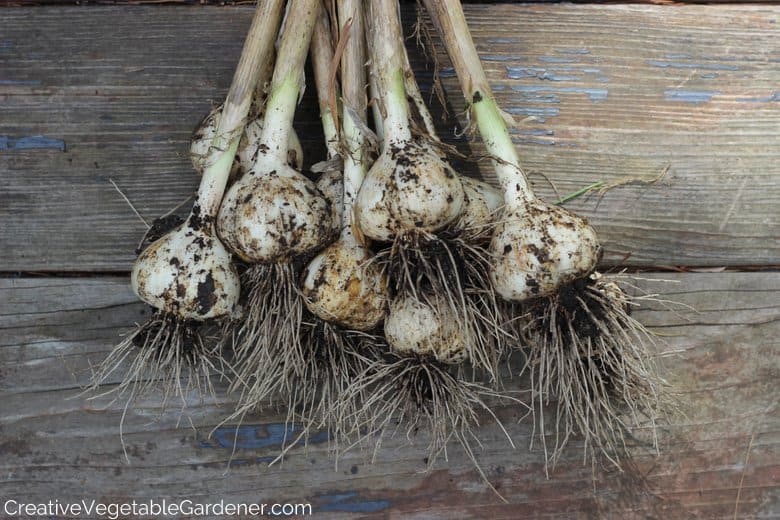 I'm on a mission to get as many gardeners as possible to grow garlic! It's one of the easiest vegetables to grow in your garden, especially if you live in a colder climate. (In this post I share the other reasons you should plant it!)
The last two weeks in July is usually garlic harvest time in my garden (Madison, WI, zone 5a). Depending on where you live, your harvest time may be a little earlier or later. You don't want to harvest your garlic too early – that could result in immature bulbs.
But, you also don't want to wait until the entire plan turns brown or you might compromise the storage life of the bulb. I generally harvest my garlic when several of the lower leaves closest to the ground turn brown.
Once your garlic is ready to harvest, there are a few things you can do to make sure it cures well for longer term storage. This is especially important if you grow a lot like I do! We plant about 220 each fall and eat our own garlic all year round.
How to Harvest & Cure Your Garlic
I filmed a quick video in my garden showing you exactly how to harvest & cure your garlic. Get it for free now!
I use a garden fork to loosen the bulbs when harvesting. Trying to pull them out of the ground by hand often results in breaking off the stalk.
2. I grow several varieties of garlic in my garden and I like to keep track of them from year to year. I harvest one variety at a time and make a separate pile for each type. I like to save my biggest bulbs for planting in the fall, so at the point I cull through the piles and set aside the best bulbs to cure separately.
3. If you break into a bulb right after harvesting you'll notice that the "paper" around each clove is still pretty moist. Curing your garlic will help dry out the paper and make for longer storage and much easier peeling. The best place to cure your garlic is somewhere dark and dry.
4. I tie my garlic in bundles of 10 with twine. I leave one end long so I can hang the bundle from my garage rafters.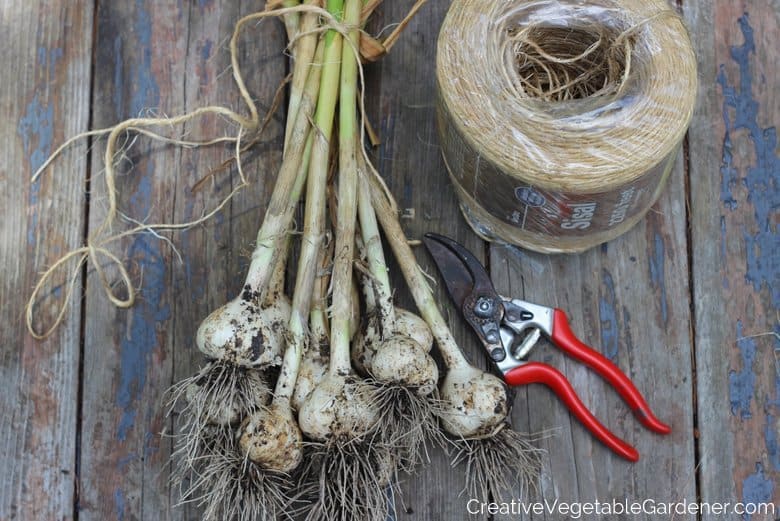 5. I label each bundle with the variety and also mark it as seed if I'm saving it for fall planting.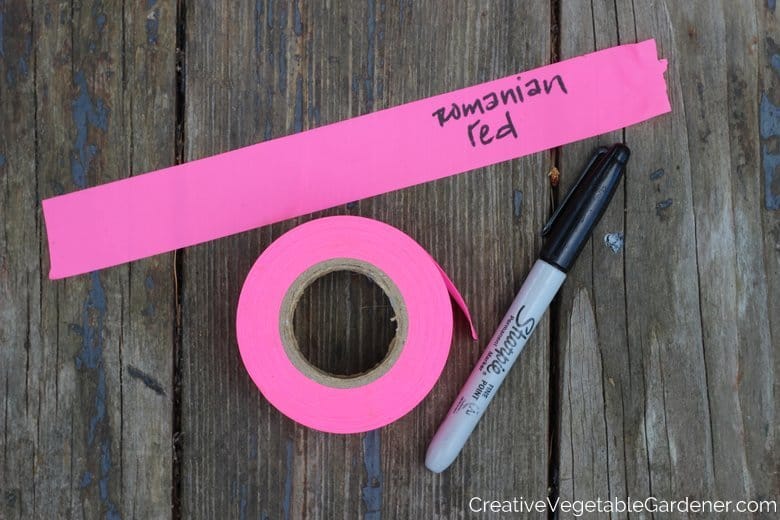 I filmed a quick video in my garden showing you exactly how to harvest & cure your garlic. Get it for free now!
6. Lastly, I take the bundles to the garage and hang them from the rafters.  I hang the seed garlic in a separate area so I can easily keep track of it.
7. I'll let the garlic cure for about 4-6 weeks. When it's dry I cut it down, remove the stalks and roots and store the bulbs in waxed boxes in my basement for the winter. I plant varieties that store well, so we're able to eat our own garlic all year round. (Want to know more about what type to plant? I explain the options in this post.)
.
.
My eBook, The Essential Guide to Growing Garlic, walks you through the process of planting, growing, harvesting, curing and storing it successfully- from start to finish. To celebrate garlic season the eBook is on sale for only $5! Check it out here.
.
.
SHARE IT ON PINTEREST