August in Wisconsin is the peak of beauty in the vegetable garden. All of the flowers are bursting with color, the harvest is starting in earnest and my basket fills up with all the colors of the rainbow each morning. The plants themselves are big and lush, bursting with growth and tumbling every which way. My garden feels a bit like a living, breathing beast that's going to take over my entire yard. It's a jungle out there!
I'm currently reading the book, Growing Beautiful Food: A Gardener's Guide to Cultivating Extraordinary Vegetables and Fruit
. It explores a topic close to my heart – growing food not only to feed your body, but to feed your soul as well. I loved this quote,
"If you begin to imagine growing food as an art form, where you move beyond the supply and demand of feeding yourself and others and into the realm of aesthetics, then you begin to cultivate beauty as well. And beauty is a fundamental human need, as essential as breath."
At this time of year I soak in the aesthetic beauty of my garden and embrace the extra joy in brings to my life. And I'm re-convinced that having a gorgeous vegetable garden is just as important as having a productive one.
Every season I try to pay close attention to which parts I feel drawn to visually, so I can make mental notes about especially striking flower combinations, stand out vegetable varieties, and anything else that elicits a feeling of happiness in my heart.
One element of my garden that's consistently been a favorite are the "temporary" trellises I created last year. When we bought our house there was very little landscaping around it. We're slowly adding trees, shrubs and perennials, but it's still pretty bare. My vegetable gardens sit nicely in front of and on the side of my house, but they can sometimes feel flat and boring in the early and late parts of the season.
Last spring I decided that I needed to add some temporary height around the house to make the gardens more visually interesting. I wanted something quick, easy, and inexpensive to start with while I work out my plans for future structures. After some scheming and dreaming, I decided to try a livestock panel trellis.
First, I'll show you some shots of the trellises from this season. Then, I'll tell you how we made them.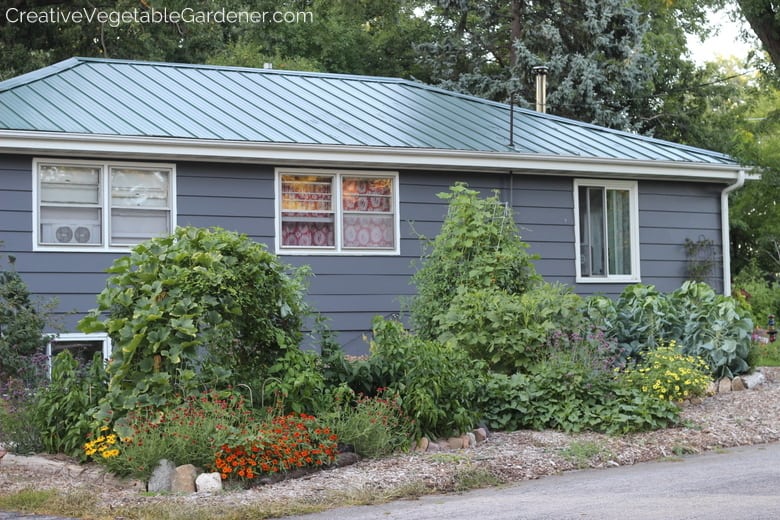 EASY TRELLIS DIRECTIONS:
Purchase cattle panels at a farm supply store like Fleet Farm or Farm and Fleet. They should be about $30 each. (Note: They're long, so if you don't have a truck you might want to bring bolt cutters and cut them into smaller pieces for transport.)
We also bought four light duty u-posts for each trellis, at $2 each, and some zip ties.
Decide on your trellis design. We chose to have them go over the pathways to make archways. One livestock panel we kept whole and bent over into an arch and the other one we cut in half to make a more triangular trellis. Make sure you leave some room for planting on both sides of the panel.
Pound the u-posts into the ground by using a hammer or (easier) a post pounder.
Attach your livestock panels to the u-posts using zip ties.
You're ready to plant!
The u-post with trellis attached.
The triangular version.
The arched version.
I'm continuing to experiment with planting all kinds of different vegetables and flowers on my trellises. My favorites so far: Sun Gold tomatoes, Delicata Squash, tomatillos, cucumbers, and peas. I'd love to hear what you grow on trellises in your garden. Share in the comments below!
.
Want to read more about creating beauty in your garden?
Adding Beauty to Your Garden with Flowers
How to Grow a Colorful Vegetable Garden
SHARE IT ON PINTEREST