In this post, I'll show you how easy it can be to build your own DIY grow lights so you can master the art of growing organic vegetable plants at home. I'll give you a video tour of my home set up and share links to the short list of materials you'll need to get started.
After you've been growing your own food for a while you might start to wonder about starting seeds at home for your garden. It's a ritual many gardeners eagerly look forward to every winter.
Growing your own vegetable plants is a fun way to get a jump on the gardening season and start getting your hands dirty before you're able to get out into your yard.
A huge world of interesting and unique vegetable varieties are available to gardeners who start their owns seeds, so you can experiment with lots of unusual vegetables you probably can't find at your local farmers market or nursery.
And once you learn the process of seed starting, it's easily repeatable year after year.
Let's dive in!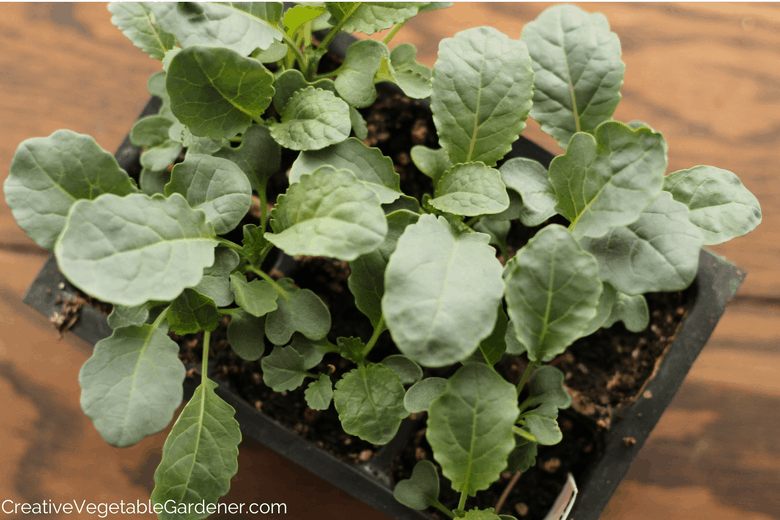 The #1 Question
One of the first questions many people have about seed starting is, "Can I start seeds in front of a window?"
Although it sounds great – so simple and easy! – it's virtually impossible to grow healthy seedlings in a window.
This is because seedlings need overhead light.
And when they don't get it? They extend themselves towards the sun that's coming through the window, and end up growing really tall and stretched out (this is called "leggy", and it's not good).
A tall, skinny seedling is the opposite of what you want. Short, stocky, and strong seedlings are better able to withstand the wind, rain, and other weather pressures they'll face once they get out into your garden.
This post contains affiliate links.
How to Build Your Own DIY Grow Lights
Growing under lights is the best way to ensure your seedlings are healthy and strong when they finally make that trip outside to your garden beds.
When you take a look around online you'll discover that conventional seed starting lights are quite expensive. Luckily, I have great news — you don't need one of those fancy light racks. You can easily assemble your own seed starting set up with materials from your local hardware and big box store.
Come along on a tour of the DIY grow lights I've been using for the last 15 years and learn how to build your own. In the accompanying video, I show you the parts that make up my home grow light stand and link to all of the supplies in the article below.
The Rack
I highly recommend using metal wire shelving for your grow light stand. They're versatile, so after the seed starting season is over you can use them for storage in your basement or garage. I move mine to the garage and use it to cure my onions for winter storage.
The shelving units come in different sizes, so you can choose one with fewer shelves if you have a small garden and only need to start a handful of seeds. I have a large garden and grow a lot of seedlings, so I have a tall unit with five shelves.
Important note!! Make sure you choose a rack whose width matches the length of your lights. Most lights are 48″ long, so you need to choose a wire shelving unit that has shelves that are also 48″ long. I prefer units that are also 18″ deep.
I created DIY grow lights Amazon list with all of the supplies I share in this blog post.
.48″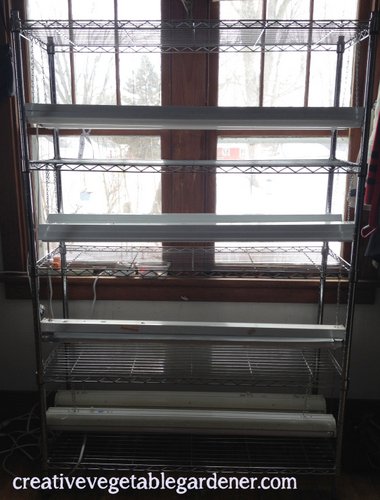 .
The Lights
For many years I've been using standard 48″ long shop lights that hold two fluorescent bulbs. But, recently I've started upgrading to high output fluorescents and LEDs as my old lights stop working.
The options for grow lights are overwhelming, so I researched and wrote an article breaking it all down for you! Dive in here: How to choose the best grow lights for seed starting.
I currently have three different types of lights that I'm comparing to one another. Old shop lights, High Output Florescent Lights, and LED shop lights. I haven't invested in LED grow lights yet, and I explain why in the above article.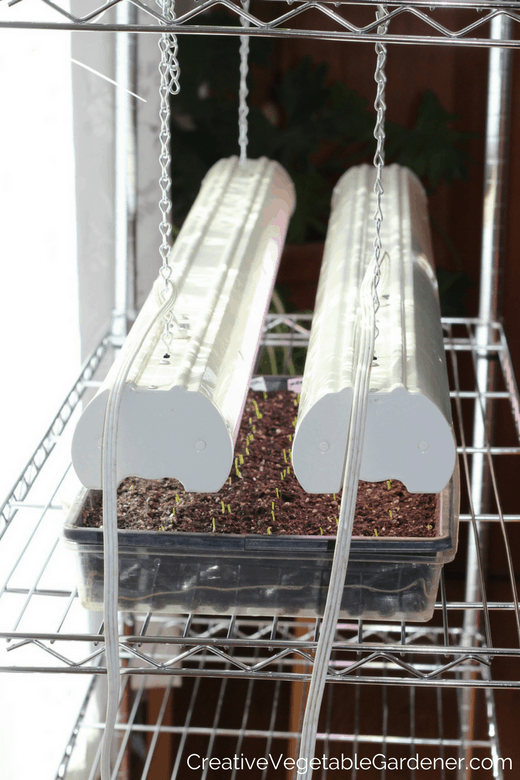 Whatever lights you end up choosing, they're easiest to use when they're hung with metal chains and s-hooks so you can move them up and down. This is essential! You'll need to be able to lower the lights when your seedlings are small and continually raise them as they grow taller.
There are different gauges of chain, so I suggest buying the chain from your local hardware store once you have the s-hooks. That way you can make sure they fit together well. The store should be able to cut whatever length chain you need.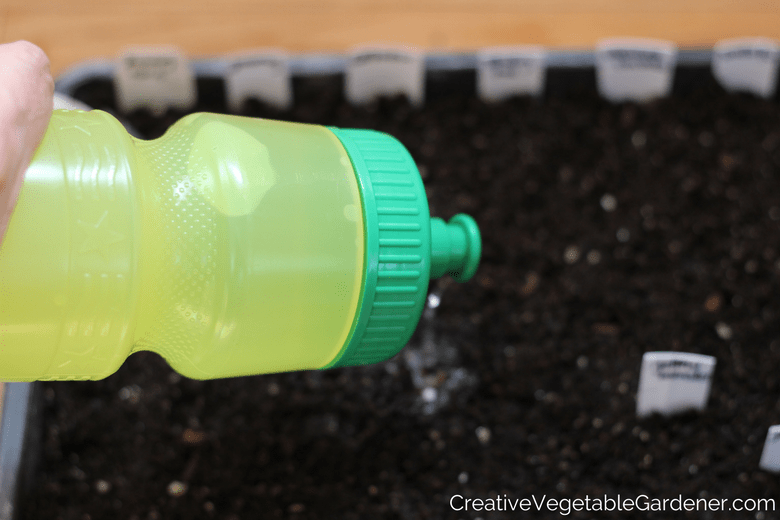 The shelving unit, lights, bulbs, hooks, and chains are the main building blocks of this easy to build DIY grow light stand. Pretty simple, right?
Once you get those things in place, there are a few other supplies you'll need to continue setting up your successful seed starting operation.
Although you'll need some extra cash to get started, most of these things are a one-time investment. You can use them over and over again every year.
Additional Materials For Your Grow Lights
Timer
Your lights should be on for 12 hours per day and off at night. The easiest way to ensure this happens is to plug everything into a digital timer.
Extension Cords & Power Strips
You'll need to plug all of your lights into the power strip and then plug the power strip into the timer so they're all turning off and on at the same time. Depending on your set up you may need some extension cords to help all of the lights reach the power strip. There are also power strips with timers built in!
Watering Device
I like to use bike water bottles because the stream of water is easier to contain than a watering can. That means less spills on my living room floor! I find mine at the local thrift store.
Seedling Heat Mat
Optional. The heat mat
helps with the germination of heat-loving vegetables like peppers, eggplant, and tomatoes. I've found that I can't successfully start pepper seeds indoors without a mat because they don't germinate well without an extra bit of heat.
Most of the supplies you need for your DIY grow lights you can probably find at your local hardware and big box stores. It may help to go in person so you can visualize how everything will fit together.
If you prefer to shop on Amazon, find all of the supplies here.
Assembling your own grow light stand will allow you to grow higher quality seedlings at home, which will save you money long term, especially if you have a large garden!
It's also a fun skill to add to your gardening tool belt. It might seem complicated, but once you get the hang of it you can use the same process over and over again every winter. You'll be a pro in no time, believe me!
If you think it would be helpful to have a knowledgeable and thoughtful teacher (me!) to guide you through the process this year, check out my how-to video series, Super Easy Seed Starting Masterclass.
Whether you're new to seed starting and don't know where to start, or you've tried growing your own plants but could use some help refining your process, this series will help you achieve excellent results this year. Find out more here.
.
Want to read more about seed starting?
Save this article to your gardening board on Pinterest.