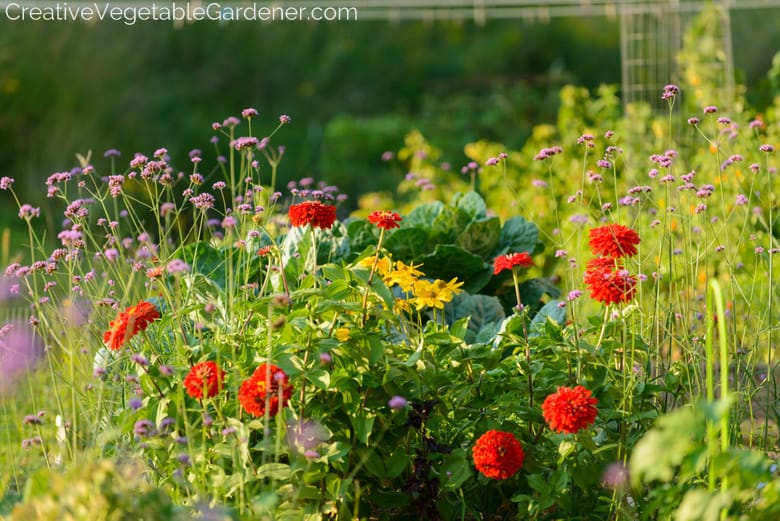 .
The first few years of establishing a vegetable garden is focused on learning the ins and outs of growing vegetables. You're learning when to plant each crop, which varieties of tomatoes you like best, and how to tell the difference between weeds and newly sprouted vegetables. Mastering the details of gardening keeps you busy for those first few years. But once you settle into the practice of growing your own food, it's time to delve into the art of it.
I consider myself to be a production gardener – my garden needs to produce a lot of food for my household. But I also want my garden to be beautiful. I want to walk out my back door and be overcome by the loveliness of my garden. Over the years I've learned it's very possible to focus on both of these objectives at the same time. Why shouldn't your garden feed both your body and your soul?
I have discovered a few simple tricks you can use to elevate your garden from ordinary to outstanding.
Create a permanent garden design
This spring, take some time to design a permanent layout for your garden. You can do this right on the ground with stakes and twine, or on a piece of graph paper. Create permanent beds out of lumber, logs, stones or mounds of your own soil. Establishing beds and paths neatens up your garden and adds visual interest. You can keep your design simple, or harness your creativity and create a garden in the shape of a peace sign or mandala.
Add Color with Flowers
One of the easiest and quickest ways to add beauty to the vegetable garden is to mix in annual flowers. I reserve the ends of my garden beds for a little color each season. I pop in 2-3 of my favorite annuals among the vegetables in each bed. The play of flowers and vegetables together in a garden bed is a beautiful sight to behold! My top picks: zinnias, cleomes, verbena bonariensis, rudbeckia, salvias.
Plant in blocks
I have a lot of rectangular beds in my garden. Instead of planting long rows down the length of the beds, I sometimes plant in blocks along the width of the bed. I also pay special attention to contrasting leaf and plant shapes. I place certain plants next to each other that I think will create interesting combinations. For example, a block of basil next to a block of parsley pairs two very different leaf textures that complement each other and add visual interest.
Choose colorful vegetables
Instead of just growing orange carrots, add in some yellow and purple as well. Buy the three different seed packets and mix them into one sowing. When shopping for seeds and plants seek out varieties that have interesting leaf colors or produce a shockingly bright vegetable. There are electric lavender eggplants, sunny yellow peppers, purple tomatillos, and every color of tomato you can imagine. Pick a few unique plants this year to add to your garden – you'll be surprised by how much joy it brings.
What are ways that you add color and beauty to your garden? Leave your thoughts in the comments.